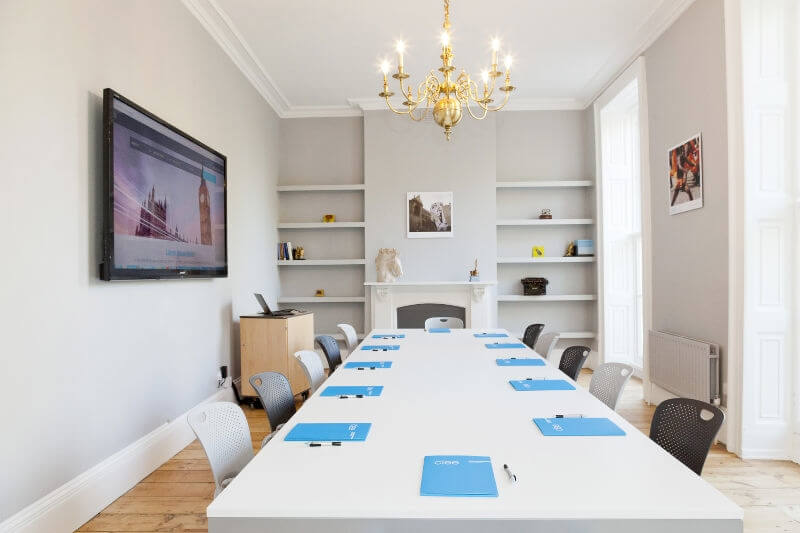 There are 2 things we love at VenueScanner: A good success story, and tapping into underutilised space, so it was my absolute pleasure when I recently got the chance to meet with Renata who works at one of our most sought after venues CIEE.
If you're familiar with CIEE you most likely would know them for their amazing international exchange program, perhaps not venue hire, but this is what intrigued me the most… how and why was an organisation which primary function wasn't  for venue hire at all, so popular with our organisers? How did CIEE transform 15 empty classrooms into gorgeous and flexible event space?
At first glance, it was obvious, they offered great and affordable meeting spaces, but when I actually entered the beautiful building for myself I could see why it only took them 2 months to become a hit within the events and venue booking industry. Say bye to clinical meeting centres, and enter a quirky destination for the best corporate events…
What is CIEE?
CIEE stands for Council on International Education Exchange. We are a leading non-profit international educational and exchange organisation. We welcome students from around the world (primarily US universities) seeking to broaden their knowledge and experience through CIEE's high quality educational programs in London.
What is your role at CIEE? 
I am the Booking and Events Manager. At the moment we have around 15 rooms that are not being used by our students, so my role is to rent them out to external clients for corporate events, meetings, English schools looking for extra classrooms, workshops, etc. We also have amazing spaces which can be transformed from anything from a room to hold a presentation, to a quiet, yen like studio space for yoga sessions. We also have a gorgeous terrace which can be used for summer parties and corporate BBQs.
What makes your venue different from other meeting spaces?
As you can see we have invested a lot in our facilities, not only in decoration to make it stunningly beautiful, but it's also comfortable, welcoming and practical. We also pride ourselves in excellence when it comes to our customer service. We understand our clients needs and adapt to exceed their expectations by being flexible, committed and always available to help. We truly do care about our clients and a reflection of this is that we've recently selected one of the best catering companies to work for us. They'll be onsite from January, taking over our cafe and will be open to all of our internal and external clients. Together we've worked on a specially scrumptious menu for events, offering a variety of options, and excellent food at very attractive prices
Our rates are very competitive and we always happy to negotiate prices for long-term bookings and with frequent clients. *
*Note, CIEE are increasing their prices slightly in the New Year, but if you book through VenueScanner in January 2018, you'll get discounted prices.
We've noticed that you've become very popular amongst our organisers, why do you think this is?
I've been working at CIEE for less than 2 months now – up until then we had no one actually promoting our facilities. People didn't really know about us, especially as room hires are not our main business. But, since our first clients started experiencing the CIEE experience, booking their events with us, numbers have increased rapidly. Word of mouth recommendations are such a powerful tool! People are recommending us to their colleagues and friends, and I can only assume it's a reflection of the combination of great facilities, excellent customer service and competitive prices.
What 3 words best describe CIEE?
Commitment, Flexibility, Excellence
What is your strategy for making happy clients?
Understanding their needs is key. For that, we need to be flexible. I can't be the person who only books a room for them, but the person who will work with them. This means being available at all times and assisting with their requirements before, during and even after their events have taken place.
If you could give 1 ultimate reason as to why our organisers should book with you, what would it be?
We have an amazing location facing Russel square, we have over 15 different options of rooms with different sizes and almost all can accommodate different set ups. Our rooms have plenty of natural light always facing either Russel Square or our terrace and gardens. All of the rooms are equipped with modern AV equipment at no extra charge! As you can see there's not just ones, it's a combination of quality, location and superb customer service, everything you need for a successful event!
Fun Fact: CIEE had a visit from the legendary social reformer Frederick Douglass' Daughter  – Nettie Washington Douglass for a talk about her father during an event they organised. CIEE also offer a Frederick Douglas scholarship for international students.
Nettie Washington Douglas together with James Pellow, CIEE's CEO