Bristol is a city rich in cultural heritage, boasting some of the UK's best loved sights. From Brunel's SS Great Britain, to the Clifton Suspension Bridge with views spanning the picturesque Avon Gorge, to the modern graffiti of one of the world's most famous artists, Banksy. This cultural diversity is reflected in Bristol's eclectic range of venues.
Clifton plays host to numerous upmarket event spaces, situated between the Victorian town houses, while the newer vibrancy of Harbourside has seen trendy bars and restaurants pop up at incredible speed. Bristol is known for its lively independent music scene, demonstrated throughout areas like Stokes Croft, with venues to match lining the streets.
Whatever your tastes, Bristol will have something for you; here are our top venues in Bristol for 2021.
Beeses: Billed as 'Bristol's Best Kept Secret', it's easy to see why. Accessible by a short boat ride from Bristol's city centre, Beeses truly is a hidden gem.
Most unique thing about Beeses: The location! We are truly a hidden gem, and we love how much people love to discover us.
Favourite events to host: Weddings, live music, cream tea parties, festivals and celebrations.
Favourite thing about Beeses: There is no other place like Beeses, and the love for Beeses we receive from everyone who visit us.
No.1 Harbourside: A lively, independent bar and restaurant with an emphasis on local sourcing, No.1 Harbourside is a great place to celebrate with some live music.
Most unique thing about No.1 Harbourside: No.1 Harbourside embodies the spirit of Bristol. All our food is created with a local focus using locally sourced suppliers and delicious seasonal ingredients and our well stocked bar is full of Bristol beers, spirits and organic wines.
Favourite events to host: Live music! We love live music and host it every Friday night at No.1 Harbourside
Favourite thing about No.1 Harbourside: We love that we are a proudly independent venue right in the centre of Bristol!
JK's Tapas Restaurant & Cocktail Bar: Boasting a range of delicious tapas dishes, combined with hand-crafted cocktails; JK's is a great place to relax and enjoy a margarita or two.
Most unique thing about JK's: We are independent, boast an exclusive cocktail menu you wont find anywhere else, and use fresh produce locally sourced within 5 miles.
Favourite events to host: Private dining!
Favourite thing about JK's: Just check out our reviews they will tell you all you need to know
Clifton Observatory: Playing host to some of the best views in Bristol, overlooking the Clifton Suspension Bridge and the Avon Gorge, it's easy to see why the Observatory is one of our top Bristol venues for 2021.
Most unique thing about Clifton Observatory: The one thing that makes Clifton Observatory unique is the incredible view. From the rooftop terrace, you have a breath-taking vista of the Avon Gorge and the Clifton Suspension Bridge. This unique atmosphere is what elevates Clifton Observatory to something truly special.
Favourite events to host: We love the joyous ambience that comes with a wedding. We take pride in hosting the event of a lifetime and do our utmost to provide the perfect fairy-tale experience for every one of our couples.
Favourite thing about Clifton Observatory: My favourite thing about Clifton Observatory is the wonderful team of dedicated staff who work hard to ensure that every event we host goes perfectly.
Steam: A regular haunt for students across Bristol, and it's easy to see why, with a vast garden, wide selection of drinks and even a couple of ping-pong tables, Steam has everything you need in a local bar.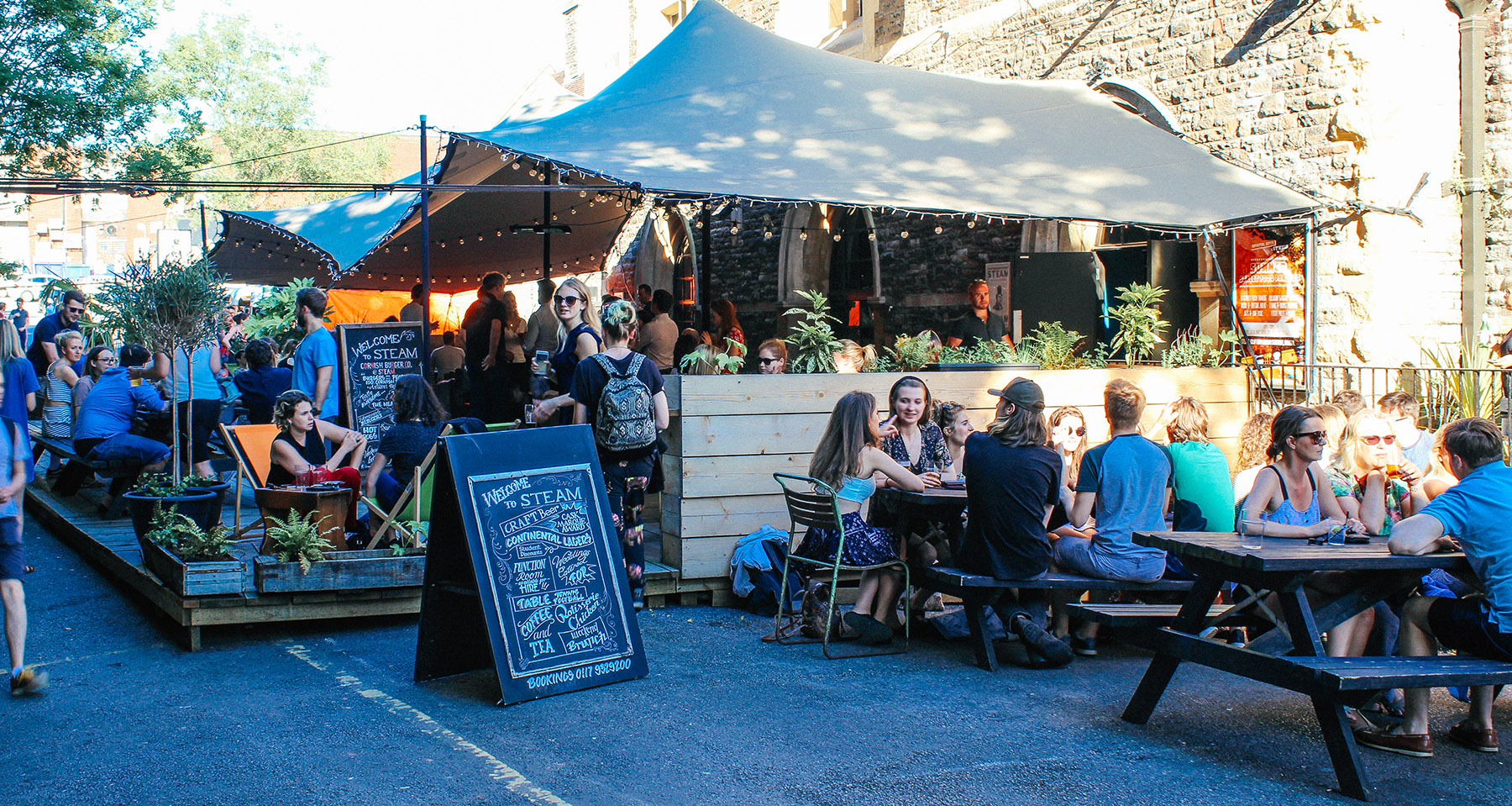 Most unique thing about Steam: Steam is unique as it provides a great space for everyone; just drinks, first dates, sports events, large parties and gatherings. There's an area for everyone.
Favourite events to host: Brunch!
Favourite thing about Steam: Brum, the 1929 Charabanc
Propyard: Launching this summer, Propyard is a huge former MOD torpedo warehouse, subsequently transformed into one of Bristol's most unique and multi-purpose event spaces.
Photography by Khris Cowley – www.wearehereandnow.net
Most unique thing about Propyard: Our huge cranes!
Favourite events to host: Anything that involves great food, drinks and dancing.
Favourite thing about Propyard: The versatility of the space and the fact it's so central, it a really unique space for Bristol.  We've got the outside Courtyard where we get great sun till late in the day, the Crane Room with its impressive bar under the crane, then the Heart of the warehouse is perfect for large exhibitions, shows and anything you can imagine, it's really quite special.
Cathay Rendezvous: Located in a Grade 2 listed building built in the 18th century in the buzzing King Street, Cathay Rendezvous is Bristol's longest standing Chinese restaurant
Most unique thing about Cathay Rendezvous: Our Restaurant is a historic building on the northside of King Street. It was built in 1738–40 and has been designated by English Heritage as a grade II* listed building. It was the famous Bristol Library 300 years ago.
Favourite events to host: Family Celebrations!
Favourite thing about Cathay Rendezvous: Established in 1986, Cathay Rendezvous is the longest established Chinese Restaurant in Bristol. A Bristol institution which has been copied and imitated by others but there is only one Cathay Rendezvous.
Do you agree with our top Bristol venues for 2021? You can find the perfect venue for your next event on VenueScanner.