Take your team for an MOT with our tried and tested free team building activities.
What is a business made up of? The product or service it provides, of course. Its customers, no doubt. But without the team behind the scenes, the whole affair crumbles. Everyone knows that attracting and retaining top talent is one of the most important parts to building a successful business. There's a lot of noise about the way certain companies go about managing their talent. Google may have its immersive working culture, Facebook may have its flagship campuses… But the reality is that flashy employment culture is just that – a flash in the pan. These free team building activities are perfect  for improving your company's productivity.
What really matters is the genuine connections between your team. That's how a team works together, and how their work affects the company individually. It's important that people work together, and that their role is the most effective it can be. We can't teach you how to be a great leader, or how to craft the best team out of nothing, but we can share a few tips that have worked for us.
These effective and free team building activities are great ways of sculpting your talent into the best team that it can be. Some can be used day to day, but you'll find most work best in a focused environment. Consider a team away day or a team building retreat to build camaraderie and skills. It's a small outlay that can pay back dividends from a greatly improved crew.
1. Standups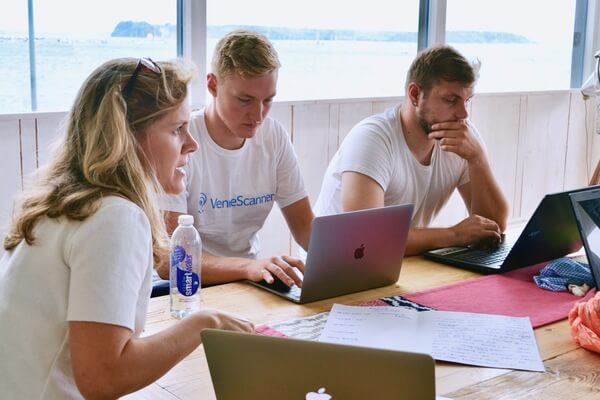 Doing a standup on a daily or weekly basis is an effective way to increase accountability, encourage effective scheduling, and improve the need for collaboration. It can also have the bonus of introducing a mini-icebreaker at the start of the day. Here's how to run the perfect standup:
Get everyone standing up (doy!) in a circle.
Get everyone to give a quick breakdown of what they achieved yesterday, and what their tasks for today are.
At the end they should list any potential blockers, and what help they need from others if any.
Each turn should take no more than a few minutes.
Spice this up by adding a trivia quiz ('What country in the world is the most covered in water?') or asking for a fun personal fact ('What is your favourite animal?').
2. Cooking for each other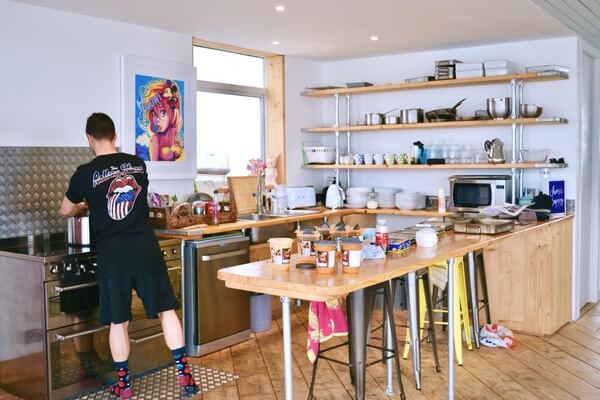 Humans are incredibly social animals and one of our most basic social rituals is eating together. It demonstrates trust and togetherness on a primal level and it's simply great fun to share good food! On a team retreat, assign different pairs or groups to be in charge of providing various meals. Perhaps give them some meal plans to start with, or even let them freestyle. Everyone will be happy to get together over a home-cooked meal. And there's no truer co-operation than over the stove.
3. Volunteering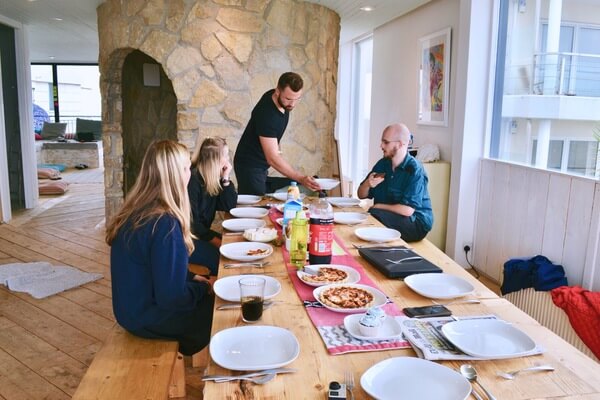 Providing charitable service is an incredibly rewarding experience. And of course, it's important to help others. Why not lend the brawn and brainpower of your team to an altruistic task? Out of the office, it would be a great way to get people working together and feeling good about what they are doing. This good feeling could well continue into their daily tasks when back in a normal working environment. And besides – a lot of companies talk about being for the community but how many actually take action? This is the ultimate in free team building activities and it's also extremely beneficial to others outside your company.
4. Hackathon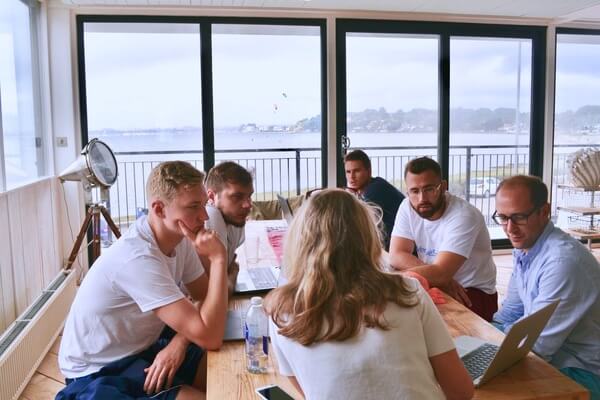 This task was a big favourite from the VenueScanner get-away. It is useful on several levels. It naturally encourages swift and effective teamwork, as well as some practical skills and creative thinking. The subtle competitive element drives everyone to try their very best. And as well as being exhilarating fun, it results in a variety of effective products and solutions that will be a boon to your business. Here's how to host the perfect hackathon:
Identify problems or conundrums that affect your business. You want to split into groups of around five, so adjust your amount of tasks based on this.
Present the problems to the team, and set one to each group.
They have 90 minutes to work on effecting a solution.
Everyone presents back at the end of the allocated duration. For tech-based companies, it's ideal to have one programmer per team to help actualise the concepts that are created. However, even without someone to see the idea though, you should find some effective results.
Examples from our Hackathon include: 'How to make the venue listing journey more successful', and 'How to make the homepage more appealing to X demographic'. We ended up with some really creative and considered solutions. These were then developed following the retreat.
5. Telephone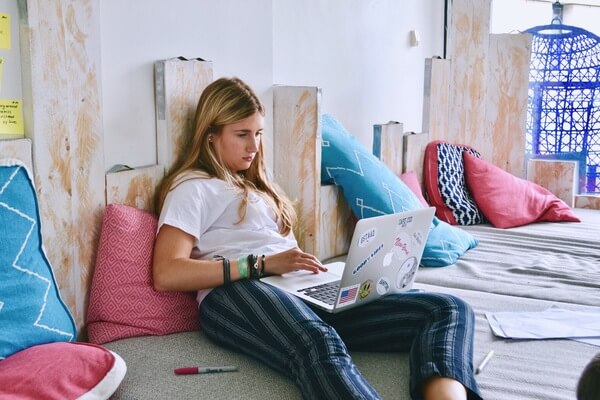 After the mental workout of the Hackathon, you can try this more light-hearted idea. Just like the game you played in school, but re-contextualise it for your business. Try to communicate a complex issue, and see how it comes out the other side. It could result in a potent example of the dangers of poor communication. Here's how to organise the telephone task:
Arrange everyone in a line (this works best with medium to large groups), and get them to pass a message down one by one in a barely audible whisper.
Discuss the results. You may find the end result has a strange resemblance to the original message.
This should help improve communication issues within your team.
6. Coffee Break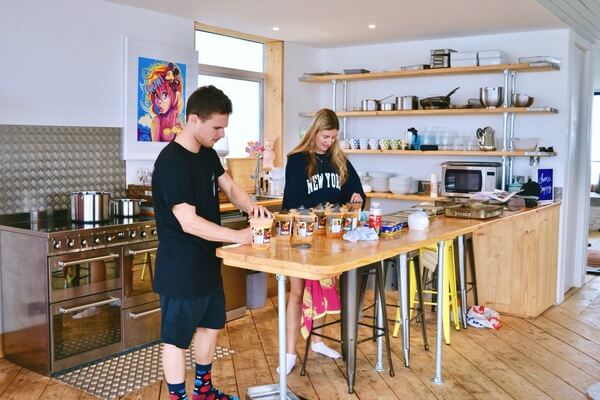 Let's not lie – coffee is vital in the workplace. It borders on currency at ours! Cleverly transform the daily ritual into a bonding experience – particularly when dealing with a group that is quite new to one another. When it's time for a break in your program of activities, simply send the team out for a coffee break. Instruct them to introduce themselves to a set number of people or, even better, retrieve a bit of personal information. How many sugars?
7. Sports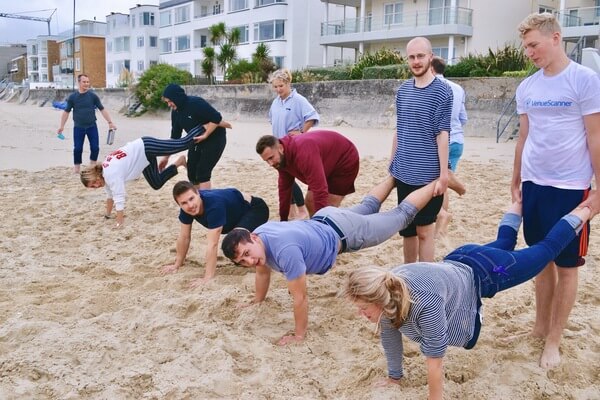 Your typical tech start-up might not resemble the ultimate sports team. But nonetheless, doing physical activities together is one of the best possible team building activities. And it doesn't have to be football or any other pedestrian activity – think outside the box and find an activity where there is a level playing field. We hit the water with paddleboarding recently, and it was a roaring success. Everyone had the same experience, so it was a learning exercise rather than a chance to show off. Get moving and get those endorphins pumping.
8. Road Map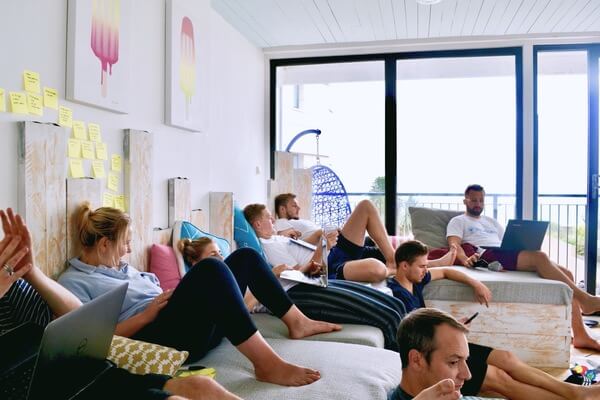 Back on to a more serious tip here. It's vital that everyone is facing the same way, and that each journey within a business forms part of a greater whole. Here's how to map out your company's future with your team:
Create a presentation that covers each section of the company, such a 'Marketing', 'Tech', and 'Growth'. Graph the developments, projects and tasks that need to happen over the next three month, covering the work of all present.
Go through each slide, making sure every team member understands not just their tasks but the plans for all areas of the business.
Distribute blank versions of the three-month plans. Before their next meeting with their line manager, everyone must complete their own three-month plan that feeds into their targets and goals.
9. Start the Day Right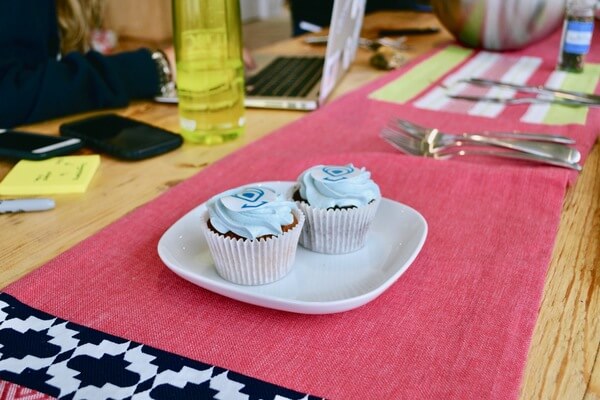 At the start of the day, get everyone to write down how they feel on a post-it note. A short, one-word depiction of their emotional state… No, 'Tired' does not count. Nor does 'Hungover'. Everyone then goes on to share their feeling with the group. The aim is not to judge or impose, but instead be respectfully aware of other's feelings and begin the day accordingly. It's a small idea that's extremely beneficial to inform our everyday interactions with others.
10. Paired Feedback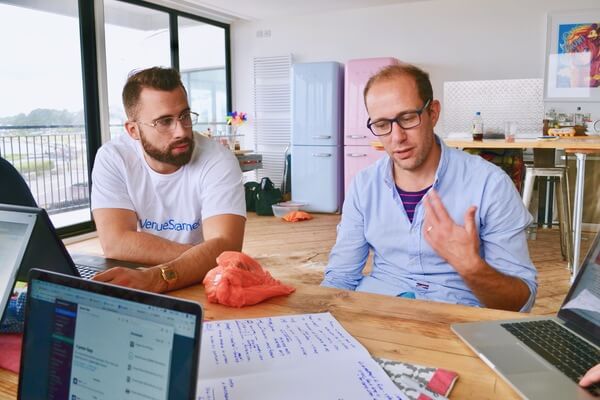 This is one of our most serious free team building activities. Feedback is something most people dread but it doesn't need to be this way. If this exercise is done correctly, it may help to de-stigmatise feedback at your workplace. Here's how to make the most out of these feedback sessions:
Ask your team to give mutual feedback in pairs. Create pairs that may not be the most obvious – try to pair people who work together but perhaps not directly all the time.
Do at least two sessions, so everyone gives and receives feedback twice. Each session should take 5-10 minutes and should be done in private.
The aim of the feedback is to be constructive, not destructive. The idea is to thank someone for their feedback – they are investing thought into helping you improve. You will find that most of the time, all feedback is positive.
How to make the most of these free team building activities
We mentioned this earlier, but to really sculpt your team into a vision of beauty and productivity, you're going to need to spend some real time on it. Interrupting everyone's working day with arbitrary tasks is not going to achieve that. Rather, it will leave them stressed and embittered. Fortunately, it doesn't take a lot to do things right. Just take a day, or ideally a few days, and take the team away. You can enter everyone into a physical and mental space where they can disconnect from the minutiae of workaday life. Instead, they can focus on larger issues at hand: teamwork, goals, and plans for the future. It could be a countryside retreat or even another part of your city. You could have an activity as a focus, or a more plain space that you can populate with your own tasks, such as shared above. These free team building activities are perfect for your next overnight away day.
Above all, make sure to include a healthy blend of team bonding, work, and self-improvement. Check out of our article on icebreaker activities for some more free team building activities to get the team going.