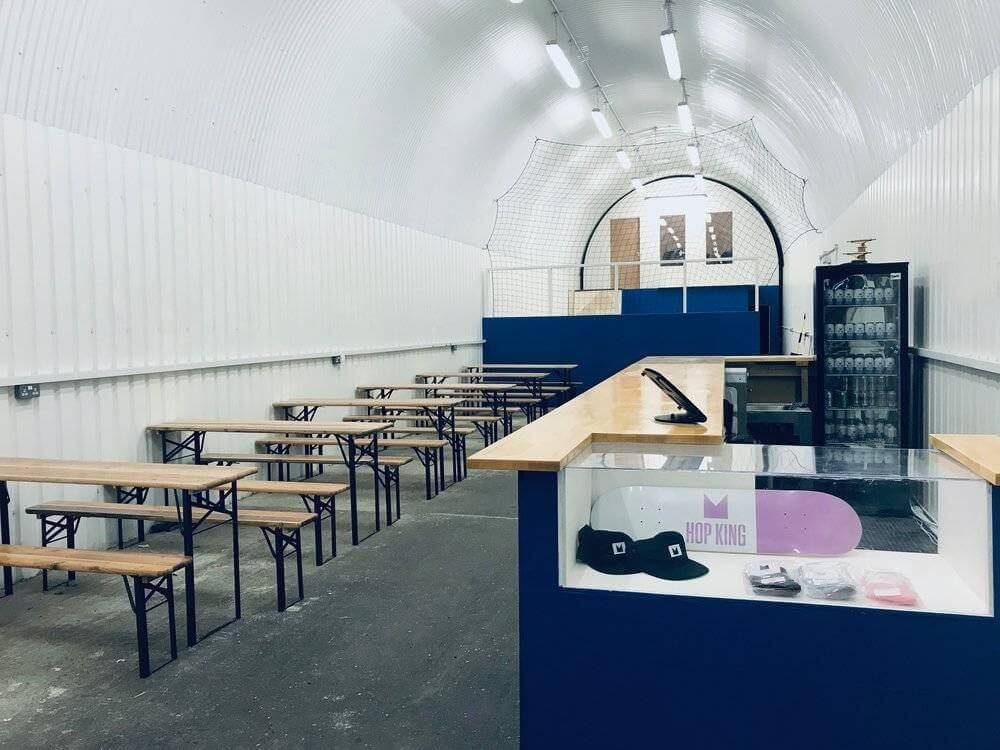 'Coolest Venue' contender, Hop Kingdom, is a boutique indoor skatepark and bar in a railway arch, with their own craft beer. Hop Kingdom venue hire might be the most fun you have all year.
Hop Kingdom is the product of a lifelong love for skating and its culture, twisted up with an appreciation for good beer and great times. We're taking a look at exactly how Hop Kingdom venue hire can make for an unforgettable event.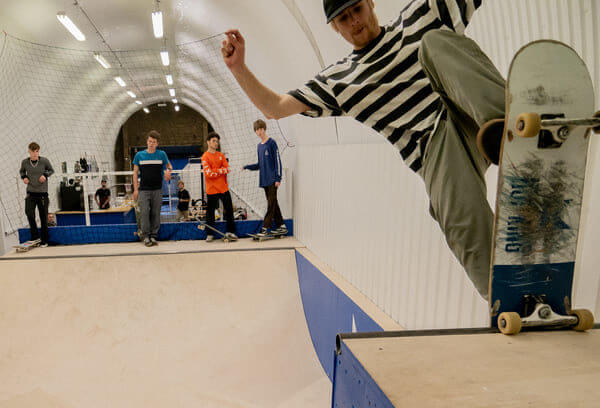 Beers and Boards
It all started when beer connoisseur Ben Hopkinson decided to break away from the brewery he worked for and go it alone. Craft beer is huge in London's events scene. Ben worked in a pioneering brewery during the emergence of the now-booming craft beer market. He helped brew the beers and sell them in independent South-East London venues. Now, he's used that experience to create a highly enjoyable beer, Hop King, and the ultimate space to enjoy it. However, you don't have to skate, or even drink beer to enjoy Hop Kingdom venue hire. Hop Kingdom provides the perfect space for a unique party, photoshoot, gig, or anything that could do with some street charm.
Secret Venue
Hop Kingdom venue hire is perfect for creative and exciting events – but you've got to find it first. Luckily it's just a few minutes walk (or ride) from London Bridge Station. This makes it easily accessible to all of London and most of south-east England. Duck into their railway arch, set between bustling Borough and trendy Bermondsey. You'll step into the bar, with high ceilings and corrugated-iron fittings. Rows of benches and strip lighting provide an industrial-chic setting, whilst being eminently practical. There'll be no shortage of drinks, with fridges stuffed full of their flagship Hop King beer. It's designed to appeal to craft fiends and lager swiggers alike, with a refreshing and tasty palate.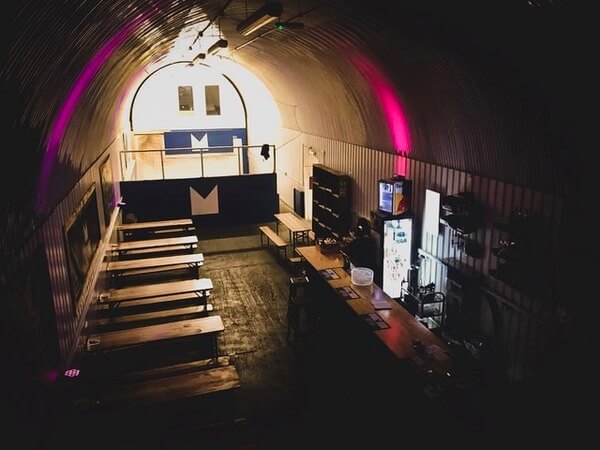 Flexible and Appealing
Step through to the next arch, and you're in the skatepark. It's compact and perfectly formed, with a set of brand new ramps and obstacles, a street course, and even a half pipe. If that means nothing to you, stay with us. Because you'll find the space can be quickly transformed for a variety of purposes, from screenings to gigs. It's the perfect size for a pop-up or a market. And, in this underground archway, you'll have no worry about standing out from the crowd. We couldn't think a better mix of convenience and urban cool than a secret skatepark just a kickflip away from London Bridge Station. That's what makes Hop Kingdom venue hire such a popular choice with those in the know.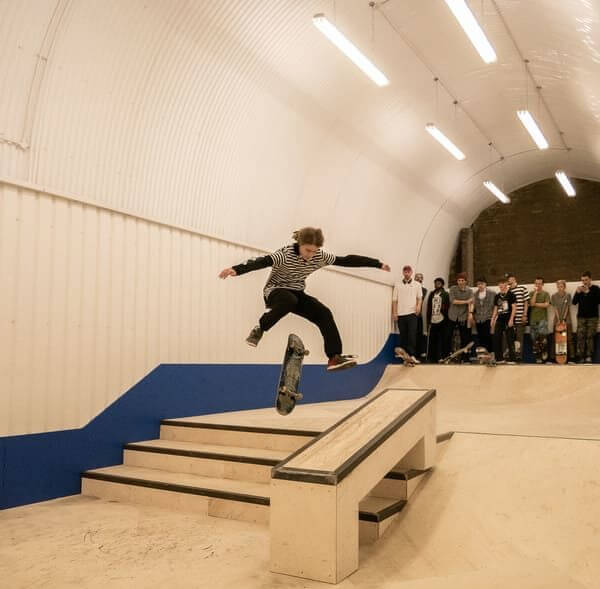 Smooth Sailing
Here, you'll find everything you need to make your event a success. The venue can provide professional grade live music equipment, and they're used to accommodating all sorts of functions. They even offer skate lessons, so why not get your team on some decks? There's no trust greater than that forged on four wheels. From skate jams to corporate dos, from product launches to team building, Hop Kingdom venue hire is a creative, cool, and affordable option for any kind of event.
Super unique space.
Private yet accessible location.
New and fresh venue.
Highly convenient for transport.
Professional audio equipment is available.
Extremely flexible.
You'll find Hop Kingdom at 16 Druid Street, London, SE12EY. For more information on Hop Kingdom venue hire, check out our website listing.