Looking for engagement party ideas? Well, firstly, congratulations!
Secondly, in this article you will find all the engagement party tips and ideas you need to ensure that your celebratory event is a total success.
Plus, to help with some of the legwork, we have collated a handy rundown of some of the best engagement party venues London has to offer – no matter how long or select your guest list. Let's start with some engagement party tips well worth knowing as you begin planning the first of your big events.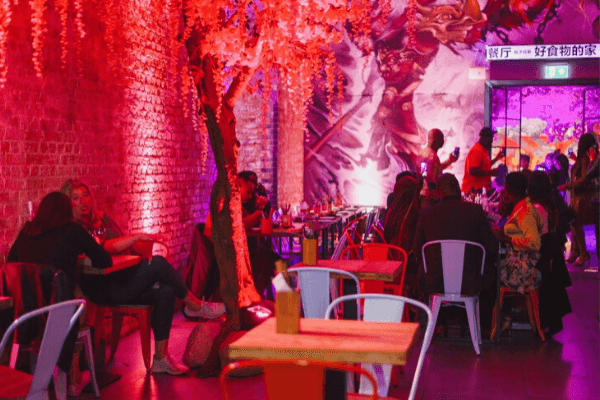 How much does an Engagement Party cost?
How long is a piece of string? Traditionally, the bride's parents host the event; but we're in 2020 now – so it's hardly set in stone. Our advice is to agree who's paying and how much the budget is upfront. Engagement parties are a relatively modern invention, which means there aren't so many hard and fast rules about what the event should or could look like.
The main thing is to stick to what feels right for you and your partner. An engagement party can be expensive, but if you want to host a celebration on a budget, keep the guest list short and send invites via email. Oh, and don't worry about paying for everyone's drinks all night. A welcome drink and a glass of bubbly to toast the happy couple will suffice, then guests can buy their own.
As for food – nibbles or platters are a great entry point but of course, you can look to canapés and even a sit-down meal depending on your engagement party style and budget.
Who Should I Invite?
You can keep it small and invite close friends and family, or you can spread the net and invite more people than you have Instagram followers. But remember: whoever you invite to your engagement party will more than likely expect an invite to your wedding day, so keep that in mind.
London-based and seeking an engagement party venue near you? Then look no further as we have the perfect spot, whatever your style or number of guests.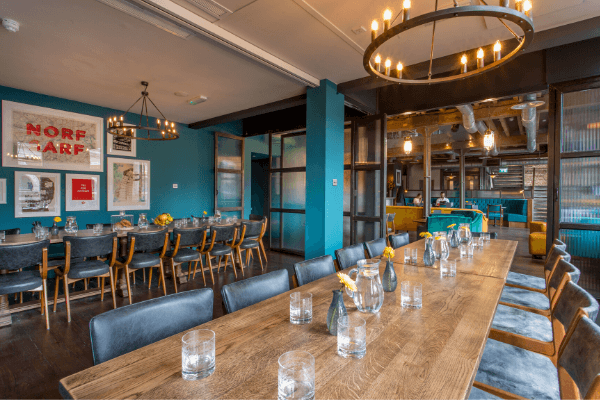 Engagement Party Idea: Private Dining and Cocktails
The Gallery at Smiths Of Smithfield, 67-77a Charterhouse Street, London, EC1M 6HJ. Capacity: 14-20.
With its retro-modern design, this former warehouse has incredible views of the iconic Smithfield Market. The Gallery inside Smiths of Smithfield has a homely feel making it the perfect place for a more intimate sit down meal.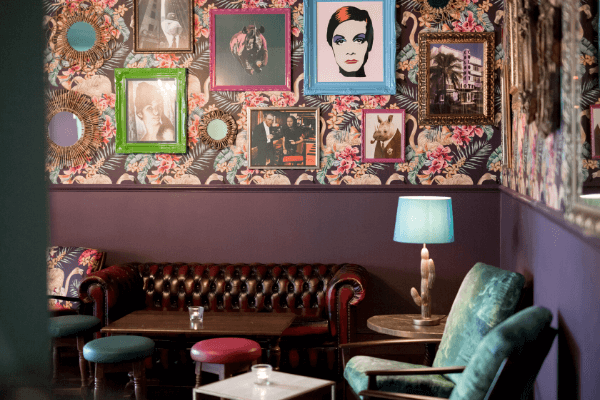 Engagement Party Idea: Your Own Private Bar
Rocks Room at Hope And Anchor, 123 Acre Lane, London, SW2 5UA. Capacity: 40 – 200.
Following a recent refurbishment, the Rocks Room at Hope and Anchor has an eclectic decor of Chesterfield leather sofas, modern art, neon lights and jazzy flamingo wallpaper. In short, it's a seriously fun place to host a party. You can opt to lay on street food and there are great cocktail and craft beer menus.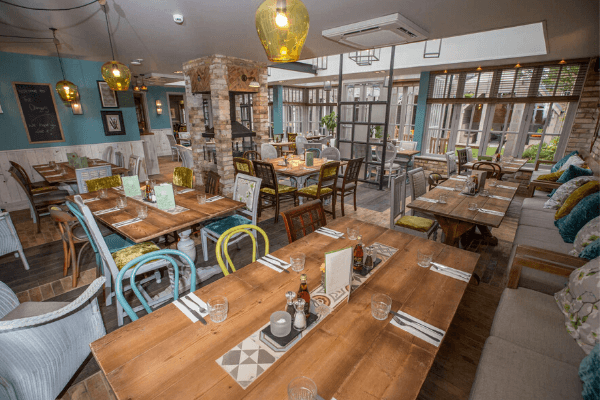 Engagement Party Idea: Private Dinner in an Orangery
Orangery at The Castle, Tooting, 38 High Street, London, SW17 0RG. Capacity: 70 – 90.
With its homey conservatory vibe, in winter there is a roaring fireplace and in summer guests can spill out into the garden. The Orangery can be booked for a private party or sit down meal, as can the cosy huts that line the garden walls if you're looking for something a little more intimate.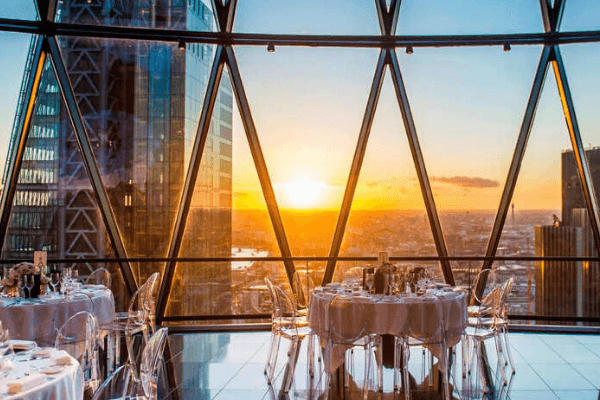 Engagement Party Idea: Celebrate with Sky High Panoramic City Views
Searcys At The Gherkin, 30 St Mary Axe, London, EC3A 8EP. Capacity: 14 – 30.
Want a London engagement party with a real wow-factor? For an incredible dinner party or drinks reception, with unrivalled views of the city's neighbouring skyscrapers, the top of the Gherkin is a wonderful place for a special occasion. Searcys offers refined dining using British produce or you can opt for a drinks reception with chic bowl food.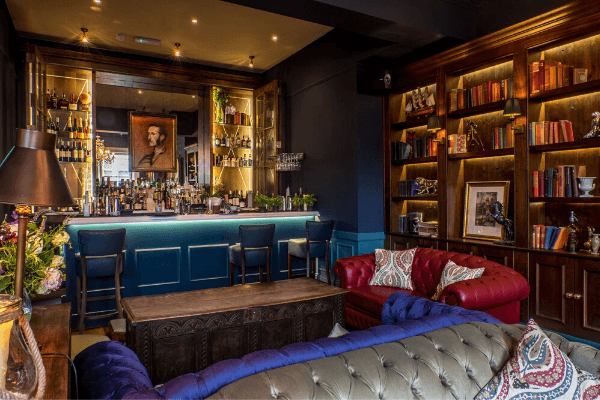 Engagement Party Idea: An Opulent Bar (with an Epic Cocktail menu)
Dining Room at Bull And Gate, 389 Kentish Town Road, London, NW5 2TJ. Capacity: 80 – 100.
With its opulent decor, Bull and Gate is the perfect location for an engagement party, whether you want cocktails and canapés – or a full-blown dinner party. The British menus are built around fresh, seasonal ingredients, to keep foodies of all tastes super happy.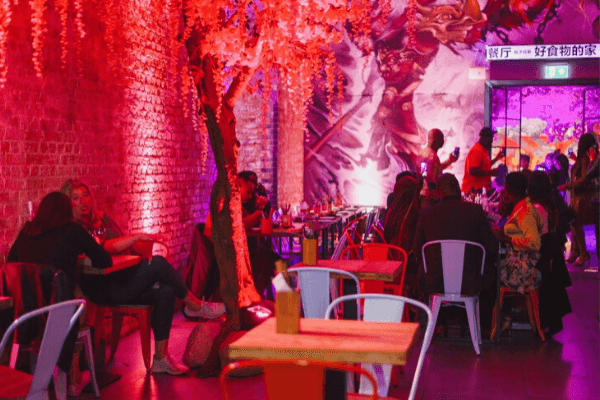 Engagement Party Idea: Vietnamese Canapés and Cocktails
Bar Area at Banh Bao Brothers, 20 Leake Street, London, SE1 7NN. Capacity: 20 – 50.
Situated under the Leake Street arches, this vibey bar with its beautiful faux pink blossom tree offers Asian-inspired cocktails and authentic yet modern Vietnamese canapé dishes like chicken bánh bao and spring rolls with a twist.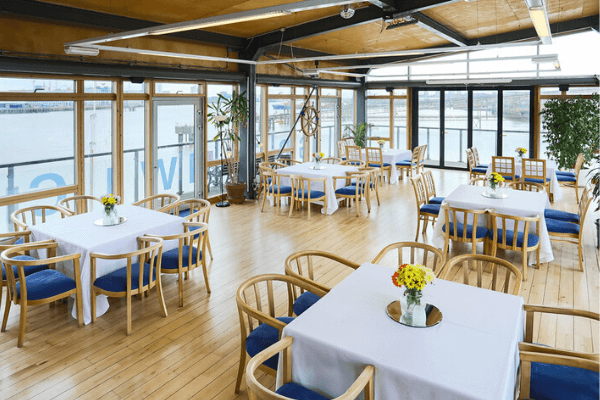 Engagement Party Idea: A Riverside Event with Breathtaking Views
The Clubhouse at Greenwich Yacht Club, 1 Peartree Way, London, SE10 0BW. Capacity: 24 – 130.
Just three stops from London Bridge, you feel like you're escaping the city at the Greenwich Yacht Club. Set on the water near the capital's iconic O2, the venue comes to life in the evening when the city's iconic skyline lights up against the dark night's sky. Thanks to its nautical feel and dramatic floor-to-ceiling windows, this location is the ideal setting for a fun, laidback engagement party.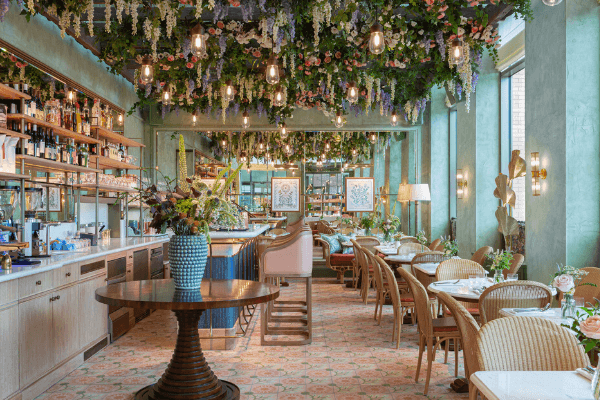 Engagement Party Idea: Sustainable and Green
Linnaean, 2 New Union Square, London, SW11 7AX. Capacity and Layout: 32.
With its stunning floral ceiling and English country feel, Linnaean is a beautiful and romantic venue for an engagement party. Head Chef Fran Winberg has created a menu that is both sustainable and nourishing, whilst being inspired by international cuisine. From vegan wines and gluten-free beers to non-alcoholic drinks and mocktails, there is also a vast array of drinks to suit all tastes.
For even more engagement venue inspiration, click here.