Okay, so it's February. You do not want to be thinking about your office Christmas party in February. And yet…
It's never too early to start planning the office Christmas do – as any office manager, personal assistant or chief of staff will know only too well.
The simple fact is this: if you're looking to host a large-scale Christmas party, then it's wise to lock down your venue early to get the pick of the bunch. That means thinking festive when nobody else is.
Planning a large-scale Christmas Party
If you want to secure your perfect venue on the ideal date, then there are a few details you need to know beforehand:
1. Budget – how much money does your company want to spend on a Christmas party?
2. How many people will be attending? Of course, it's tricky to know the precise number almost 10 months before, but a ballpark figure will help you secure the right sized venue.
3. Decide what type of Christmas party you want to throw: Do you want something laidback or glitzy? Do you want entertainment or space for dancing?
4. Will you want to do speeches before the party starts? In which case, you may need a venue with tech capabilities like microphones, a screen or a stage.
5. Catering: You need drinks at a Christmas party, but what sort of food will you offer to soak up the fizz?
VenueScanner Corporate Concierge
VenueScanner is a great resource and a really easy way to
find and book a venue
. However, once you find your venue, you then need to iron out all the details directly with them. If you don't have time, why not take advantage of VenueScanner's
Corporate Concierge service
? It's free to use and you get a £100 voucher when you book.
All you have to do is fill out the
Venue Finder form
– with its eight quick-and-easy questions covering things like the type of event, date, location, budget and the extras you would like such as a photographer, a presenter or a performance.
The VenueScanner concierge team will then get in touch with a shortlist of venues before enquiring on your behalf. Then all you need to do is book your favourite and confirm any final details with the venue. Simple, right?
Seven Brilliant London Christmas Party Venues 2020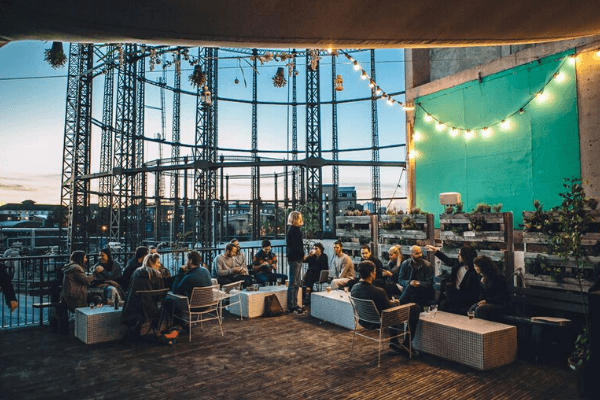 In the east of London is the large and versatile warehouse, Oval Space. The 5,000-foot main area is completely adaptable and there are plenty of breakout spaces, too. Outside is a beautiful terrace that overlooks the gasworks; a surprisingly beautiful urban vista. The sound system is second-to-none and the catering options are impressive.
Be sure to book this
before it goes.
Want to ensure your staff are still talking about the office Christmas party 2020 in years to come? The post-industrial Printworks in south-east London boasts six acres of private land and a totally blank canvas for you to create your bespoke Christmas party for up to 2,500 people. This venue enables your event to be as experimental as your creativity (and budget!) allows.
More details here
.
Originally a luxury cinema when it opened in 1933, today Troxy is an award-winning events space. The Grade II listed building has buckets of charm but plenty of modern facilities like state of the art PA and lighting systems. The Grand Hall is the ideal place for presentations; there are plenty of breakout rooms, five bars and a 2am license, making this the ideal venue for an end of year bash for a big company.
Book this venue for your Christmas party
and you'll be assigned your own events manager to ensure the planning and execution run smoothly.
Click here for even more Christmas party planning tips and inspiration.