All of the eye-catching aspects are here. Famous location? Check. Elegant furnishings? Of course. Sweeping views of London in all its glory? Absolutely yes.
This is Searcys at the Gherkin and it's one of the most impressive places for a corporate event in the UK. Spread across the top three floors of the building – that's a dizzying 590 ft above the capital's streets – you can come for dinner and drinks; but this space feels especially suited to event organisers who want to dazzle at their next function.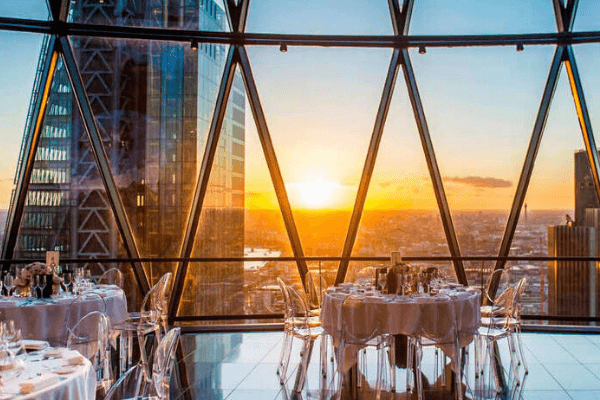 Let's begin right at the pinnacle, on Level 40. Searcys' bar at the Gherkin is called Iris – named after the building's iris-shaped peak – and it's a place for gin cocktails, Champagne, wine and snacks like the Lake District burger sliders and Whipped Dorset mackerel. With floor-to-ceiling windows and gorgeous views north, south, east and west – this is a prime piece of retail estate for anybody with an Insta account…
There's room for up to 160 (reception-style), and Iris can be hired out for private shindigs of varying sizes – decreasing to 70 if you only need it for semi-exclusive hire.
Of course, you could arrange for exclusive use of Iris and its sister restaurant, Helix, which is accessed down the spiral staircase on Level 39. The two combined spaces can host 140 people (banqueting or theatre-style), climbing up to 260 across both floors if you're wanting a reception do.
It's here at Helix that you'll find Searcys' chefs doing their thing. With typical plates including the Roast Norfolk cauliflower, mixed alliums, cranberry compote; and Shorthorn sirloin steak with crushed Northumberland potatoes and King Oyster mushrooms, the focus is on exceptional ingredients that are sourced on these shores.
As a side-note: Helix's Sunday Brunch menu offers a pretty spectacular spot to come for your pastries, coffee and Eggs Benny at the weekend.
Sustainable Searcys
We've also got to speak about Searcys' sustainable pledges. Helix and Iris are striving to reduce their food waste by 20 per cent, they work with carbon-neutral Champagne houses and support Beyond Food; a social enterprise helping homeless people to gain employment in hospitality.
These are just three of the initiatives that have resulted in the venue landing three Food Made Good stars by the Sustainable Restaurant Association. A handy option if you're looking for some of the best sustainable venue hire London can offer.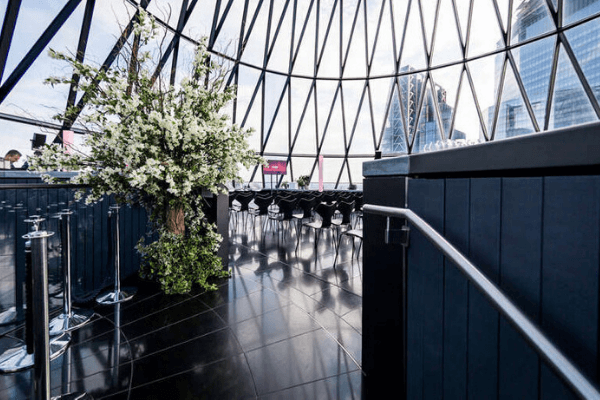 Flexible packages to suit your needs
With the exception of breakfast events – they're limited to a capacity of 100 – Searcys' dedicated events team are ready to adapt their spaces so your next meeting, celebration dinner, seasonal party or awards evening plays out exactly how you'd imagined.
And what if you'd like the glamour of dining at Searcys the Gherkin but have a smaller party size this time around? One floor below Helix, on Level 38, you'll find five beautifully presented dining rooms – Cirrus, Nimbus, Cumulus, Stratus and Alto – ready to host your smaller conferences or important meetings for between 18 and 60 people.
Why go for Helix and Iris private hire at the Gherkin?
● Iconic, sky-high location in the city
● Exciting – and flexible – range of private hire options available
● Top quality food and drinks are responsibly sourced
● Five extra dining rooms available to hire on floor below
Searcys at the Gherkin, 30 St. Mary Axe, EC3A 8BF. For more details, check out our listing page.