Hinckley's The Cream Rooms venue hire fuses top business facilities with a community focus, providing unbeatable conferencing, meeting and events spaces in Leicestershire.
An all-inclusive working space is one of the most in-demand types of event venue. And they should be simple – but that doesn't mean they are easy to operate. London and other major cities are awash with outfits trying to nail this formula. Some succeed, others fail. But looking further afield, we've found a perfect example in the market town of Hinckley, Leicestershire. It's got a well-chosen selection of event choices, and each is done just right. The Cream Rooms venue hire provides meeting rooms, conference spaces, and function rooms, so there's no lack of potential. Let's take a look at them in better detail, and find out how to make the best use of this hidden gem. Then we'll go into just how The Cream Rooms team can help create the perfect personal event – from weddings to wakes.
Corporate hire done right
Let's start with the bread-and-butter of business venues – meeting rooms. There are untold reasons to hold a meeting, and different ways to run a successful one. Fortunately, The Cream Rooms venue hire has different room choices to suit your needs. We found the three meeting rooms (including the boardroom) to be well made and ideal for almost all situations. From one on one interviews and private calls to brainstorms to team and board meetings – you're covered in comfort and style.
When is a meeting not a meeting? When it's a conference. No matter where you stand on the spectrum, The Cream Rooms venue hire has you covered. Additional to the three meeting rooms, there are two dedicated conference spaces for occasions that require grander facilities and seating capacity. From 24 to a whopping 300 people, you'll be happy to host your guests in one of the well-appointed spaces. Made up in a sleek, handsome decor with a high standard of equipment and hospitality on offer, there's nothing left to chance. When you're hosting a large scale corporate event, risk is what you want to run away from. By choosing a slick operation such as The Cream Rooms for venue hire, you're opting for a smooth event with greater potential for success.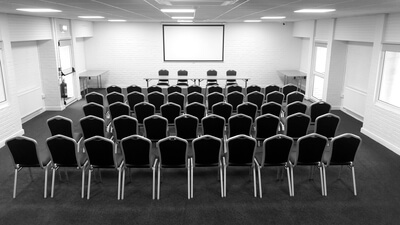 Five decades of private hire
It's not just corporate events that The Cream Rooms venue hire excels at. The two function rooms on offer are ideal for personal events. They can be hired as blank canvas spaces, which is a sought after prospect. The cafe and licensed bar on site save organisers having to secure external hospitality services, which can be a major barrier to time and cost-effectiveness.
The team behind The Cream Rooms have over 50 years of experience in bar and catering services for private functions. That's an incredible achievement – it's rare to come across that level of prestige. They put that expertise to good use in lovingly facilitating a variety of important private events. Engagements, christenings, wakes, and weddings are all in the most capable of hands. Furthermore, the venue is licensed to hold a wedding ceremony as well as being able to host the reception.
Ultimately, our favourite feature of The Cream Rooms was its open, friendly attitude and integration into the local community. Being a part of the Hinckley Rugby Club, it's natural that they have deep connections to the local area, and are genuinely invested in serving it well. But it's a far cry from the typical sports club function room. Extensive renovations and investment into making The Cream Rooms a thoroughly modern, competitive operation have paid off dividends, and local organisers are sure to reap the rewards.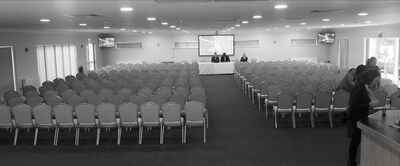 Many sizes of meetings and conferences catered for.
Suitable for private and corporate events.
Friendly and community-focused.
Free parking.
Catering and fully licensed bar available.
You'll find The Cream Rooms at The Cream Rooms Business Centre (HRFC) Leicester Road, Hinckley, LE10 3DR. For more information on The Cream Rooms venue hire, check out our website listing.