So there's 48 hours to go. After three long months of lockdown, the UK's pubs, bars, cafes and restaurants are permitted to re-open from Saturday – but you already knew that.
What you might not know is that we've been out conducting some research at VenueScanner. We asked almost 200 venues across the country – from grand wedding destinations to independent restaurants – how they were preparing, and the changes they have made to ensure guests can feel safe. It gave us lots of interesting data, which you can read about below.
Approaches to opening dates were split. While almost 40 per cent were happy to open in early July – and a further 14.3 per cent planning to return before the end of the month – six per cent had August pencilled in, while one in 10 were planning for September. A quarter of responders said they still didn't know when they would be re-opening, and a small minority said they wouldn't be welcoming visitors back until 2021.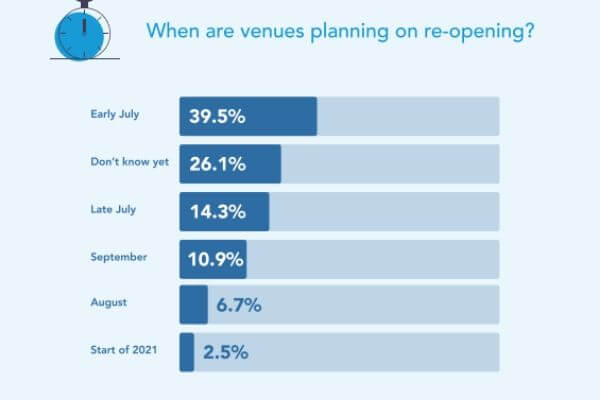 Hospitality has been among the hardest hit industries by COVID, but that doesn't mean there isn't hope. 97 per cent of venues said that they were taking bookings for later in the year, meaning that the prospect of an autumnal conference, Q3 away-day or office Christmas party is still on the cards.
Our survey found that 56 per cent of venues have adjusted their deposit / cancellation policies due to the pandemic. What convinced them of the need to do so?
"Huge numbers of both consumers and businesses were stung through losing deposits and money for pre-paid flights, hotels and venues following the impact of COVID-19," says VenueScanner founder, Rebecca Kelly.
"There is no doubt that people want to re-connect with each other, however the uncertainty of whether that trip or event can go ahead and the terms by which consumers and businesses can get their money back safely will have a huge impact on willingness to book.
"The venues who have relaxed cancellation and offered free deposits are the ones we expect to be booked in 2020 or until there is significantly more economic certainty."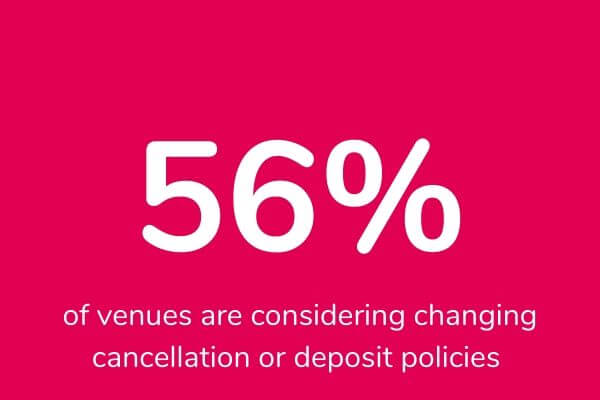 We also asked venues about the precautions they were taking to reduce the risk for staff and customers. Common responses included social distancing measures, increased staff training, reducing capacity to half, laying down floor stickers, installing screens and sanitiser stations.
Plenty spoke of frequent deep cleaning, temperature checks, PPE provision and replacing buffet meals with packed lunches. Many venues detailed plans for one-way systems around their spaces and some mentioned 'Give Way' points, to avoid build-up of footfall at busier areas.
Our survey also made it clear that many venues want to be flexible. 45 per cent said they had already repurposed some of their space, while over 70 per cent had an interest in opening their doors for hot-desking, as more businesses leave traditional office set-ups in favour of more remote working.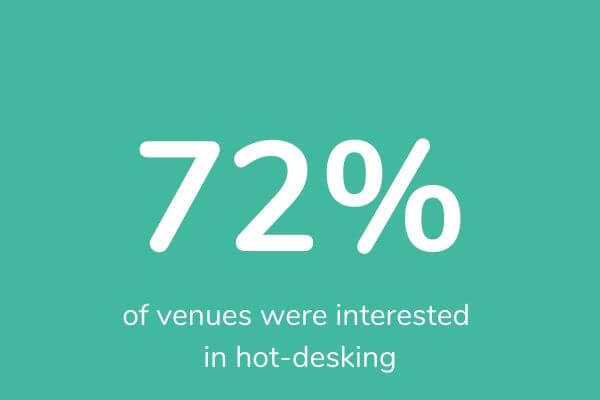 44 per cent of the venues we asked already had 3D video tours of their venues so that potential customers can explore their space from home. That's a number likely to grow. 57 per cent of those who didn't yet have one were interested.
"Before COVID-19 we were seeing a gradual transition to booking events online growing from five per cent in 2017 to 60 per cent in 2020," adds Rebecca.
"Lockdown has expedited this process, people have become used to making decisions with only information they can access online and this trend is set to continue.
"Seeing and feeling what a venue will be like is critical for event organisers and this is why we believe that 3D tours are a must-have for venues moving forward.
"People won't be using public transport and travelling around unless absolutely necessary and 3D tours enable organisers to get a feel for a venue and book from their sofa. We expect "sofa booking" to be the ultimate trend of 2020."