If there's one time a year when you should consider booking a venue that's really out there, it's Christmas. There are plenty of incredible and unusual Christmas party venues in the UK perfect for a night you and your guests won't forget. Take the time to have a look at these 10 amazing spaces, guaranteed to blow the minds of you and your guests.
We'll walk you through what makes these spaces unique and interesting and why you should book something with a little character this year. Let's go!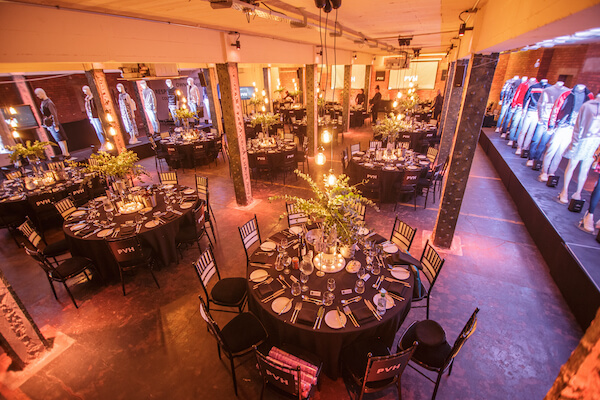 Starting out with one of our favourite venues in Manchester, Victoria Warehouse. As you might have guessed it's an industrial warehouse building available to book for events. It's a cool blanc canvas space you can experiment with and decorate as you'd like. With high ceilings and room for 400 people standing this is a perfect choice if you're looking to make this year's celebrations extra everything. 
Location Manchester
Capacity Up to 400 guests standing
Price £29 per guest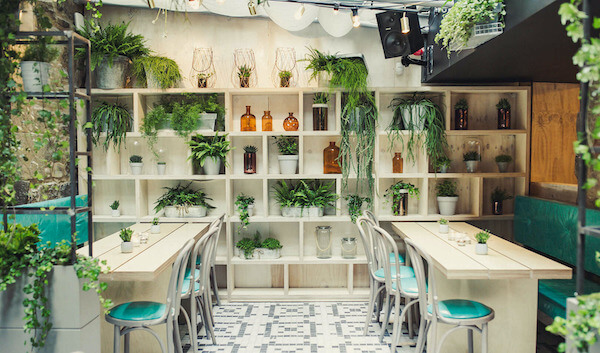 If pastel is your vibe this Edinburgh gem is for you. With a turquoise colour scheme and plants everywhere you're not going to disappoint the younger crowd. The space is semi-private and can seat up to 40 people for a sit-down dinner. This should be your top choice if you're looking for a smaller Christmas party venue in Edinburgh with a non-traditional atmosphere.
Location Edinburgh
Capacity 40 seated or 90 standing
Price £300 minimum spend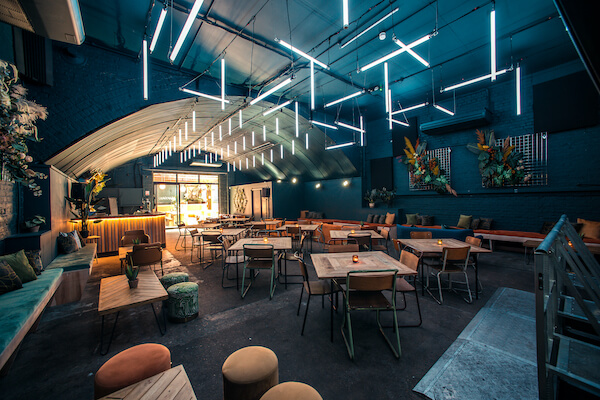 Another not-so-traditional spot is Night Tales, a club in Hackney, one of the capital's many exciting up-and-coming areas. This interesting London venue is known for late nights, good music, and frozen cocktails. It's the way to go if you're looking for a large space with no venue hire fees that still doesn't compromise on the eclectic atmosphere.
Location London, Hackney
Capacity 300 standing
Price £5000 minimum spend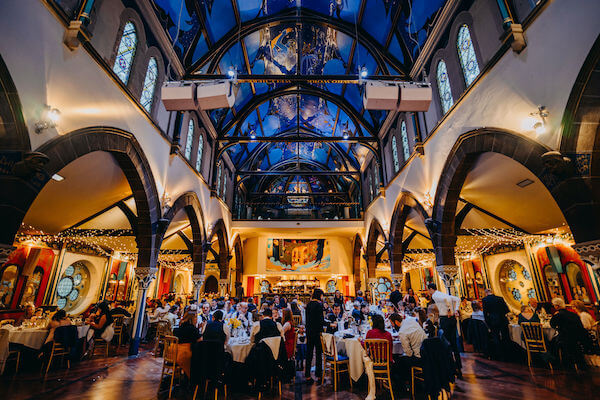 This is one of our absolute favourite venues in the UK. Òran Mór is a breathtakingly beautiful converted church where you feel like you're a part of the tide of history. It can seat almost 300 people and your guests will be served fantastic Scottish food all night. There are many fantastic venues in Glasgow but this one takes the price, located just opposite the botanic garden. Prepare to get your mind blown!
Location Glasgow
Capacity 400 standing
Price £40 per guest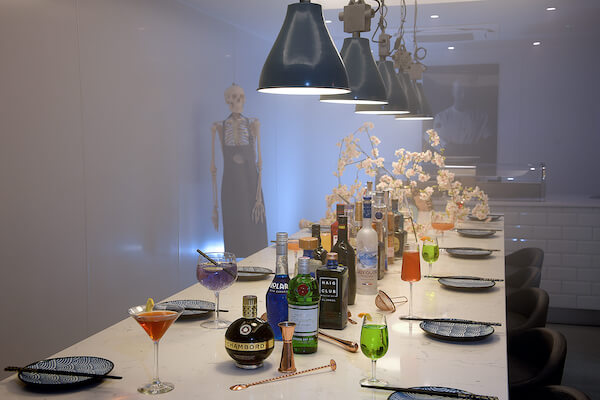 If you're looking for a quirky Christmas party venue in Liverpool for a sit-down dinner, we highly recommend the private dining room, The Food Lab at Lu Ban. This classy restaurant serves up delicious Chinese food with inspiration from the ​​Tianjin region. The space is also ideal for cocktail making so if you're looking for a team bonding activity before you sit down for dinner you're all set here. Perfect for smaller companies and startups in Liverpool or even just a private Christmas gathering.
Location Liverpool
Capacity 12 people seated
Price £550 minimum spend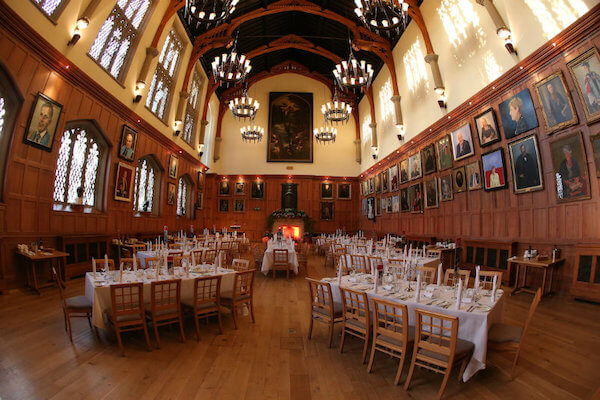 At Queen's University in Belfast, you'll be spoilt for grand historic architecture, dining in what might as well be Hogwarts. The chandeliers in the ceiling, the walls covered in portraits, and the wood panelling are what make this space a truly unique one. Go for this option if you're looking for a big and awe-inspiring Christmas party venue in Belfast.
Location Belfast
Capacity 150 people seated
Price £20 per hour or £450 per day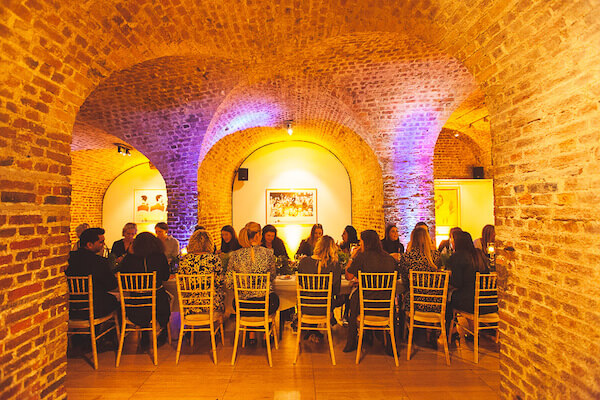 With higher ceilings than you'd expect and the natural dividing of the vaults allowing for almost any setup, the RSA House will fill all your Christmas party needs. The location is impeccable for both Londoners and visitors as it's just a short walk from Charing Cross and there's even an option to have your own branded entrance. Think big or go home at what must be the most spacious vaults in any London Christmas party venue.
Location London, Charing Cross
Capacity 220 people standing, 82 people seated
Price £2730 per day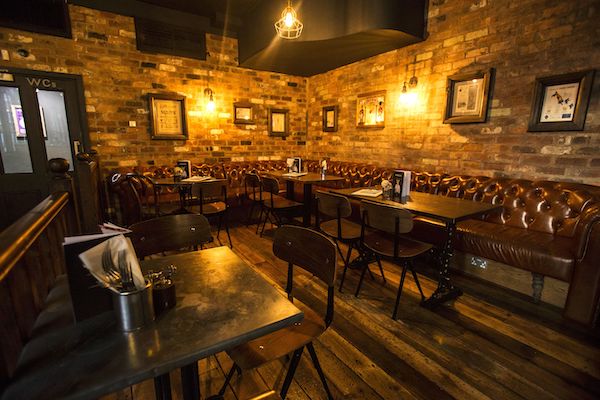 Our most affordable option so far is nothing less than a gin distillery. This dimly lit space will be fantastic for an intimate Birmingham Christmas party. Make your way through the many wonderful gin options but just make sure you don't fall in the canal afterwards, as this venue is conveniently located right on it. 
Location Birmingham
Capacity 30 people standing
Price £10 per guest
What could be better than hiring a venue on a boat (sorry yacht) this Christmas? Not much if you're asking us. This one-of-a-kind Edinburgh venue will remind you of Titanic without the tragedy and you might even spot your Kate or Leo as you sip on a glass of champagne. The menu is mouth-watering and the service impeccable. Prepare for some real wow moments!
Location Edinburgh
Capacity 460 people standing
Price Price on asking
Starting our journey in Manchester and appropriately ending it there too with this art deco space. The bar can be hired privately with its own bathroom and an option of canapés and small plates. The warm lighting and lush interiors give this venue its own unique character. There's even a DJ both if you'd like dancing to be on the menu!
Location Manchester
Capacity 80 guests standing
Price Price on asking