Located in the heart of the iconic Leadenhall Market, We Grill & Crafty Fellas venue hire offers both outdoor and indoor space, bursting with atmosphere. Their menu of grilled skewers, light bites, fresh salads and homemade dips is sure to get your event off to a memorable start.
London pubs and venues are often bursting to the seams come wintertime. The UK's track record for dodgy weather means outdoor space is often off-limits come November, which is why we particularly love what We Grill & Crafty Fellas venue hire has to offer. Housed within Leadenhall Market and fully covered, you can take advantage of their outdoor space well into the winter months.
We Grill & Crafty Fellas combines a selection of freshly-brewed and locally sourced craft beer with a menu of flavourful Mediterranean and Middle Eastern-inspired healthy food to create the ultimate private hire space. What more could you ask for than welcoming interiors and a menu of delicious healthy foods all bursting with flavour? We Grill & Crafty Fellas certainly provides the best of both worlds. Here, atmosphere and culinary delights combine to pack one hell of a punch.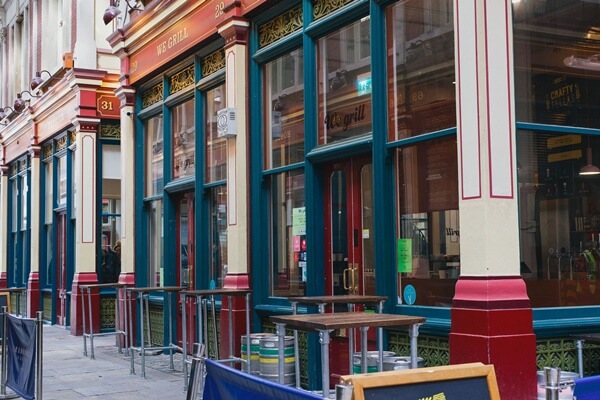 We Grill & Crafty Fellas venue hire
With We Grill & Crafty Fellas venue hire comes a huge amount of possibility. With indoor space for up to 50 people and room for a further 200 outside, you're free to mix and match to create the ideal event space. Fully covered and sheltered from the elements, you'll be able to make use of their outdoor space year-round.
Aside from its impressive food and drink offering, We Grill & Crafty Fellas' main selling point is its atmosphere. Leadenhall Market is world-renowned for its magical appearance – even said to have inspired Harry Potter's Diagon Alley – and that really comes through with a private event held within this impressive historic space.
A drinks menu that's guaranteed to impress
Crafty Fellas' selection of craft beers, spirits and premium mixers is sure to take your party to the next level. With nine craft beers, two real ales, two craft ciders, and a distinctive Gingerbread Stout on tap, there really is a tipple here for everyone. Whether you're partial to an IPA or more of an English Bitter fan, you won't be short of choice here. They even offer a 'Weird and Wonderful' section comprised of gluten-free beers, sours, barleywines and other speciality ales.
It's fair to say that while we were chomping at the bit to try their wide selection of craft beers, we know that this isn't to everyone's taste. There's no need to worry though, because, in addition to the craft beer 'stars' of the menu, you'll find a wide selection of wine and spirits. There's no problem at all here if you're hosting a group of G&T lovers. You can take a look at their drinks selection here.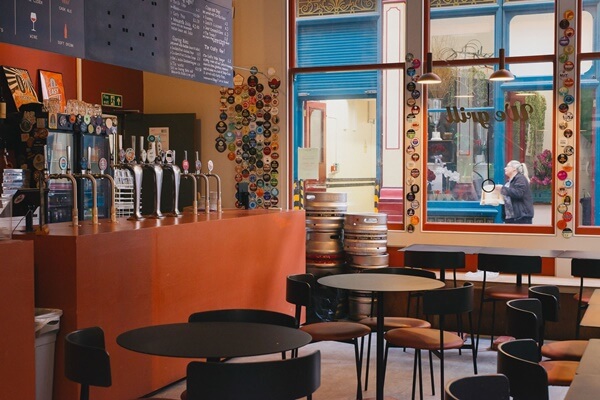 Food to cater for all tastes
We Grill was originally dreamt up because nobody was serving what creator Tarek El Yafi wanted to eat in London. The food menu at We Grill is comprised of healthy, delicious food inspired by Middle Eastern and Mediterranean cooking. The food is done simply but made with high-quality ingredients and a great deal of care; resulting in a menu of grilled skewers, homemade dips, sides and salads that will please even the fussiest eaters.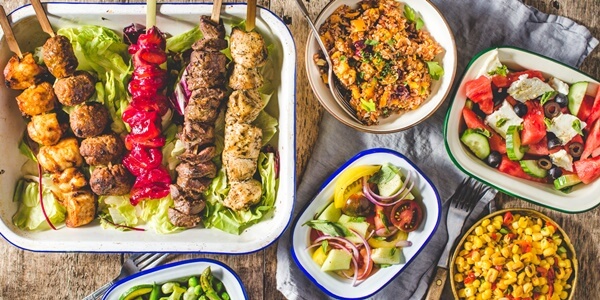 Pump up the atmosphere
If an event held within the atmospheric surroundings of Leadenhall Market isn't enough for you, We Grill & Crafty Fellas offers another way to get things going. For those requiring a little something extra, they offer the capacity to house a DJ inside the venue. Or, if you're not sure where to start, they'll help you curate your very own event playlist for no extra charge. This venue really knows how to throw a party.
What makes We Grill venue hire so special?
● An atmospheric and central setting within London's iconic Leadenhall Market
● Indoor and outdoor space for up to 250 people that can be used year-round
● An extensive menu of locally-sourced craft beer
● A freshly prepared food selection to please everyone
● A team of friendly staff all well-versed in private event management
You'll find We Grill at 29-30 Leadenhall Market, London EC3V 1LR. For more information on We Grill & Crafty Fellas venue hire and each of its unique spaces, check out our website listing.