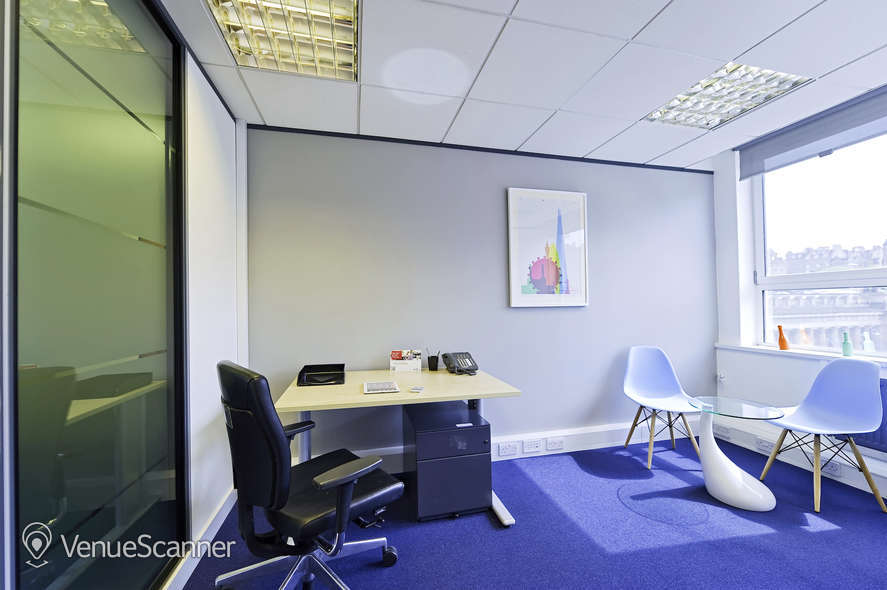 Regus Edinburgh Princes Street
83 Princes Street, Edinburgh

Hire
Regus Edinburgh Princes Street
83 Princes Street, Edinburgh
Capacity and Layout
Amenities
Disabled access
Air conditioning
Lectern
Stage
Cloakroom
Print/Scan/Copy
About Regus Edinburgh Princes Street
Ratings & Reviews
If my review can save your hard-earned money, what I endured will be worth it. This company scammed me and I hope hope hope they never scam you! 1) They purposely used elusive language to talk about their businesse and services. They have non-industry terms for their membership types and what you get from them. They also tell you one thing, such as the fact that you have 24-hour access to the building, then later will tell you your membership never covered that service. 2) They sold us a membership that, if other people came into the office, would have put our health in danger due to covid. They sold us a membership where we got a seat at a large shared table. On our first day, there were two people sitting there which meant we would have been unable to follow the 2-meter distance regulation had we sat next to them. 3) I lost a week of work because their wifi was a steady 2 up and down and sometimes went out! 4) It took them an entire week to show respond to the no wifi-issue and they never really resolved it. They kept giving innane suggestions or being polite but NOT ACTUALLY DOING ANYTHING. One of the employees there kept complaining that his furlough was over and he had to give up his life of watching netflix all day. He spoke more on this than in providing solutions for me. 5) A day after using the service and realizing these problems, I threatened to to cancel and ask for a refund. They never responded to my request for a refund, and kept suggesting useless ideas to solve my problems. I thought it was really weird that they never offered to end it all and refund my money and let me leave peacefully. So I attempted to at least cancel the following month of my membership, and to my horror, realized I couldn't even do that! The contract said that I had to cancel my membership one month in advance. But considering that their services didn't actually work, that obviously seemed void. I was scammed after all. But it gets WORSE. What they failed to tell me is that you can only cancel the contract before the 1st of the month. I joined on July 6th, six days after the 1st so I wasn't eligible to cancel the next month either, August. And here it was only July 7th that I realized that I wanted to cancel! They never told me NOR DID THE CONTRACT STATE that because I started on a later date than the beginning of the month, I couldn't utilize the cancel one-month in advance policy. AKA, the sales person, Anne Brown, never bothered to tell me that by signing up I was committing to TWO months of the membership. I have since looked over other contracts for other businesses regarding this matter and they clearly warn people about these kinds of things! The best part is that Anne Brown was fully aware that I wasn't even sure if I wanted to join long-term and was only considering trying for a week. She convinced me to sign up for at least a month to "try it out" and then ropped me into a two-month committment against my will. 6) I emailed their account services team and they never wrote back. I called the accounts services team and the person literally said to me, "But I can't cancel your next month's membership unless you had asked on June 31st." She kept repeating this date even though I told her that was impossible because I didn't know the this awful business existed on that day and had signed up for the service on July 6th. 7) When I pointed out all of the above to the incompetent staff, you know what they said? That it was my word against theirs. Yep, they were damn well aware of the scam they were pulling and felt they could get away with it. 8) There was a rotten cheese smell that was clearly coming out of one of the abandoned offices that netflix and chill boy kept apologizing for but never cleaned. It was rancid! 8) The business is CLEARLY doing badly. People who came in to use their services before told me the internet and everything is so slow compared to before. They're cutting costs and everyone's trying to protect their jobs...which means you have to protect yourself by avoiding this place. In short, RUN!
GOOGLE REVIEW
Absolutely awful. Centre Manager Sean McGinn and Operational Manager Emma Henson have been an absolute disgrace
GOOGLE REVIEW
Beautiful environment
GOOGLE REVIEW
Took my daughter to TLS for visa application. Reception staff at Regus were very nice and helpful, shame same couldn't be said of TLS.
GOOGLE REVIEW
The staff here are amazing. Fiona and Chris are lovely, and really made my time here. Thank you so much.
GOOGLE REVIEW
Cancel within 48 hours: VenueScanner guarantees 100% refund of first deposit on payments made through us. Up to £500 maximum.