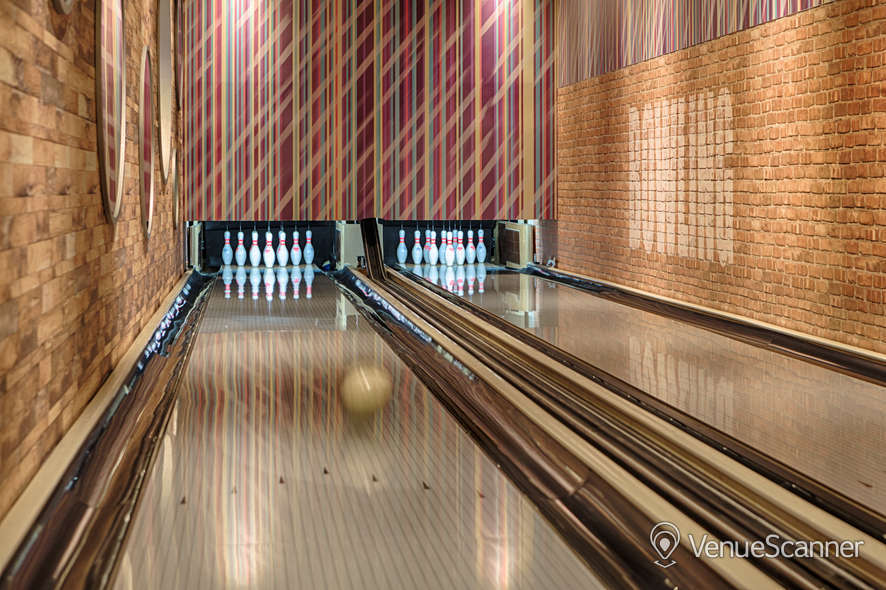 Courthouse Hotel Shoreditch
Courthouse Hotel Shoreditch, 335-337 Old Street, London

Hire
Courthouse Hotel Shoreditch
Courthouse Hotel Shoreditch, 335-337 Old Street, London
Capacity and Layout
Amenities
Disabled access
Air conditioning
Lectern
Stage
Cloakroom
Print/Scan/Copy
About Courthouse Hotel Shoreditch
Ratings & Reviews
We stayed here to celebrate both a birthday and anniversary and we were really excited. Unfortunately a couple of things seriously marred our experience. 1) Fire Alarm. The alarm in our room was faulty. It flashed an exceedingly bright light every 30 seconds throughout the first night. Despite the tape that had been stuck over it as a botch fix it was very disturbing. The next morning 4 alarms went off between 7.30am and 9am. Whilst we were glad to learn there was no way we were going to burn in a fire, it certainly wasn't the repeated wake up call we were looking for. After being silenced the light was then flashing every 3 seconds. It took A LOT of chasing the staff to get it fixed and even us stating we'd leave they didn't before maintenance were eventually sent up (2pm) and both the flashing light and the noise was fixed. Whilst friendly and polite, the reception staff were clearly briefed to provide stock answers rather than actually trying to sort out issues. 2)It's opposite a motorcycle club so despite paying for a more expensive room there is A LOT of engine noise throughout the night from heavy bikes. Not the fault of the hotel but worth keeping in mind if you arent a heavy sleeper. Not the restful weekend we were aiming for which is a shame because it is a lovely hotel.
GOOGLE REVIEW
Very disappointing. I booked a large suite for 2 adults, 2 children at a cost of £400. For this price for a night I was expecting a beautiful room. The sheets were stiff and threadbare, the walls scuffed with chunks missing at corners, furniture was water stained and tired, the toilet roll holder was coming out of the wall taking the plaster with it. There was no kitchen open past 11pm and after a very long day it was disappointing not to be able to get anything to eat. There wasn't even a mini bar with snacks. There are far better hotels for the money. The staff at check out really did not seem at all bothered by any of this which is probably why the hotel is in the state it is. Spend your money on a better hotel, there are places to choose from.
GOOGLE REVIEW
I would never step foot in this hotel in my life. My brother and his fiancé got all their belongings stolen and all the manager had to say was sorry. The MANAGER let a random number that was not on file say they wanted their bags packed. Then gave all their belongings to a complete stranger. I've stayed at many high end hotels across the globe and this Hotel doesn't even deserve one star. I would never feel safe coming here knowing people can make fake calls on my behalf and the hotel staff would ship all my belongings in an Uber. If your willing to do that I don't even feel like I'm safe to sleep. I never in a million years would recommend this establishment to anyone.
GOOGLE REVIEW
Very good Hotel with friendly staff and nice comfortable clean rooms. Hotel was very quiet and has good secure underground parking. Plenty of pubs restaurants and lively entertainment within a short walk. Make sure you see the cells in the main bar. All very interesting.
GOOGLE REVIEW
The hotel itself was lovely - big rooms, great amenities - Bowling alley, table tennis tables and a pool with a steam room and sauna. The downside however, was the fact that the staff were unhelpful, service wasn't great, AC did not work (did not provide any solution when we brought it up). Booked hotel specifically for the pool - much smaller than the pictures online. Steam room and sauna were great. Breakfast was inconsistent - service was slow. Feels more of a 4* hotel (due to staff) not worth the price we paid.
GOOGLE REVIEW
Cancel within 48 hours: VenueScanner guarantees 100% refund of first deposit on payments made through us. Up to £500 maximum.