Our top picks for unique outdoor venues in London
Hosting an event outside might not be the first thing that comes to mind when planning a get-together in London but as a matter of fact there are loads of fun and exciting outdoor venues in our beloved capital.
Read on below for our top recommendations of outdoor Venues in London.
Central London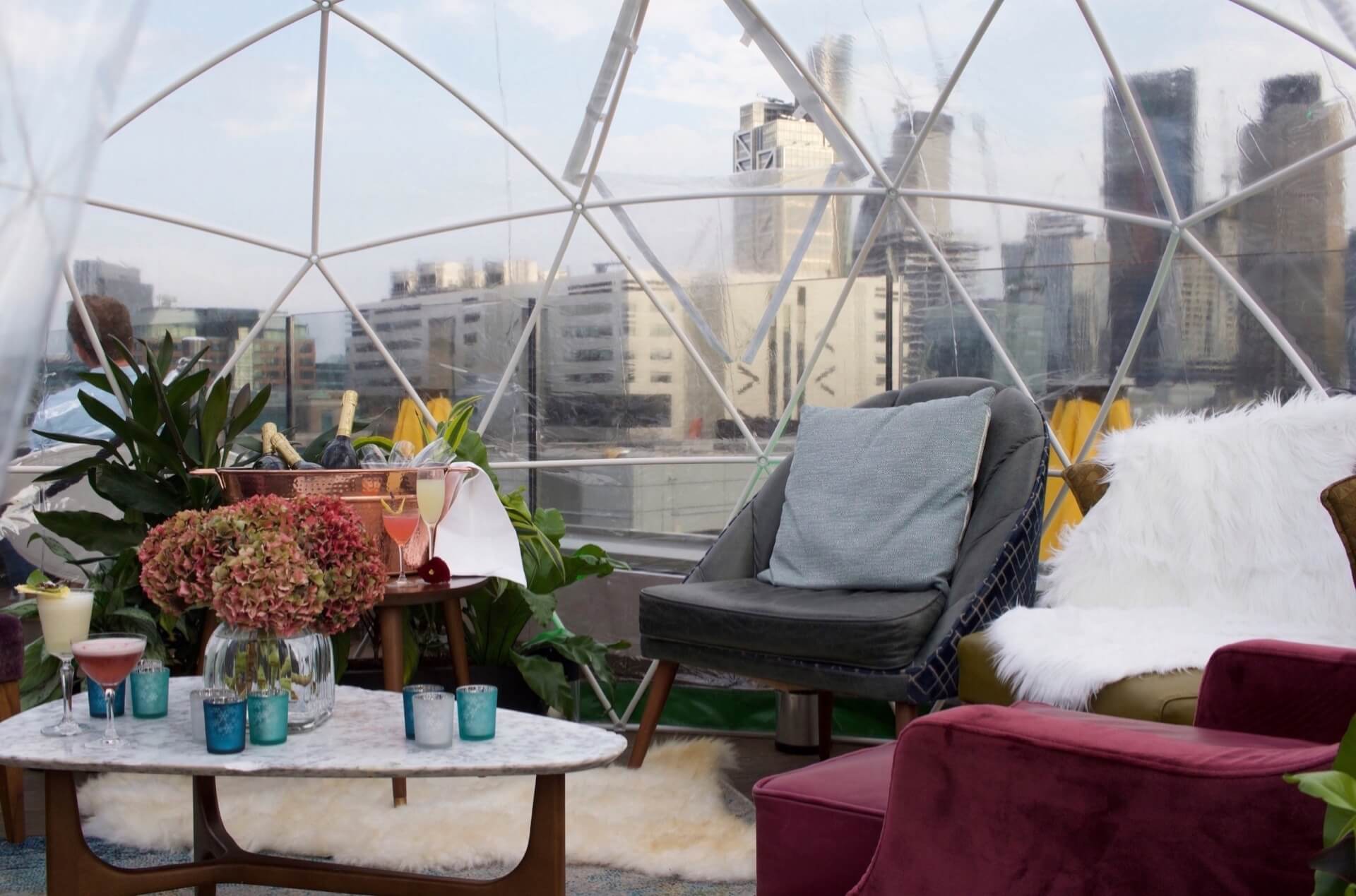 If sleek, modern settings, and delicate, elegant food is your preferred way of socializing, Aviary may have just what it takes to tickle your fancy.
With a menu laying out the finest British-sourced meats, oysters, fish and produce, this is certainly a place where Quality is King. Perfect for an intimate reconnection with loved ones and family ordering à la carte, or for larger groups with their set menu from 17th May.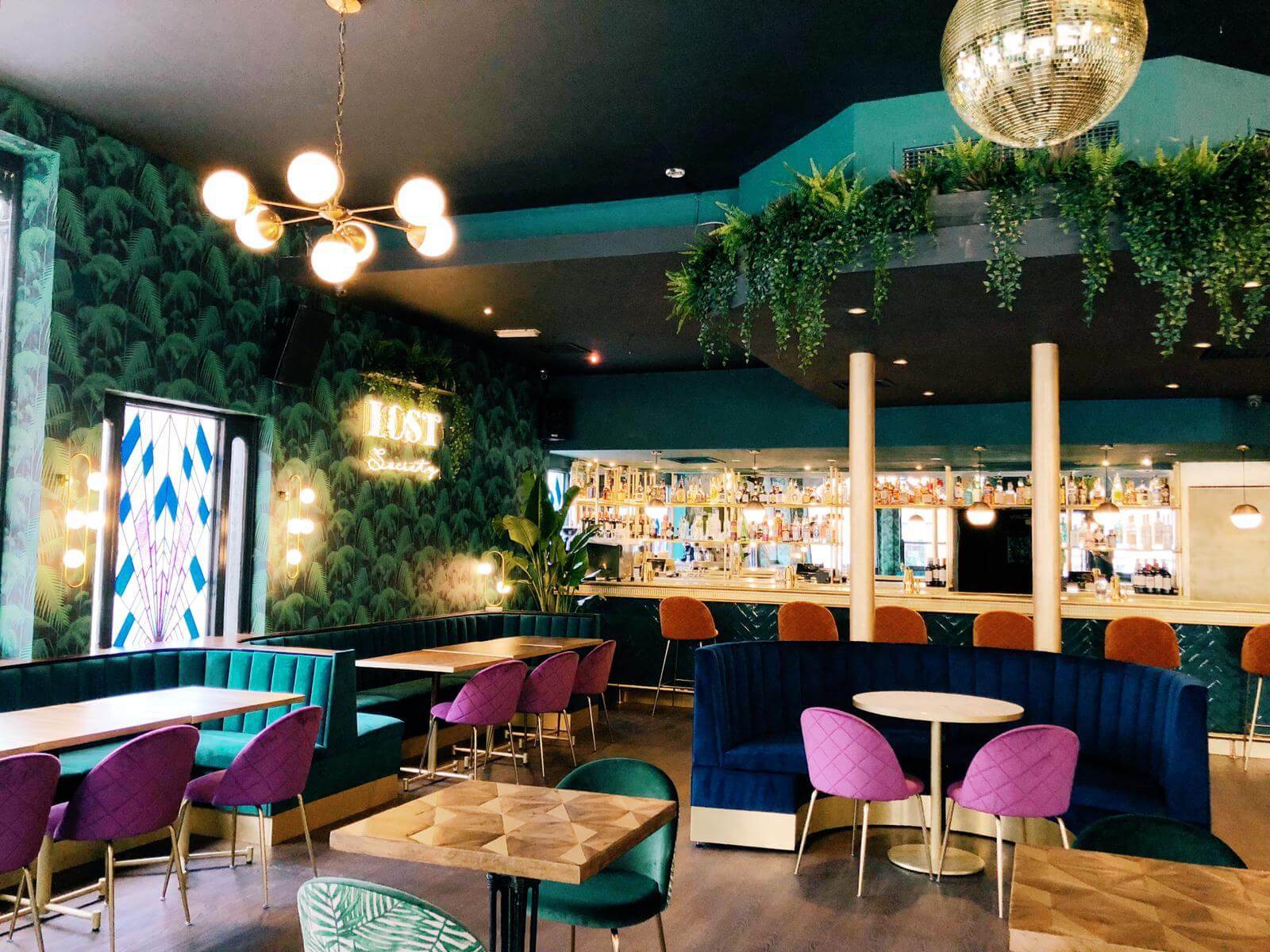 Eclectic and colourful – you can expect to have all of your senses heightened when visiting Lost Society. Their décor takes strong influence from the Art Deco period of the 1920s-1930s, with loud wallpaper and velvet in every corner; making you feel both comfortable and cozy, whilst elegant and sophisticated. The outdoor space is partly covered so you won't have to worry about the weather. One of the best features of this venue is their extensive drinks menu, with a clear focus on both classic and signature cocktails, marrying well with their weekly event schedule of live music performances, Disco Brunches, Sunday Roast, and themed DJ nights. Expect a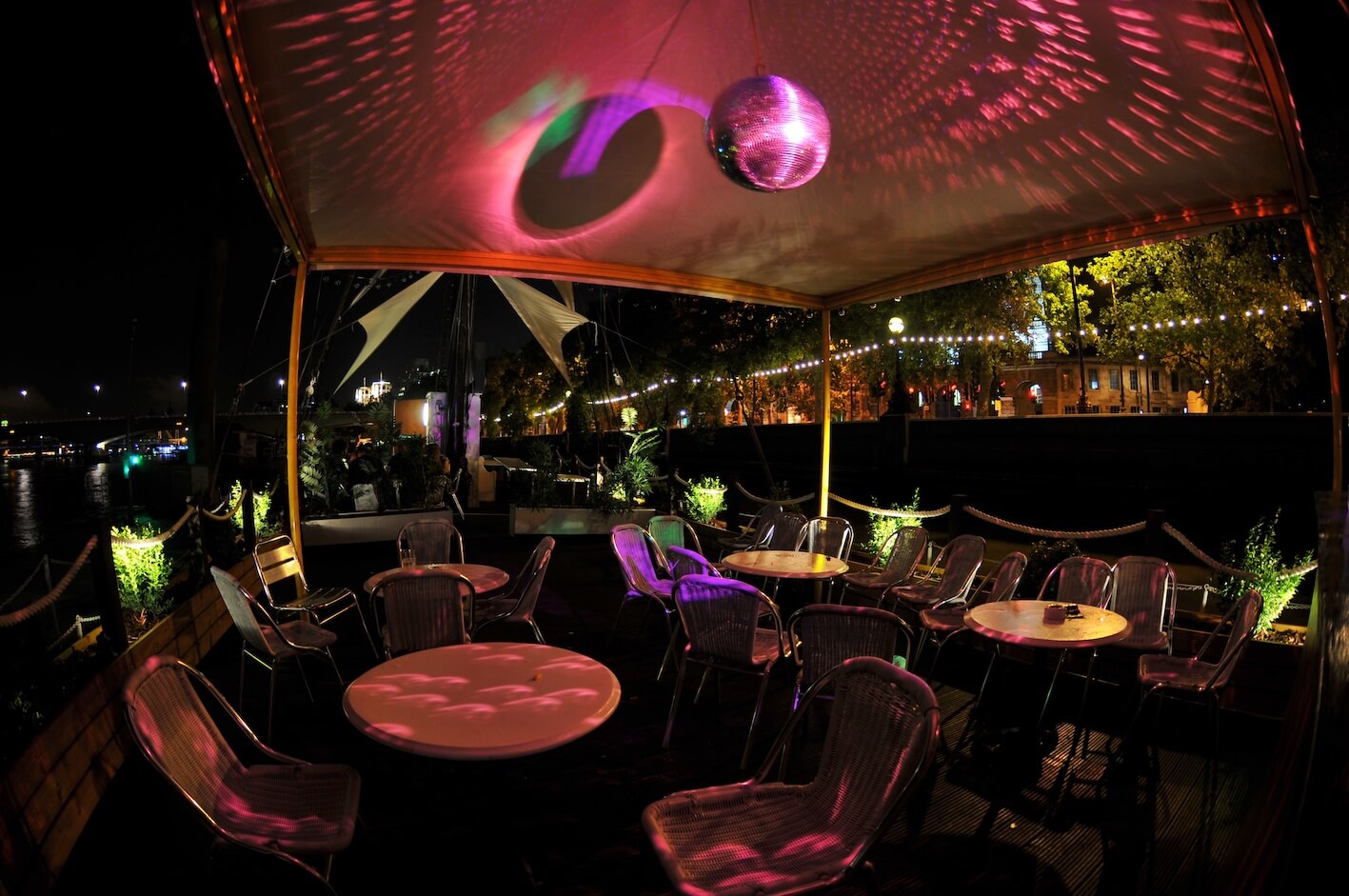 If a night out at a pub isn't going to cut it for you, and you need something a little more adventurous, consider hiring out Bar & Co for your event – the legendary party boat seen cruising up and down the Thames.
Moored at Temple Pier, Bar & Co is a great venue for those looking to keep the party going, while admiring the view of the London Eye, Big Ben and Oxo Tower. With a menu that surrounds Buffet, Tapas, Platters and BBQ, this is the choice for Londoners who enjoy socialising with the wind in their hair.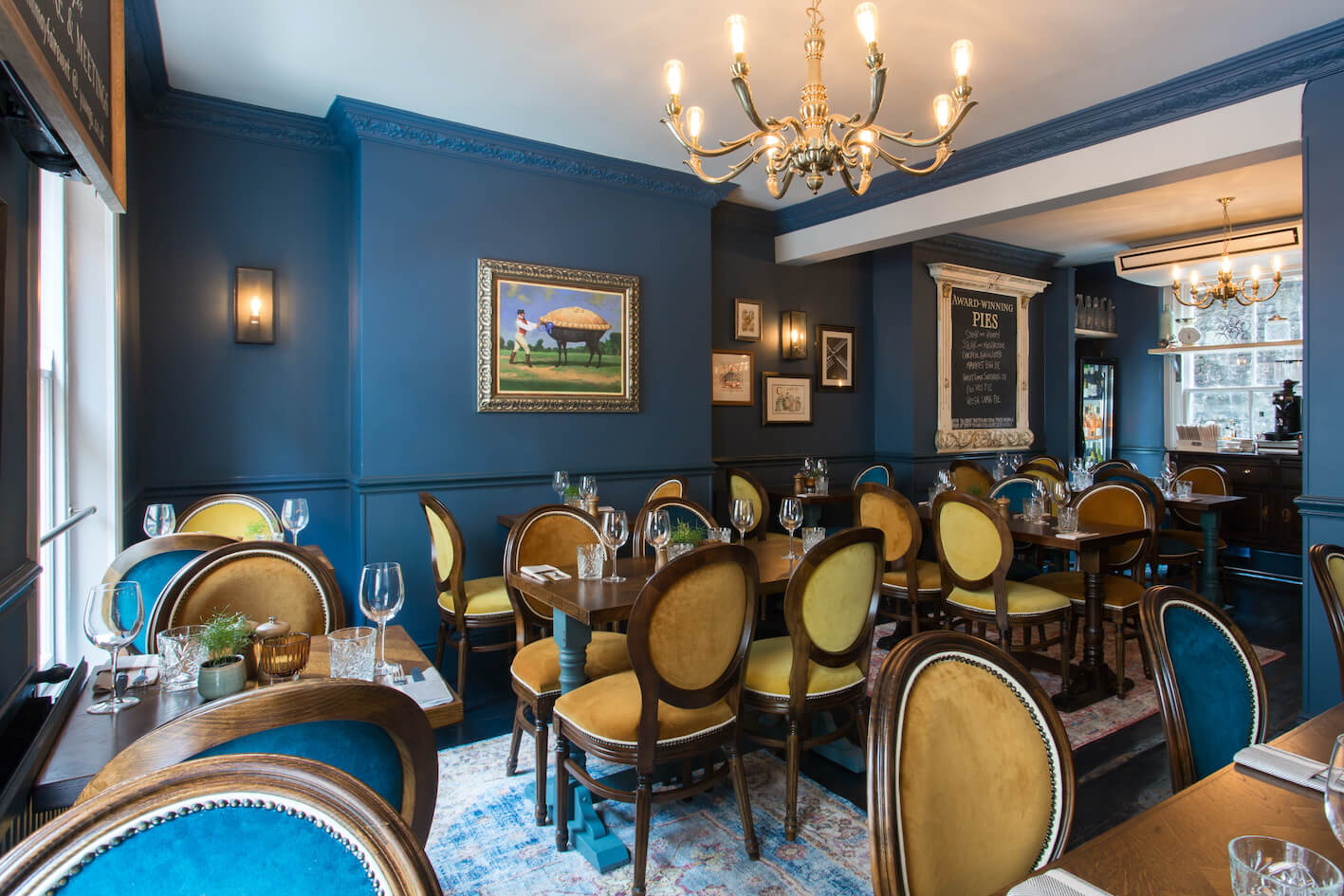 If you have a particular passion for pies, Windmill in Mayfair may be the ideal destination for you and your friends. Located just off bustling Regent Street, this location has a split-level appeal; downstairs in the bar for some good, old fashioned pub food, in the restaurant for a more refined dining experience, or on the rooftop terrace for some peace and quiet away from the sounds of Mayfair.
East London
If you are a lover of craft beer, this is the place for you. With 16 rotating beer lines on tap, and handmade sourdough pizza to accompany, Fugitive Motel satisfies a number of guilty cravings.
Their enthusiasm for hosting tournaments of shuffleboard and cornhole, as well as their outdoor seating for 30 people (how perfect!) makes Fugitive Motel the perfect place to host any type of event; with the light and open décor certain to relax the quarantine-induced cabin-fever!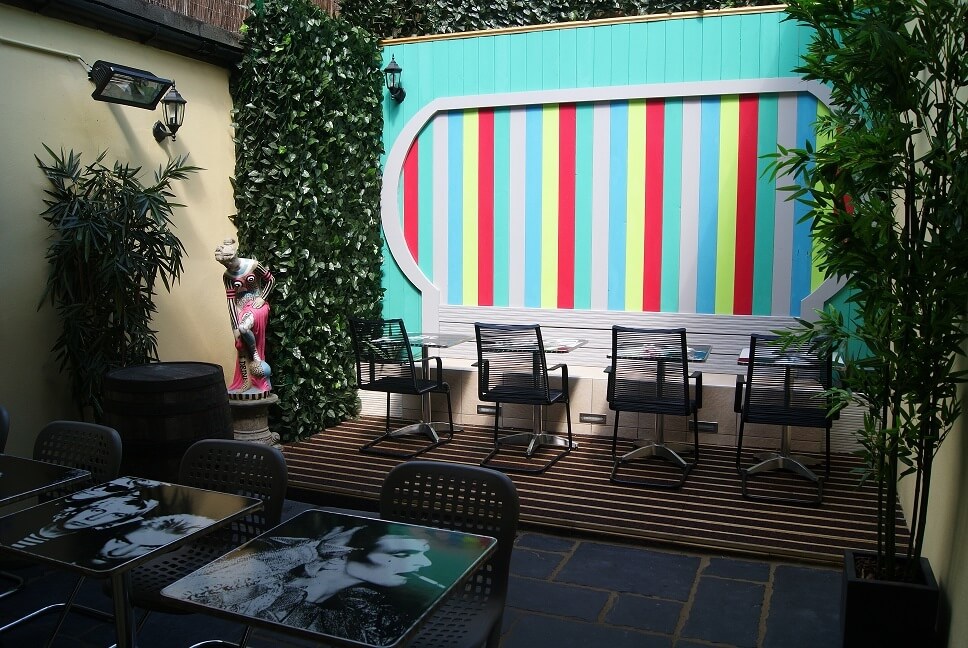 With their name as fruity as it is, it should come as no surprise that Apples and Pears describe themselves as an "independent, fun cocktail bar". Their layout is suited to host up to 70 guests, and they specialize in functions; with venue hire to suit birthdays, engagements, corporate events, and just about anything that you could imagine.
With a fully-equipped DJ booth, PA system, and cocktail bar, if you have been missing your clubbing and bar hopping whilst in lockdown, this venue may just scratch that itch. Keep in mind that they are comfortably labelled as a "cocktail bar" – don't come expecting a 3-course meal! Consider this your after-work drinks-and-snacks venue.
The venue can be booked exclusively for 40-70 guests, and is usually open from 5pm until late for all days except Mondays.
It should come as no surprise that The Cow is well known for their prime cuts of beef; with 28day aged Rump, Porterhouse and Rib Eye steaks available for those looking for something to sink their teeth into. Only a short walk from Stratford Station, overlooking London Stadium and Queens Park; the perfect place to recover from (or wait out) an extended shopping trip.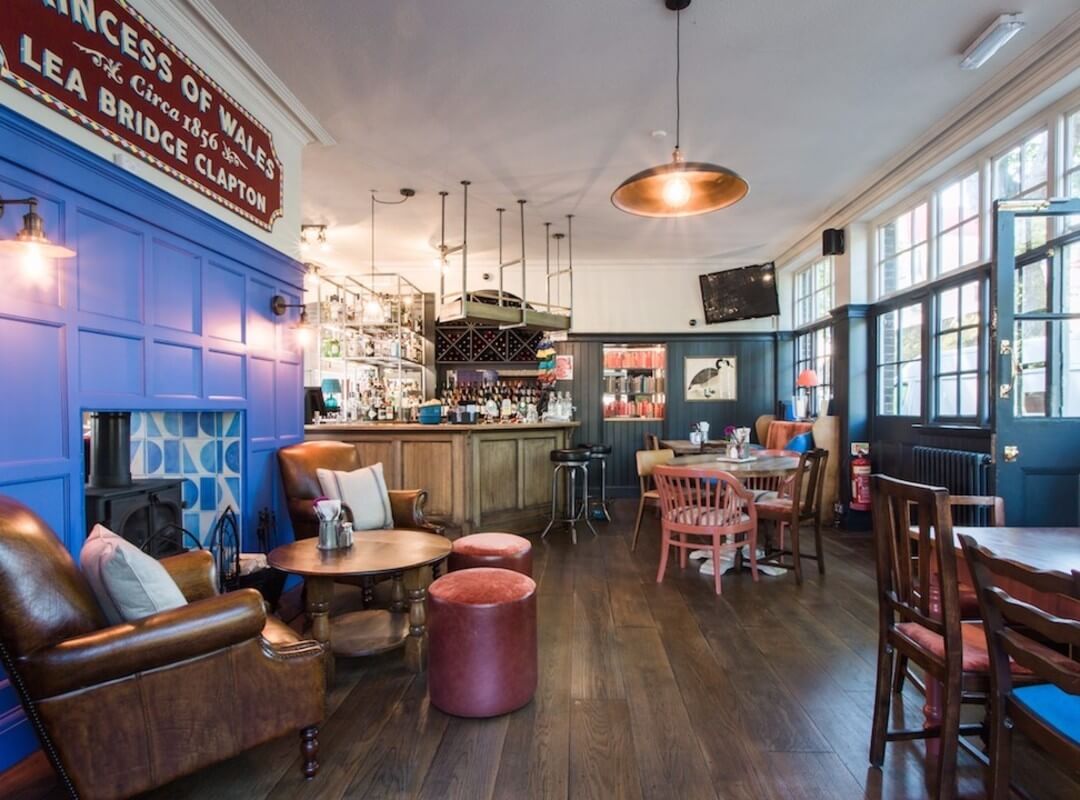 With the positioning of a crown jewel on the River Lea, and an exquisite stretch tent across the outdoor seating, the Princess of Wales is an elegant and understated spot to enjoy a glass of wine, while lazily watching the world go by. Their on-site burger shack is open 7 days a week, and with each of their seating areas cable to cater for 30-60 people, this venue has exactly the right amount of space for a fun yet intimate event.
West London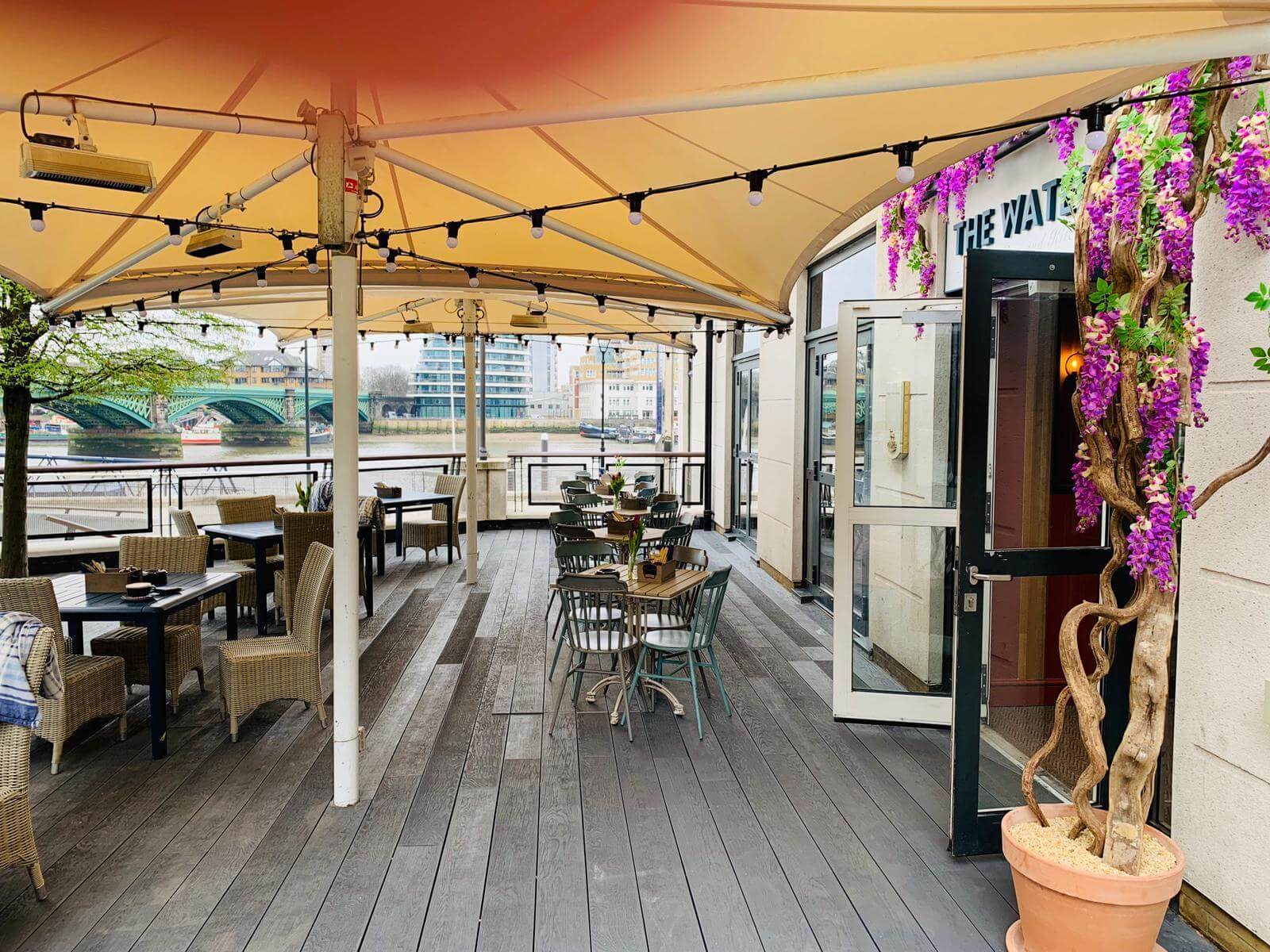 Picturesquely located along the river Thames, this venue merges all of our loves; a scenic view, hearty pub food, and is pet-friendly! Come through for a traditional Sunday lunch, ala carte ordering, or to sip a cocktail on the terrace. For the early risers, the Waterside also serves a fantastic brunch, with very accommodating brunch service until 5pm Monday through Saturday
A fantastic option for a casual coffee, delicious spring meal, or as a place to work from while we slowly transition back to office life, the New Inn can cater for all weather and requirements that you might require. Their newly refurbished outdoor setting is partially covered, with heating available on demand for chillier days and evenings.
Located on West Avenue in Middlesex, the Bridge Hotel is a great meeting point for people coming from every direction. With 68 bedrooms and an on-site car park, this is a welcome choice for those who decide to carry the party on late into the night.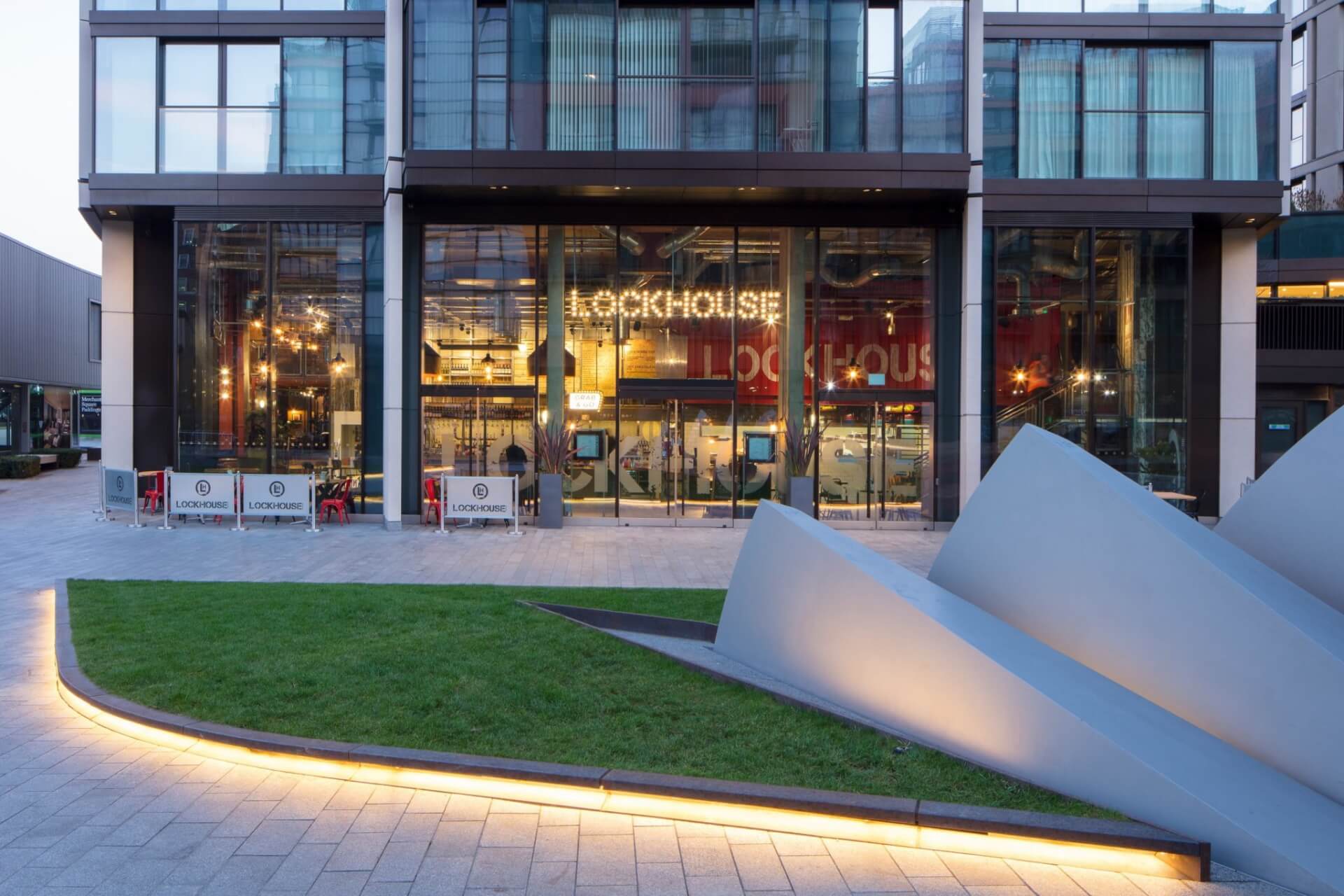 If you're interested in testing out what is reportedly 'West London's best brunch' consider arranging your next catch up with friends at the Lockhouse, located next to the canals in Paddington. For added enticement (in case you needed any!), over the weekend the brunch is accompanied by bottomless prosecco – what more could you ask for?
North London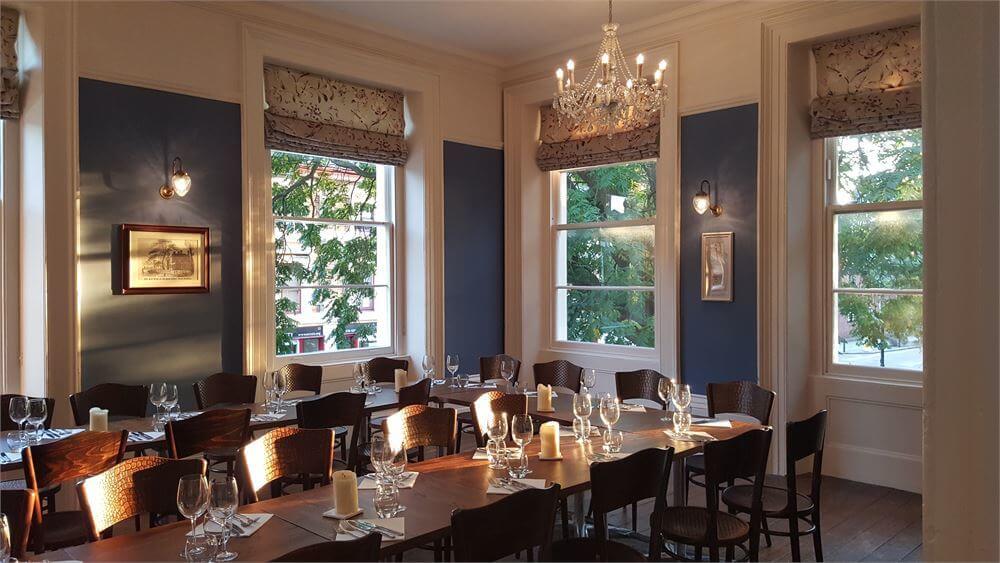 Open from 11am until 9:30pm, with both light and airy outdoor seating, as well as plush leather interiors, the Canonbury Tavern is a location that can take you from day to night. Boasting one of London's largest beer gardens, this is a great location for those looking to unwind in the sunshine.
Located in trendy and eclectic Islington, the King's Head Theatre can boast of being the first theatre pub since Shakespearean times.
Their eccentric, colourful décor and food platters designed for sharing are perfect for those looking to visit the attached theatre, or attending an event at Islington Town Hall and needing a drink before or after.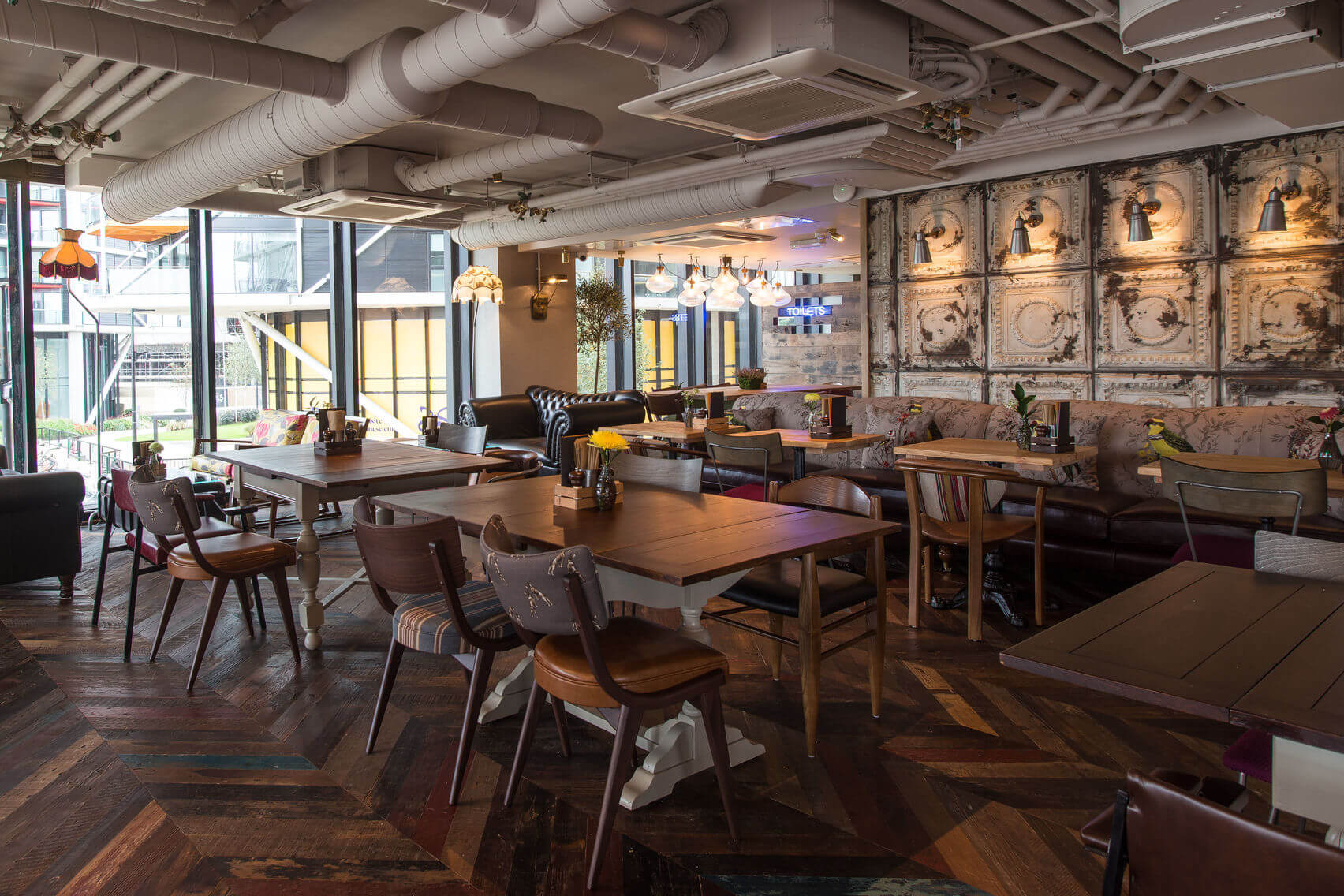 Located only a brief walk from Vauxall, this tavern supplies the best of life's simple pleasures – artisanal pizzas, craft beer, and traditional Sunday roasts. Their mix-and-match upcycled furniture gives the place a rustic charm, while their terrace offers fantastic views of the river.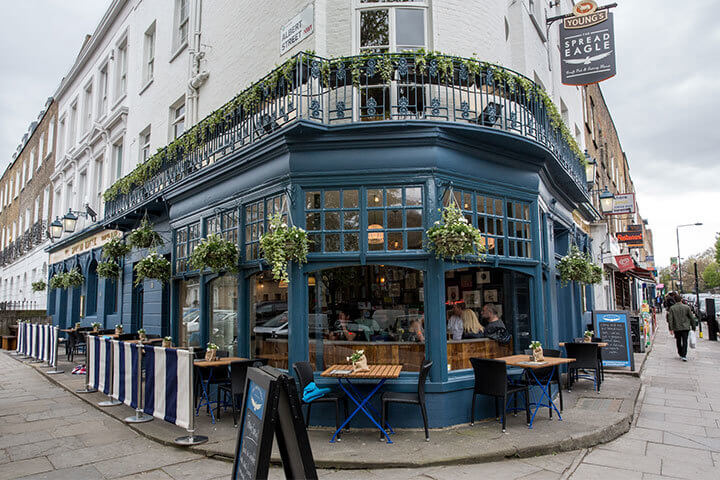 After a day at Camden market or London Zoo, consider popping into the Spread Eagle; a pub situated in the heart of Camden since 1858, and home to (quite literally) years of history. With sports screenings and private venue hire available, The Spread Eagle is a great choice for those looking to sit back and absorb the towns quaint past, while enjoying a pint and watching sporting mastery.
South London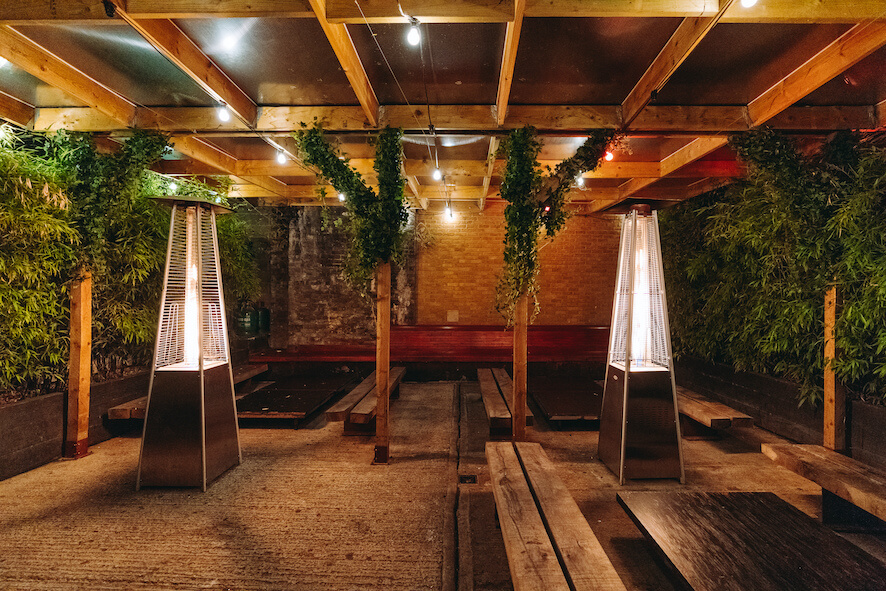 Live music is their self-proclaimed bread and butter, and Bermondsey have hit the ground running with their line up for 2021, with several events already scheduled through April, May and November.
Open to hosting all musicians both established and fresh on the scene, this could the perfect location to test out those secret guitar skills that you learned in lockdown.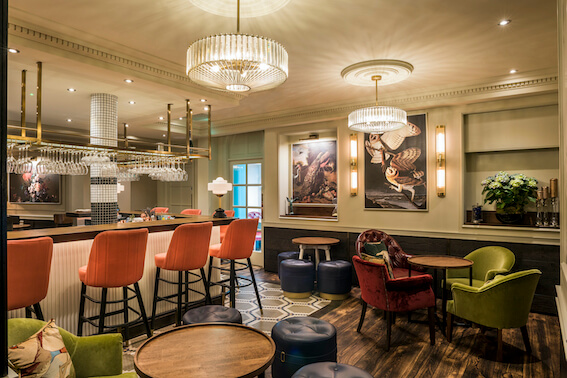 Located in Chelsea, one of the most stylish and exclusive neighbourhoods, the Sloane Club is one of London's most esteemed Private Member Clubs, perfect for patrons who enjoy the quintessentially British side of London living. With a rooftop terrace, bar, garden room and established restaurant to choose from within the premises, there is an option to suit all tastes and weather.
Looking for a place to watch live sport this coming spring? Look no further than The Cherry Tree in Dulwich, which has both Sky Sports and BT Sports streaming for all fans in the area. Their Treehouse event space at the back of the garden area is perfect for those looking to set aside some exclusive space to watch the action with family and friends.
Are you missing the seaside and the feeling of sand between your toes? The Devonshire Balham has worked hard to create a beachside vibe, with sweet, summery seating in their garden that will remind you of your most recent holiday. Perfect for those who have the travelling bug, but aren't quite ready to leave the UK. Sit back with an Aperol spritz and put on your sunglasses to relax in this summery spot.
---
Fill out our venue finder form to find the perfect venue for your needs or browse more venues in London.