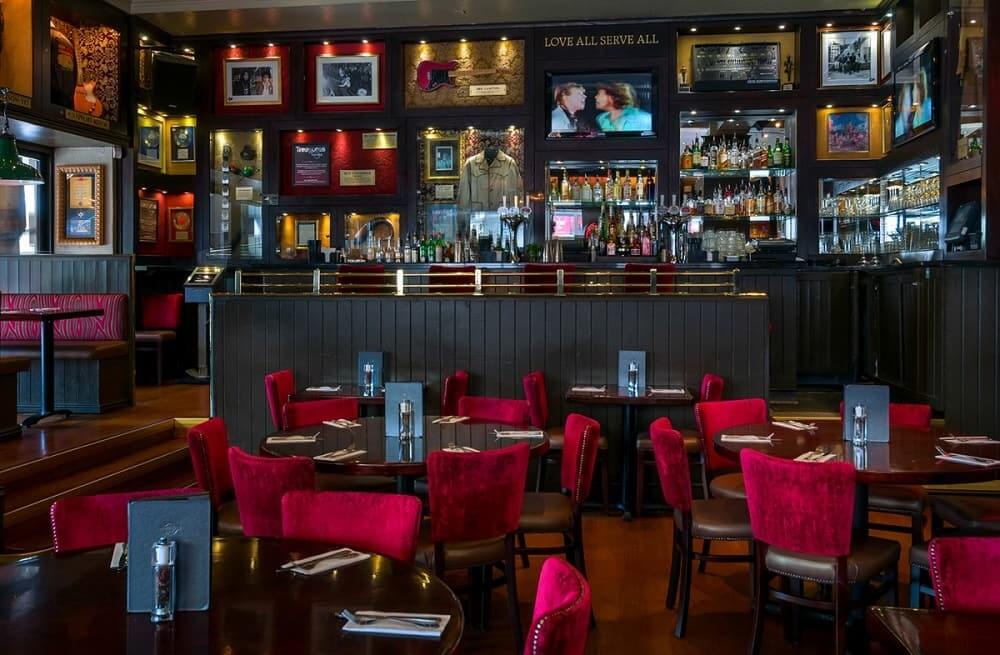 We went on tour to the world-renowned Rock 'n' Roll eatery, seeing the sights and checking out venue hire at Hard Rock Cafe.
One of London's most popular destinations and a headbanger's haven, it's hard to resist the allure of its classic American dishes and cocktails. In the same location since 1971, it's kept the thrill alive for generations and is the golden standard for countless franchises across the world. Perfect for families, mates, work groups, and more, we wanted to look into what makes the Hard Rock Cafe so iconic in London's swinging West End.  With an iconic venue like this available for hire, we simply couldn't resist.
Featuring a restaurant, a gift shop, and even an underground vault, there's no lack of things to see. Being the hot spot for over three decades, they've accumulated a mass of memorabilia starting from when Eric Clapton traded a guitar for a spot at the bustling bar. Now, you'll find authentic pieces from the likes of the Sex Pistols, KISS, Jimi Hendrix, Oasis, Prince, and so many more. You'll have to
see for yourself
to find out, we just haven't space here. Moreover, for group and
party bookings
in the restaurant, they offer various exciting dining experiences such as cocktail masterclasses (learn to make three signature cocktails) and the ever-successful Hard Rock meal experience. With offers like these, venue hire at Hard Rock Cafe is a very enticing prospect. From small groups to sections, or even the entire venue, we were buzzing with different ways to book the various spaces: a return visit is certainly on the cards for us.
And it's not just a venue for birthday parties anymore… It turns out, Hard Rock Cafe actually hosts a wide variety of corporate events. Why not jazz up your next meeting by hosting it amongst their rock memorabilia? The Hard Rock Cafe's day delegate rate starts at just £40 per person for meetings, and their desirable Mayfair location makes it a perfect 'wild card' option. Perfect for those of you looking to break out of the bland corporate mould.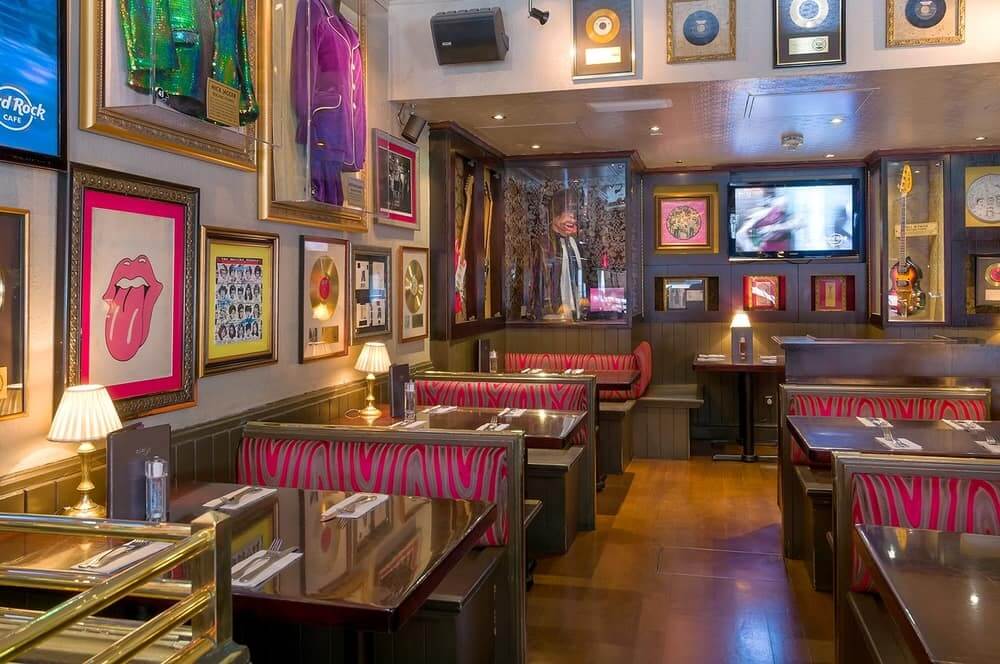 The staff were assured, upbeat and clearly in love with the atmosphere themselves. Rumour has it that some have been working there since the halcyon days of the 70s and 80s! We couldn't fault their bubbly attitude, nor the mountains of mouth-watering grub either. When booking venue hire at Hard Rock Cafe, serious American fare has to be the order of the day. Ribs, Burgers, and Fajitas sizzled appealingly alongside the fancier food options such as grilled Norwegian salmon and New York strip steak.
What makes Hard Rock Cafe venue hire so special?
Electric atmosphere
Rich history
Impeccable service
World-beating comfort food
Great selection of drinks and cocktails
Able to cater to all kinds of events
Popular with all, from kids to their grey-haired counterparts
You'll find the Hard Rock Cafe at 150 Old Park Ln, Mayfair, London W1K 1QZ. For more information on Hard Rock Cafe venue hire, check out our website listing. Still haven't found the perfect event space in Chelsea? Take a look at our website for more inspiring options.