The tail end of 2021 brought the event scene back to life after the last few years. As COVID restrictions were lifted, more and more people wanted to come together to meet friends, see their co-workers in person, and mingle with the people they love. That meant that venues saw an uptick in bookings and private hires. Between offices wanting to get their teams back together IRL and friends wanting to catch up and celebrate together venues got busier and busier.
So, which venues were the best of the best in 2021? We've put together a list of the top 21 venues of 2021 and every single one of them deserves a mention. So, without further ado, here is our list of the top venues this year, in no particular order (they're all winners in our eyes).
Top 21 Venues of 2021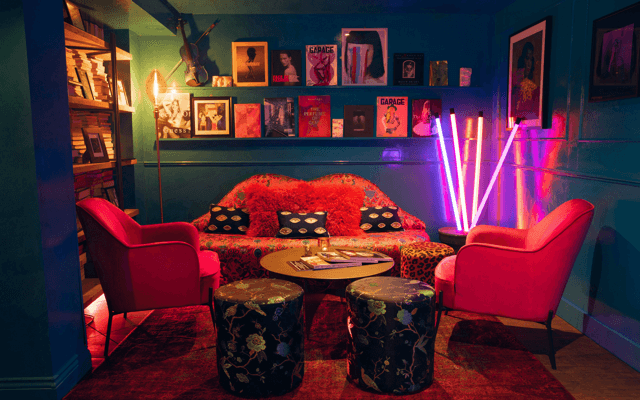 This quirky spot in Clapham is quite the event space if we do say so ourselves. This venue has so many amazing rooms to hire for whatever event you can think up. Book the Conservatory, a private dining room covered in plants for a sit down dinner. It has its own gin bar and a private entrance to the outside terrace. The Blue Room, tucked away at the back of the restaurant (which they so cleverly call their living room) can host birthday parties and hang outs with friends. It's got board games and even a Nintendo 64 so you can crush your mates at Mario Kart. And if you want it all, you can rent out the entire space.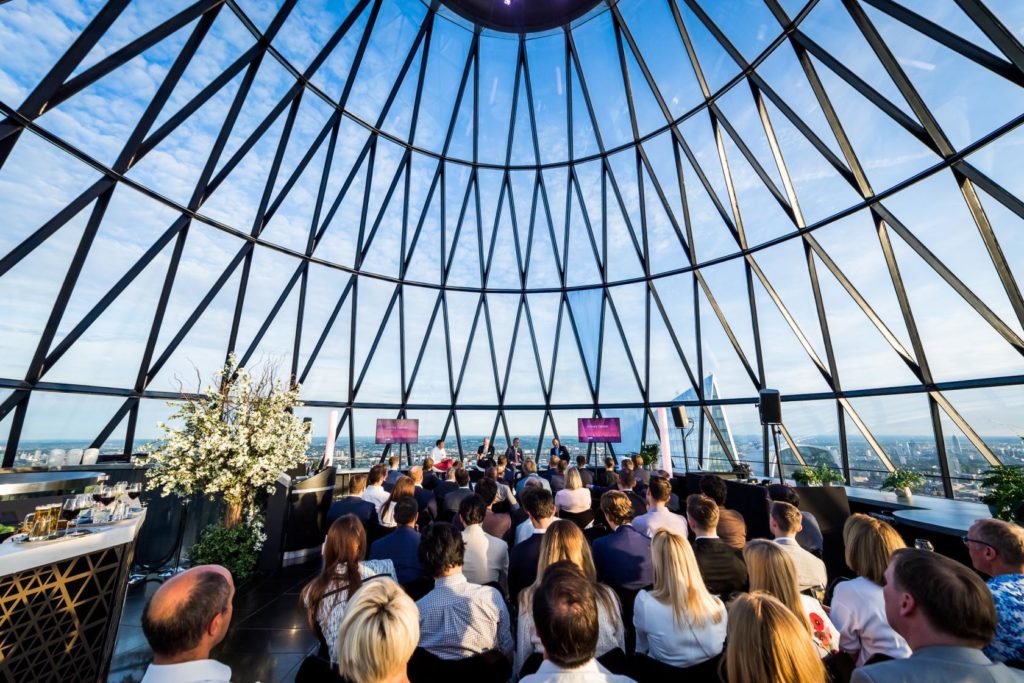 With views of London that can't really be beat, it's no surprise that Searcys at the Gherkin is on our list. And between the two floors that you can hire, you're bound to find a space that's right for you. Planning a large event? You'll want to book the upper level. If you have a smaller group or want to host a more intimate event, there is a dining space on level 38 that is perfect for you. Searcys at the Gherkin is great for all sorts of events too. Book in for a conference, a party, or a private meal and you won't be disappointed.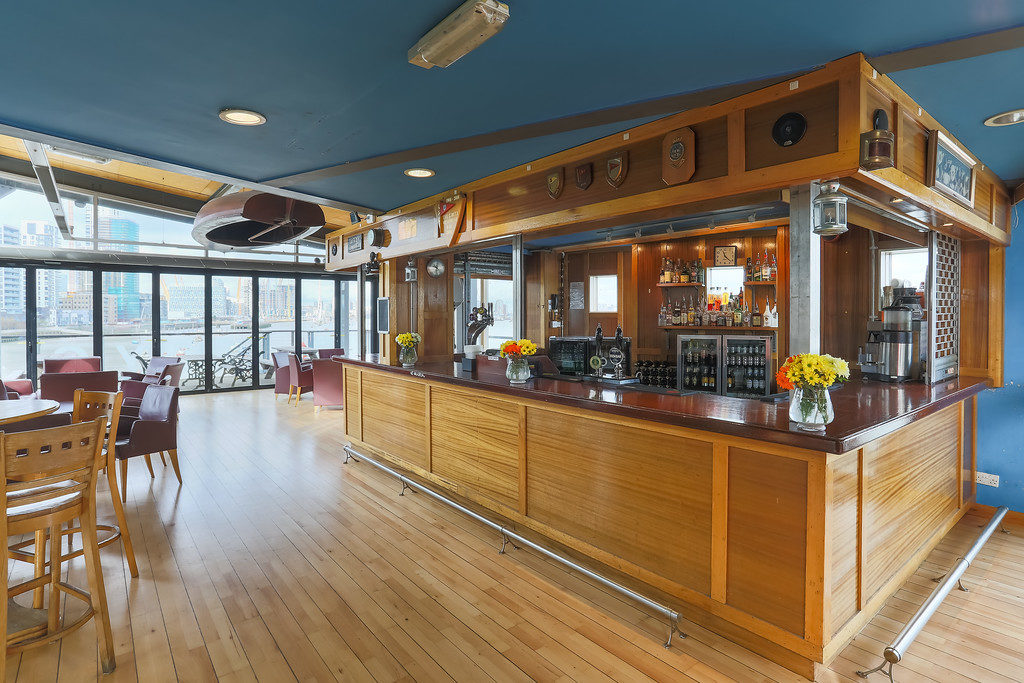 This is a real hidden gem. We love this spot because of its location. It's right on the Thames and is truly stunning to experience at night when the London lights twinkle across the river. And when it comes to the spaces that are available for hire you've got some great options. The River Room is the spot for weddings and parties and can fit up to 200 people. There's a large outdoor deck that makes it a popular summer hire. And if you're looking for a space to host an intimate conference or meeting with your team, The Committee Room is the best option for you.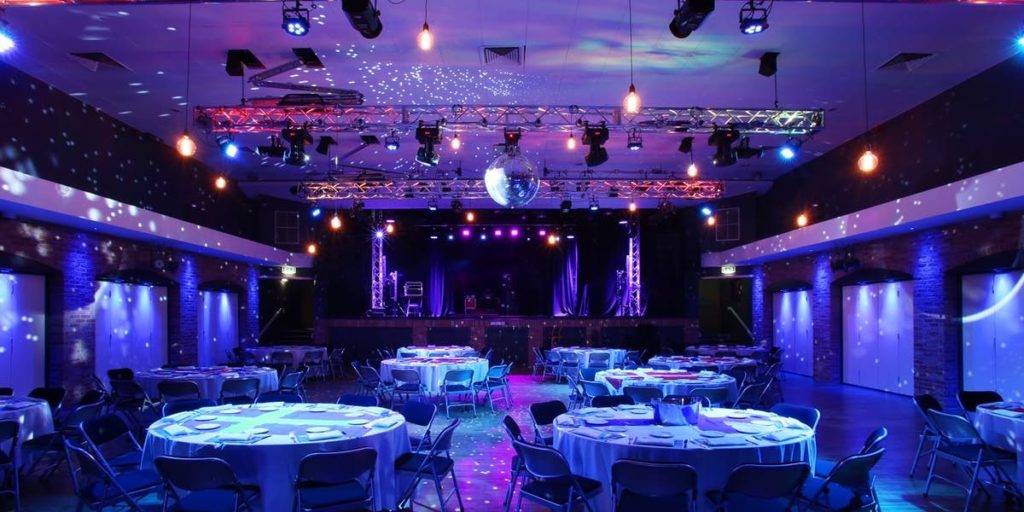 It doesn't matter what you're looking for, ISHVenues has it. They can accommodate up to 300 people in their spaces (they have eight of them). This spot is located just opposite Regent's Park making it ideal for meetings, away-days, launches, and training. There are smaller spaces perfect for break out sessions and they offer full AV equipment and wifi. Plus, they have their own onsite caterer making it easy to host all of your upcoming corporate events.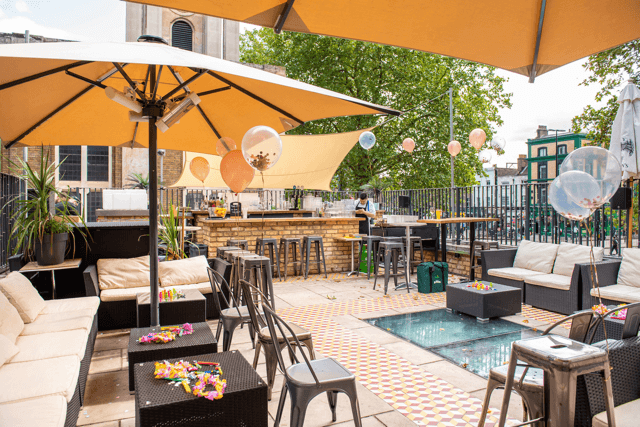 This Bethnal Green hotspot has one of the best roof-top terraces we've ever seen. Chiringuito is an informal setting serving up Spanish and Latin inspired dishes. This is a great place for a birthday party or to get together with friends. Hire the terrace in the summertime or their bar/restaurant space inside during the colder months.
The Mill is the ultimate event venue in Birmingham. You can set up corporate events, weddings, launches, and even concerts in this versatile space. The warehouse has a mezzanine level as well as a roof terrace which features stunning views of the skyline. And if you're looking for something for a smaller group of people, look no further. The Blackbox caters to smaller capacities as an awesome stand alone venue.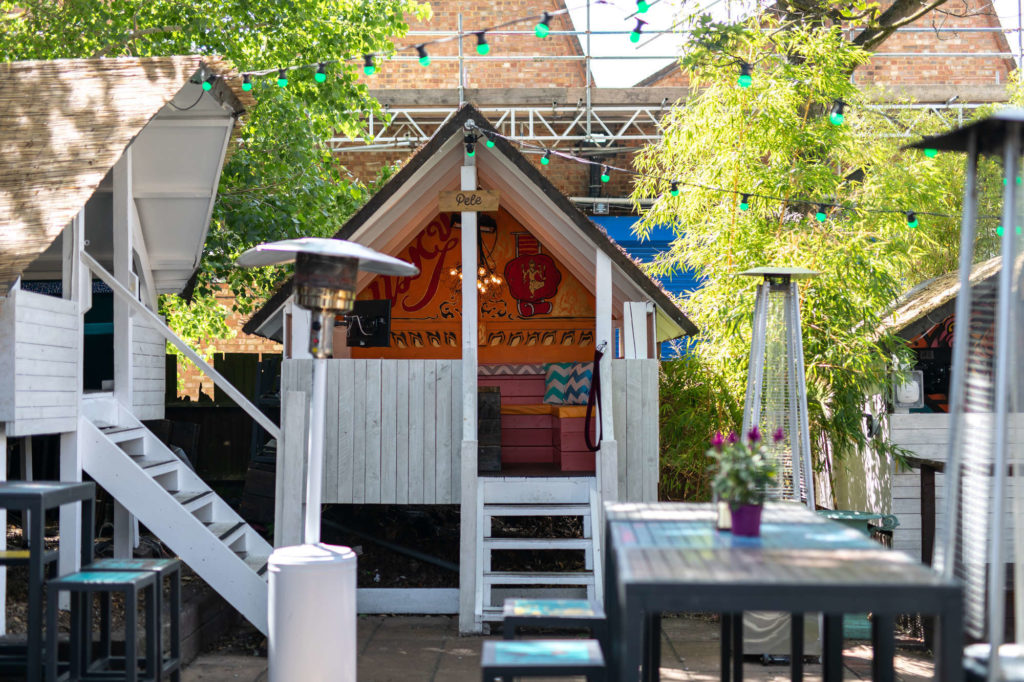 This cool pub in Southwest London is a fan favourite when it comes to birthday parties to engagement drinks to office happy hours. The garden is one of the best in London and has fun little huts (which are heated), a large bar, and tonnes of space. They also have two floors inside and offer bespoke packages so you can have the best event ever.
We love Barge East because there are so many great spaces in one place to hire out. Before we share the spaces, did you know that this venue is located on a 114 year old Dutch Boat? You can fit 120 people on it which means an epic party, plus you get stunning views of the London skyline and the Olympic stadium. They have small rooms like the Captains Cabin and the Riverside Rooftop which can fit up to 40, or you can rent out the entire barge for your event. And if you want to include even more people in your celebration, you can fit 250 people in the outdoor area next to the boat.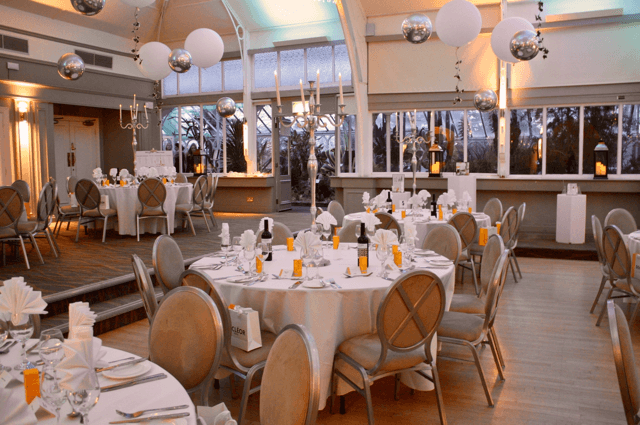 Unique spaces are our jam and Birmingham Botanical Gardens definitely falls into that category. There are a number of spaces you can hire out including the Terrace Suite, a grand space that can accommodate up to 250 people. There's also the Loudon Suite and the Garden Suite. Each one is different and can be used for a number of events from weddings to conferences to meetings.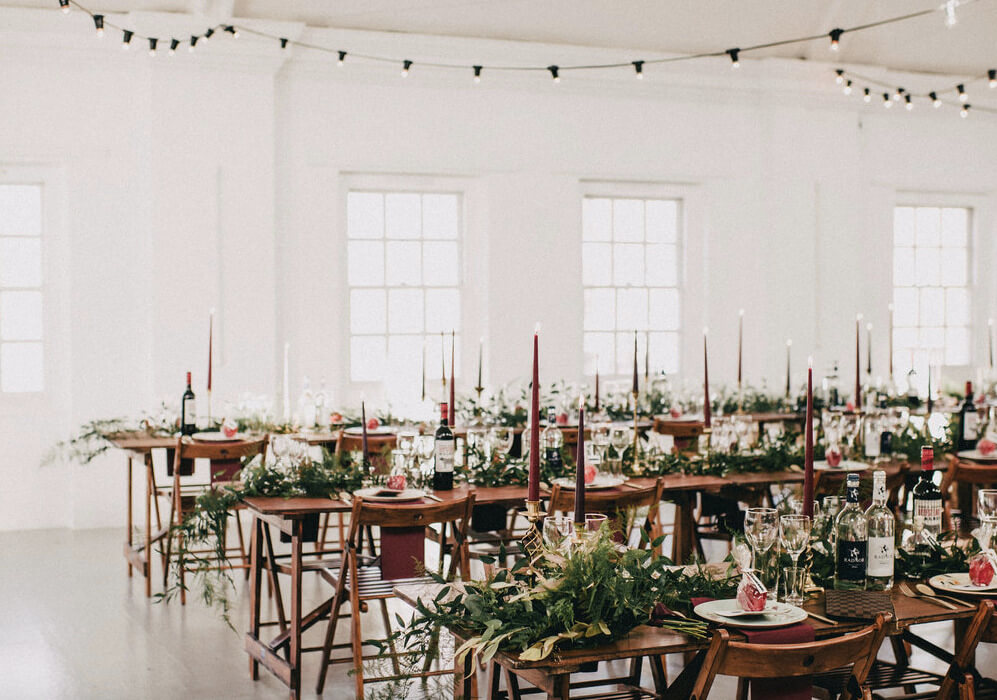 Diverse spaces are always popular because they can be used for just about anything. The Old Parish Hall at Core Clapton can be used for photoshoots, weddings, courses, live music, dance, performances, yoga, talks, and more. The natural light is amazing here and it makes the most epic backdrop to whatever event your heart desires.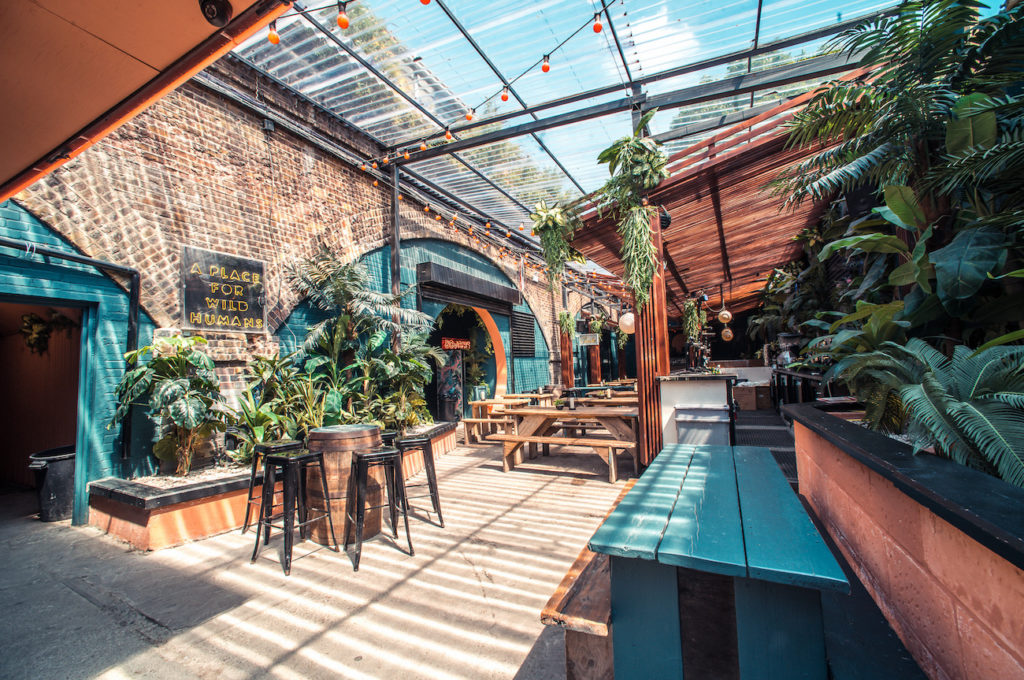 Living in the UK means that the weather can be iffy. Thankfully there are covered terraces to help us from getting soaked when we want to attend a party outdoors. This Hackney venue is gorgeous. It's made up of two railway arches and it has a capacity of 900 people. Yes you read that correctly. You can hire out the arches, the club, their terrace, the cocktail bar, or the entire place. Another amazing feature? They offer in-house production, lighting, and sound technicians, making this a great venue for all types of events.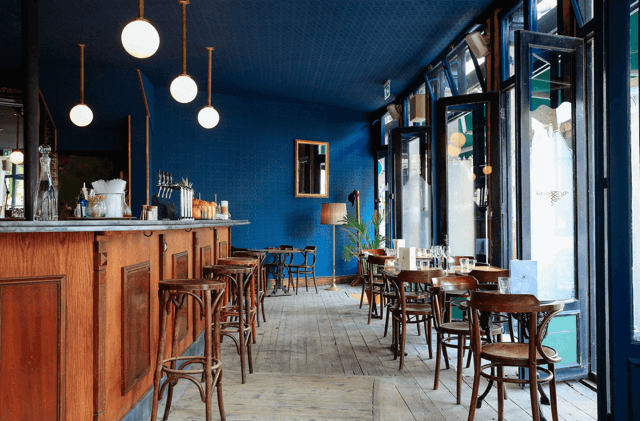 A pub is often an obvious choice when it comes to venue hire in the UK. And while we have a lot of pubs to choose from, The Racketeer is one of the best. You can find this independent cocktail bar and pub in King's Cross. The beautiful Victorian space features multiple bar areas, seating, as well as a small patio in the back. You'll find delicious cocktails, tasty charcuterie boards, and more. You can book different areas if you only have a small group. However, if you've got over 100 people you can hire the entire space.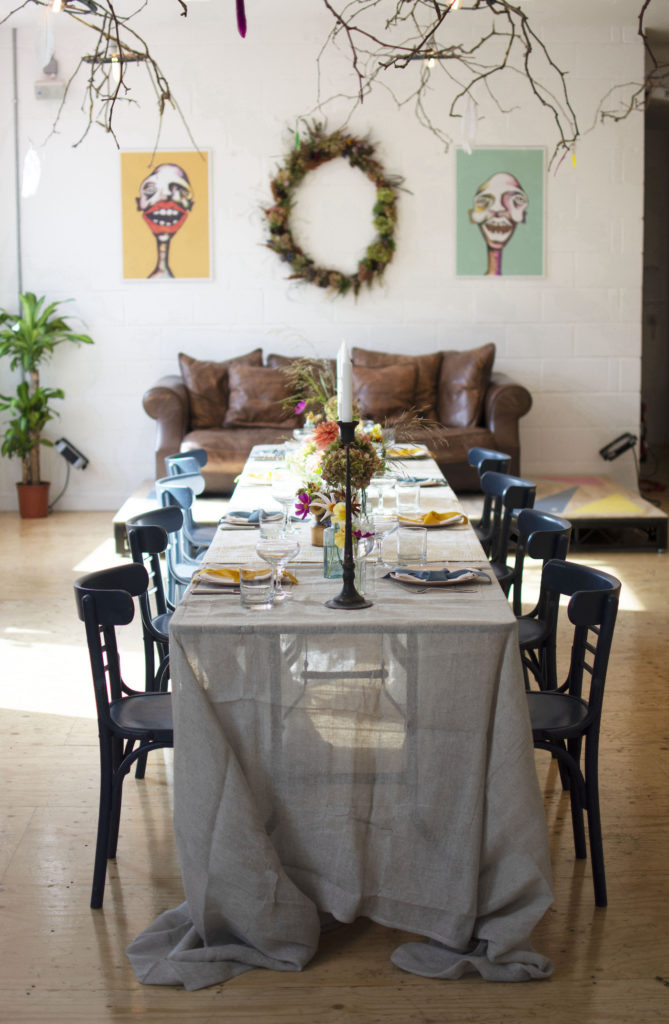 This space is really cool. All of their profits go back into supporting the artists they work with as well as their community. Streatham Space Project has a fully equipped meeting room, studio, auditorium, and cafe. It's a pretty affordable venue and they love creativity which means that you can do a lot here when it comes to organising your next event.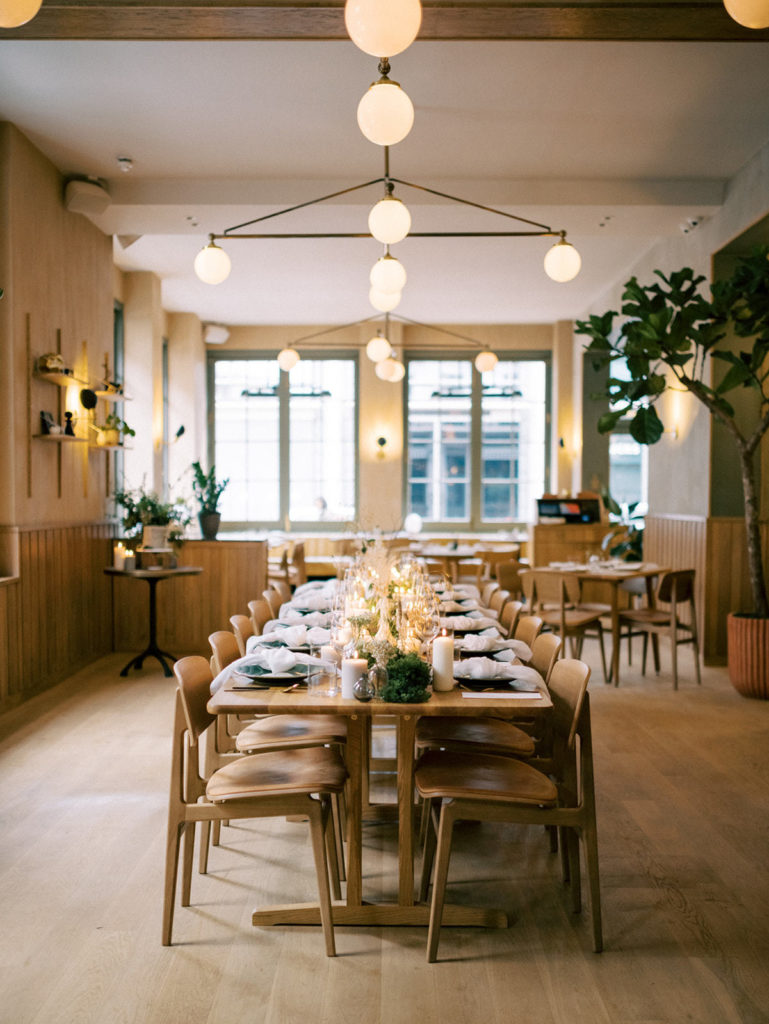 Good food, a good space, and good friends. What more could you want? Head to The Italian Greyhound and you'll find just that. This gorgeous spot in Marylebone can host private dinners, parties, and more. They have a private room called The Garden Room which can accommodate up to 100 people. And if you don't need that much space you can always hire the main bar which can host up to 40 people in a semi-private area.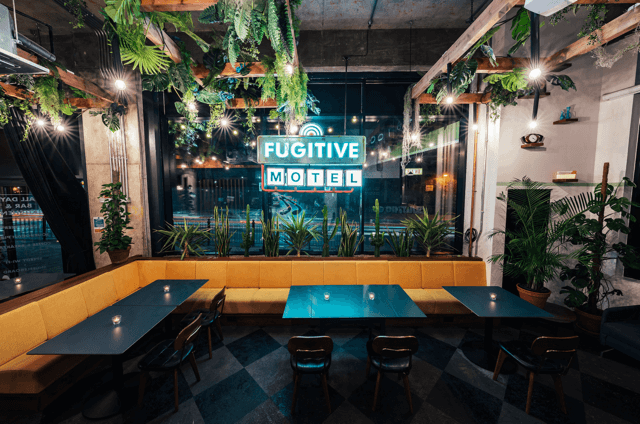 We are big fans of any venue that has multiple spaces available for hire and Fugitive Motel in Bethnal Green has four. This place has a serious west coast Americana vibe and it's so much fun. You can book the shuffleboard table and set up a tournament with your friends or you can hire out The Yard and try your hand at cornhole. There's also the Saloon which has a projector making it a great spot for a screening or show. And if that's not what you're looking for you can also choose the Green Room which is perfect for meetings or parties with your co-workers.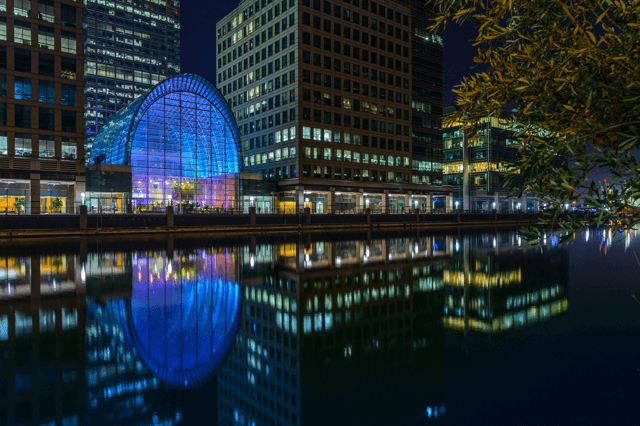 This venue in Canary Wharf is gorgeous. It's massive which makes it great for big events like weddings, receptions, corporate parties, and more. It is made up of several spaces that are available for hire including the Main Hall which has over 100 windows forming a glass dome that not only brings in the most amazing natural light in the daytime but also the city lights at night. This space is essentially a blank canvas so you can plan pretty much anything in here. If organisers are looking for something a little more intimate there's always The Gallery, the mezzanine level that overlooks the Main Hall. And if there's a need for a meeting space the Promenade room is adjacent to the Main Hall, making it a great breakout space for conferences.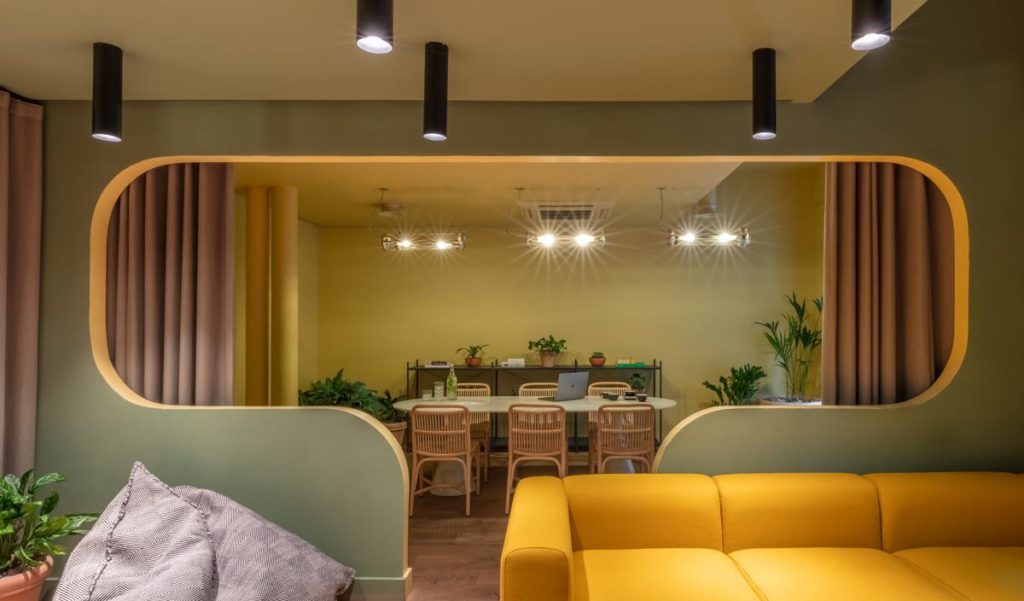 Whitworth Locke is a Manchester favourite for us. It's a part of the super cool Locke Hotels and has a tonne of really great spaces for co-working, launches, screenings, and more. The Storehouse is the largest area in this venue and can fit up to 150 people. It has its own bar and a state-of-the-art sound system. And then there's the Yellow Room and Green Room both of which make perfect meeting rooms, close by to the co-working space.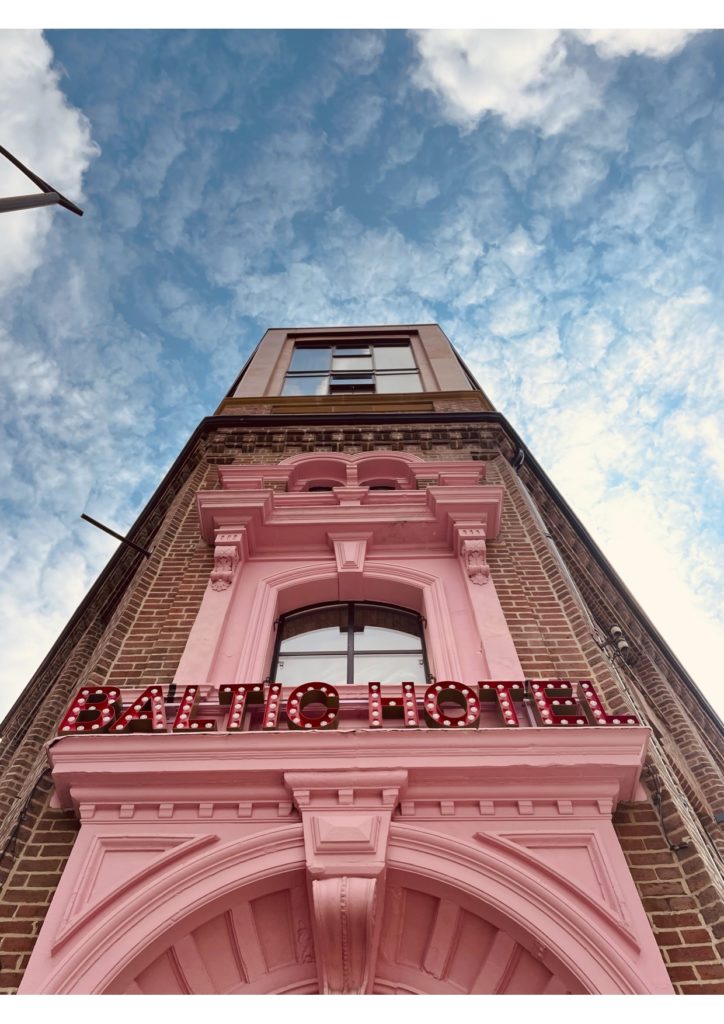 This impressive spot is located in Liverpool. The versatile venue is suitable for all types of events. You can go corporate or have beautiful weddings. There are opportunities to host some really cool launches and celebrations of epic proportions. There are two spaces you can hire out, The Parlour or The Attic. The Parlour is equipped with a PA system, lighting, and modern furniture. The Attic dates back to the late 1800s where it started as a gun makers factory. It's got floor to ceiling brick walls, original beams, making it the perfect spot for a rustic wedding.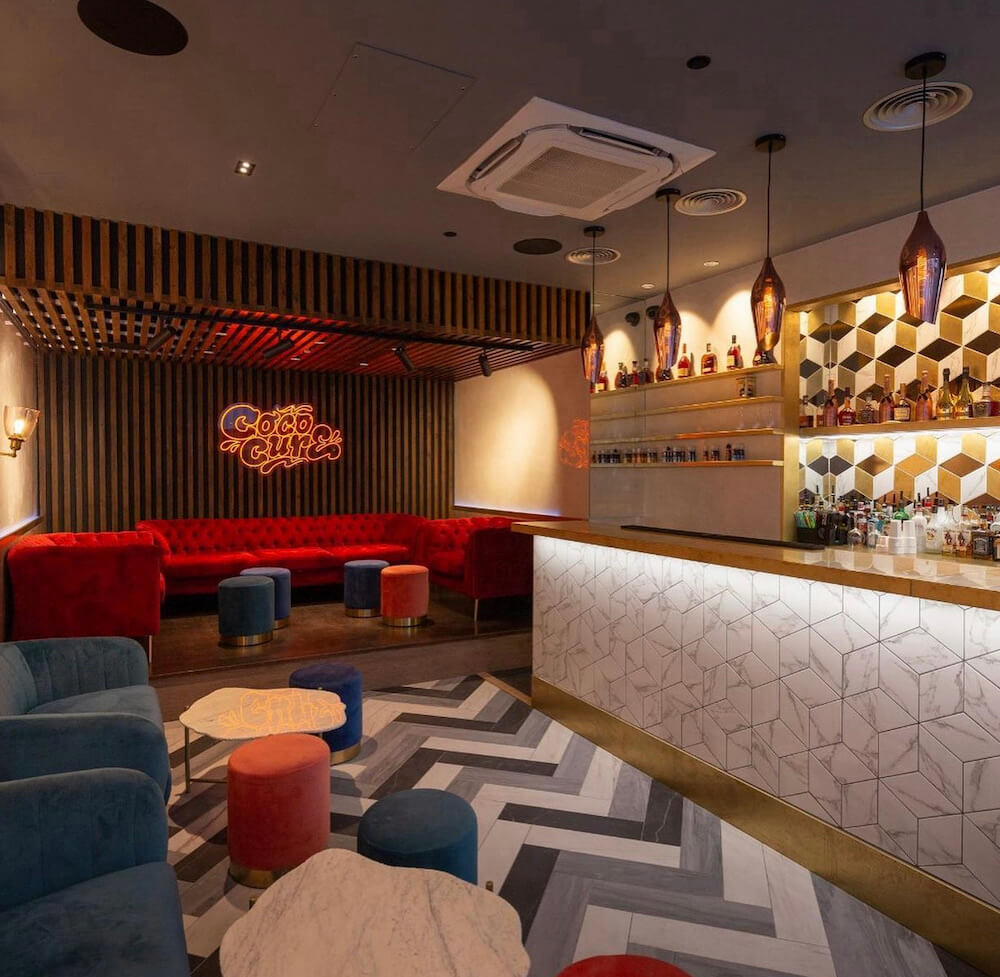 This Aldgate venue is seriously cool. Cococure is the number one venue to enjoy the best of African music and street food. There's a club located downstairs and a lounge upstairs. While you can't hire this out on a Friday or Saturday, you can still throw an epic party here and dance those mid-week blues away. This Afrobeats hotspot has an awesome sound system, video screens and walls, a smoke machine, and stage lighting. Sounds like the perfect backdrop for a celebration.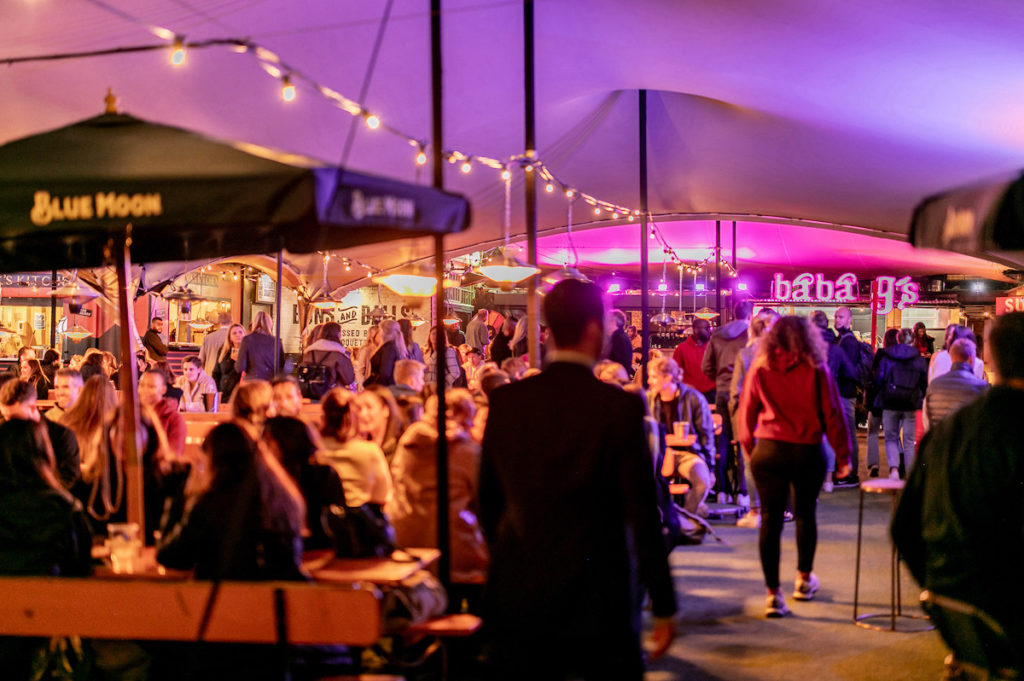 When someone asks us what one of the best outdoor venues in London is we always think of Vinegar Yard. It's super close to London Bridge station making it a really easy place to get to, no matter where you're coming from. It's covered which makes it a weatherproof option when planning an event. They also have some really cool indoor areas like Abigail's Bar, a trendy bar with serious 70s vibes which can be found up a spiral staircase.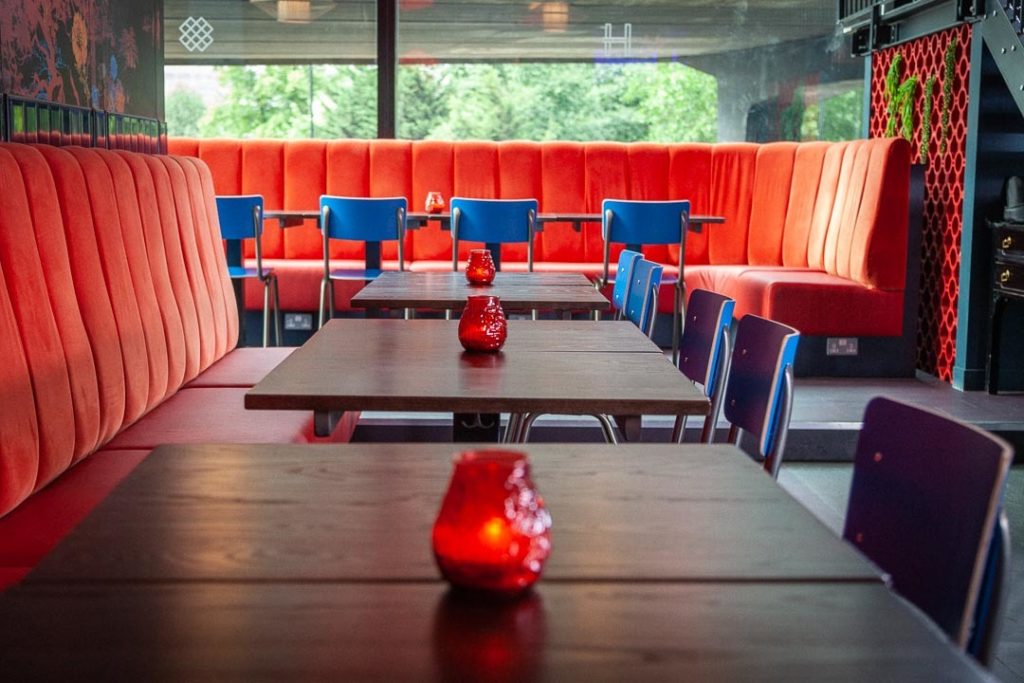 Did someone say karaoke? What if we told you you could hire a karaoke lounge and enjoy delicious Asian street food? Karaoke not your thing? Don't worry because there are three other spaces you can hire out in Huckster. There's an old Subway car that's pretty perfect for a small party or happy hour. You can head to Chinatown which can fit up to 50 people and is completely private from the main area. And there's also the secret room, which we won't tell you too much about, because well, it's a secret.