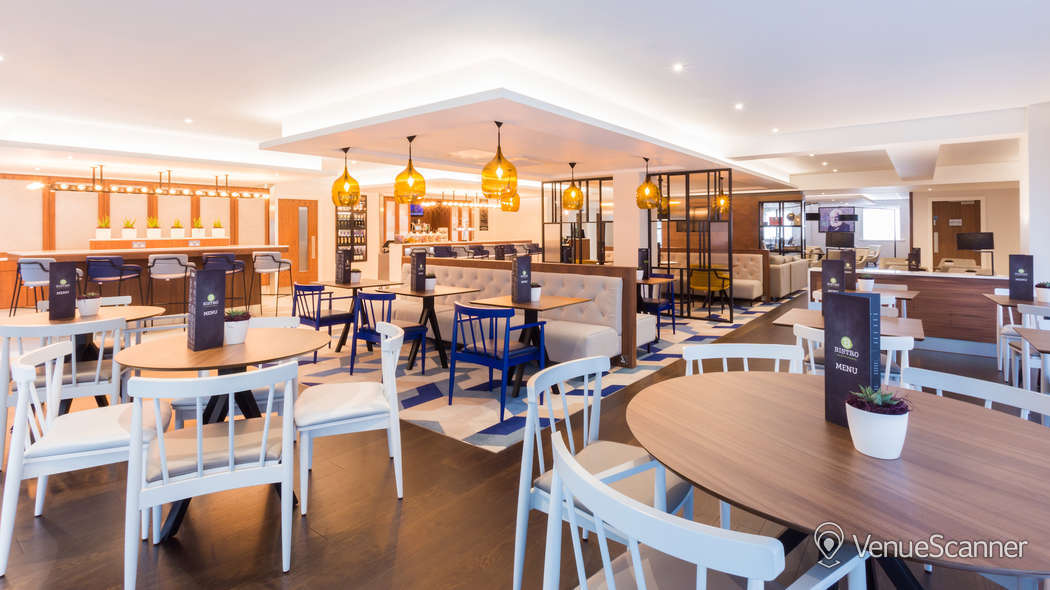 Courtyard By Marriott Glasgow Airport
Ramada Glasgow Airport, Marchburn Drive, Glasgow Airport, Abbotsinch, Paisley

Hire
Courtyard By Marriott Glasgow Airport
Ramada Glasgow Airport, Marchburn Drive, Glasgow Airport, Abbotsinch, Paisley
Capacity and Layout
Amenities
Disabled access
Air conditioning
Lectern
Stage
Cloakroom
Print/Scan/Copy
About Courtyard By Marriott Glasgow Airport
Ratings & Reviews
Really nice room. Had everything needed. Disappointed with the breakfast - no Menu. The waitress asked us what we wanted and listed the items available. They need to have breakfast menus on the tables or even on the website would be useful! Ended up having the full English. It was very filling but not worth the price if you're buying it individually. Parking costs an extra £10. Should be included in the room charge for the price of the room. Bed was very comfortable but room was far too hot and air con would only go down to 19 degrees. Powerful shower - was wonderful until it kept going hot and cold.
GOOGLE REVIEW
Absolutely abysmal, possibly the worst service I've ever experienced in a long time. There is not enough staff to cope with the amount of guests. A coach party of guests has taken priority over other paying guests. Poor show in my opinion. I have asked for additional towels for my room to replace the one set that was already there. How am I supposed to manage 4 nights with 1 set of towels. Then I've had to ask again when they haven't been delivered to my room. Oh they forgot. My colleague and I have been here 4 nights 2 weeks on the trot for work. We will not be recommending this. The staff need training and so do the management. Avoid if you expect good service as you won't get it.
GOOGLE REVIEW
Rooms are great and staff friendly, I've stayed here almost every week up to pandemic, and have been 5 times in the past 6weeks... What has happened?? Check in is a disaster... average 20 minutes and don't try checking in online as the hotel isn't connected, check out is a bit of a lottery, the last time I just gave up after 10 minutes and asked them to send by email... Guess what.. I had to call later that night to ask again as they forgot... Dinner is also a bit like faulty towers due to new young staff, orders forgotten, wrong orders etc, but I'm sure this will get better, it's a shame for the experienced staff who are run of there feet. Staff are brilliant, but something needs to be done with check in and check out as it's a bit of a disaster... Fingers crossed it gets better as I will be visiting the area regularly again...
GOOGLE REVIEW
The hotel was good the room was good,the man on reception was very helpfull, stayed two nights and had dinner on first night it was good but not anything special,now for the negatives, my wife and I arrived for breakfast and we were told to find any table to sit at,I asked if I could help myself to orange juice and was told it would be served to me at table fair enough,as this was not a buffet style breakfast we waited to be served,fifteen minutes passed and we were still being ignored so my wife got our own orange juice from bar,watched by waitresses,other guests were seated at tables after us and we're getting immediate attention so my wife approached waitress to ask for some service,the young lady eighteen or nineteen years old took our order with the look of someone who did not want to be there, we eventually received our long awaited breakfast,no complaints about the content. Day two we arrived for breakfast same young lady took our order and returned within minutes with orange juice and a bowl of cereal things are looking good now,but before I had a chance to put my spoon in the bowl she was back with my scrambled egg on toast to sit on an already overcrowded table with coffee cups etc.to get cold while I eat my cereal, some staff training would not go amiss.
GOOGLE REVIEW
Great value, feel really new and clean inside. Rooms are stylish, spacious and comfortable. Reception and bar restaurant very nice too. Parking and breakfast a little expensive but the room rate is quite low. Will definitely be back. Very comfortable and I slept like a baby. You can't hear the airport or motorway at all.
GOOGLE REVIEW
Cancel within 48 hours: VenueScanner guarantees 100% refund of first deposit on payments made through us. Up to £500 maximum.