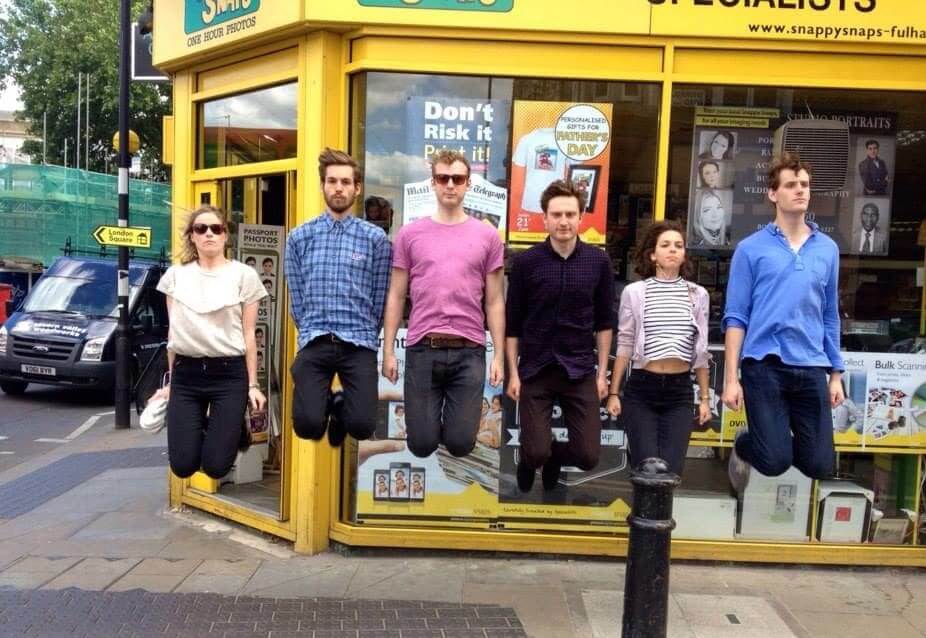 Can you tell me your job title and bit about your role?
I founded The Big Smoke Events company just over a year ago so I guess my job title is MD/Founder? The Big Smoke Events company creates immersive events and currently specialises in Scavenger Hunts around London. These have proved popular for corporate away days, birthdays, and especially this summer – hen dos!
The hunt is essentially a race against the clock where we have teams completing 30 creative challenges in just 2 hours… these include items to find, photos to take and videos to take. At the end of the day there is a big screening of all the days media where the winner is announced and people get to have a good laugh at what their friends/colleagues have been up to!
In terms of my role at the moment, as we are start up, it really is everything from creating the events and challenges, marketing and selling the product and even a little bit of finance!
And so you use venues? What for?
We use venues for every event we do. The venue is the start and end point for our hunts and the vital element to creating an immersive experience in our supper and music events, so essentially it's crucial in creating the mood and tone of event for our clients. Whether it's down to it's location or the atmosphere it provides, the choice of venue is key in what we do.
What does a good venue look like, in your eyes and in the eyes of your clients?
In terms of what's most important – for me as an events organiser it's about working with a venue that has an extremely competent venue manager who I can trust. We can have up to 3 events going on in one day so I need someone at the venue who knows our business. The best venues I work with can just role with our timings and briefings I give them so it means I don't have to worry about that element of the event.  I know they can deliver so I can deal with the clients and running the events themselves rather than the logistics of food, drinks and set up of the room.
For our clients it is probably a mix between location and food offering. Corporates want places convenient to their work, whilst hen dos often want to be central to see the sights of London… food speaks for itself – people like good food and drink and this accompanies any event.
Can you share your worst ever venue experience?
During the final presentation of one of our Scavenger Hunt events I actually had the venue manager interrupt and try to move us to another room in front of my clients… when you are an events company this really influences the way the day runs and can also reflect on you, so this links into the above for me in that having a good events manager is key. It takes the stress off you and makes your clients feel at ease.
What's the feeling you want your guests to have from the venue?
As we run a number of different events the most important element is that the venue has to fit the event. If its an immersive dinner the space needs to transport them to another world, if its a music night the acoustics need to create the right sounds and if its a Scavenger Hunt it needs to create a feeling of excitement on arrival! Each space will create a different feel for our guests so it is important to get the venue right as it is core to the success of the event.
How do you currently search for venues?
As I run 3-4 events a week it has been key to build good relationships with venues in key areas. For example in central London I have a deal with the Late Night London venues so will always stay loyal to them as I know their venue managers are great and they know my business along with the requirements we have.
If I am looking for new inspiration or venues outside of my central area I have of course used VenueScanner (obviously as a BSE partner)!
What is your biggest challenge when looking to find the right venue?
Time… As highlighted, finding the right venue for an event is extremely important and consequently takes a lot of time! At times our events can be complex therefore we have to spend visiting venues and testing venue equipment to find somewhere that compliments what we need.
What is your perception on the price of hiring venues – reasonable/expensive/cheap?
When I first start working with a venue it can often be expensive, however as an events organiser when you get to know a place you often don't have the hiring fee. It becomes a two way relationship where you are bringing them business and they are providing a space for you.
How do you communicate with the venue and how would you like to?
I like to speak directly to the venue. I always have to see a venue before I book it for obvious reasons. I would therefore always want to speak directly to the venue manager and test everything before the event.
What would you like to see change in the world of venue discovery and booking?
It's a very difficult market to navigate through. You have no idea how good a venue manager is from just booking online or through google so I think reviews would make a huge difference in trusting online search. At the moment there are so many different places to look for venues but no one that I particularly trust who knows the venues. This is why as an event organiser I have built up a relationship with Late Night London who are great as you can get someone you can talk to help you source a great venue. However they only operate in certain areas so we need someone who can help us across London, and the rest of the UK as we expand which is why I am so excited about what VenueScanner are doing!