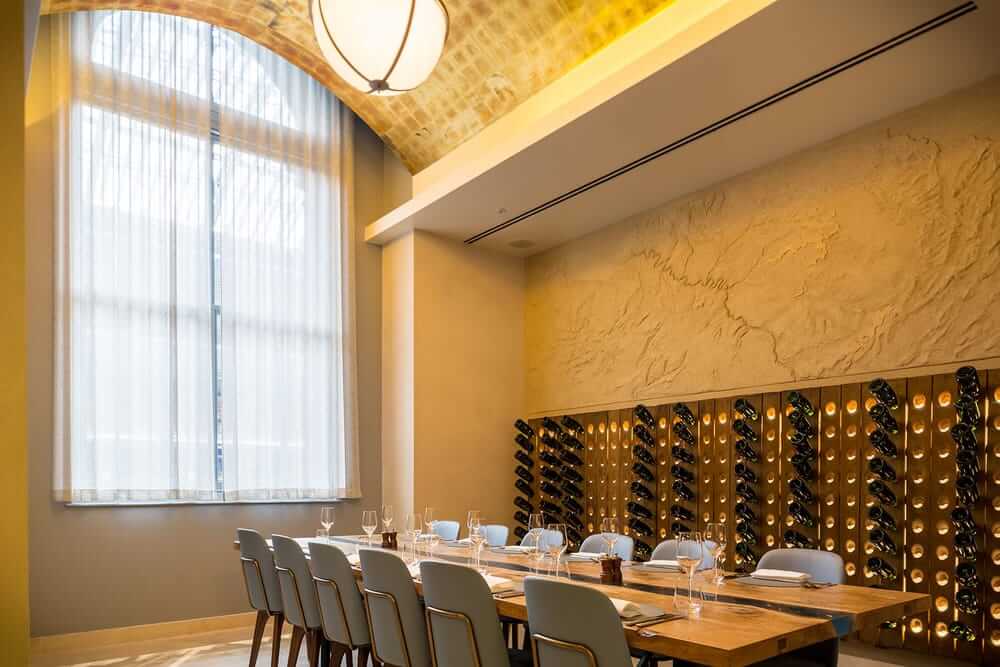 We're uncovering the top 20 private dining rooms in London to hire for your next special occasion meal.
It's easy to feel spoilt for choice when it comes to choosing the perfect place to celebrate in London. And that's certainly the case when it comes to private dining rooms in London. Luckily, we've made this as easy as possible for you: the 20 best private dining rooms in London all lined up in one handy round-up. So you're certain to find the perfect private dining room in London for your next special event.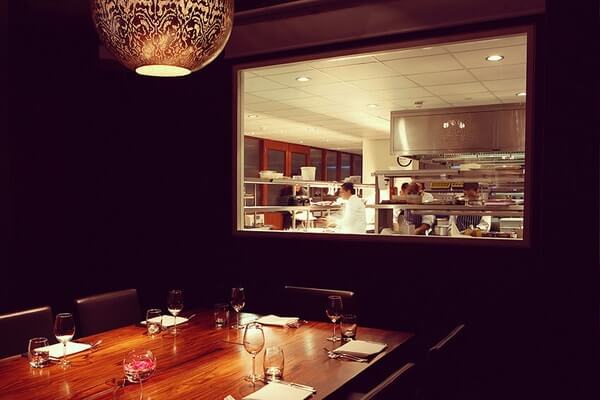 Set adjacent to the restaurant's kitchen, Cinnamon Kitchen's secluded private dining room gives you a mesmerising view of their chefs in action. Enjoy an evening of world class modern Indian cuisine in this 16 seat private room. Find out more here.
9 Devonshire Square, EC2M 4YL.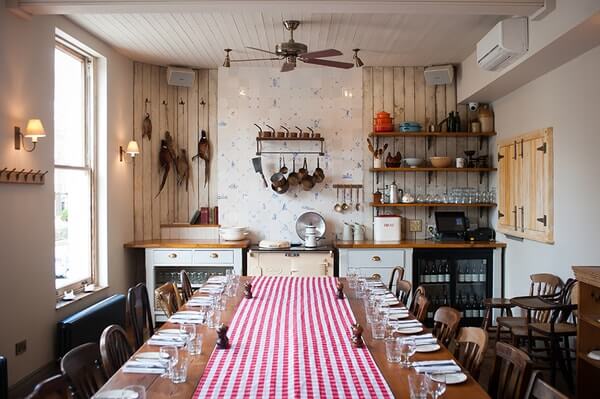 Get stuck into a country kitchen feast, family style. The Pig and Butcher was built in the 1800s when Islington was a small village outside London. Take a trip back in time with their vintage feasting menu. Find out more here.
80 Liverpool Rd, N1 0QD.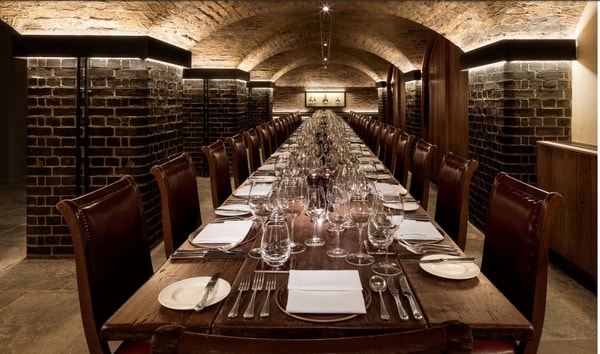 Enjoy an intimate private meal in this 19th century cellar. Expect an (unsurprisingly) outstanding selection of wine from the company that has been getting the royal family sloshed since the reign of King George III.  Find out more here.
63 Pall Mall, SW1Y 5HZ.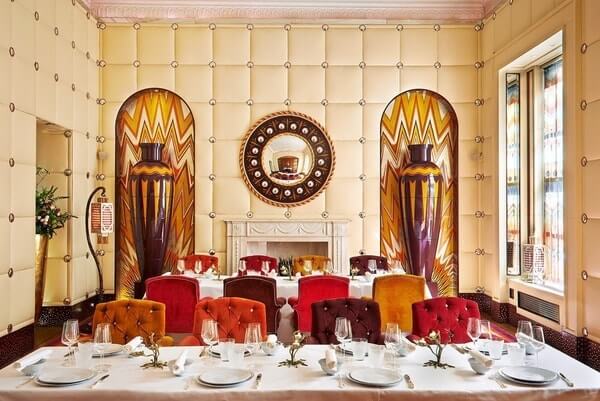 Celebrate an evening in The Library at sketch. While sketch is best known for their Space Age egg-shaped toilets and pastel pink dining room, you won't be forgetting this charming private dining space in a hurry. Find out more here.
9 Conduit Street Soho, W1S 2XG.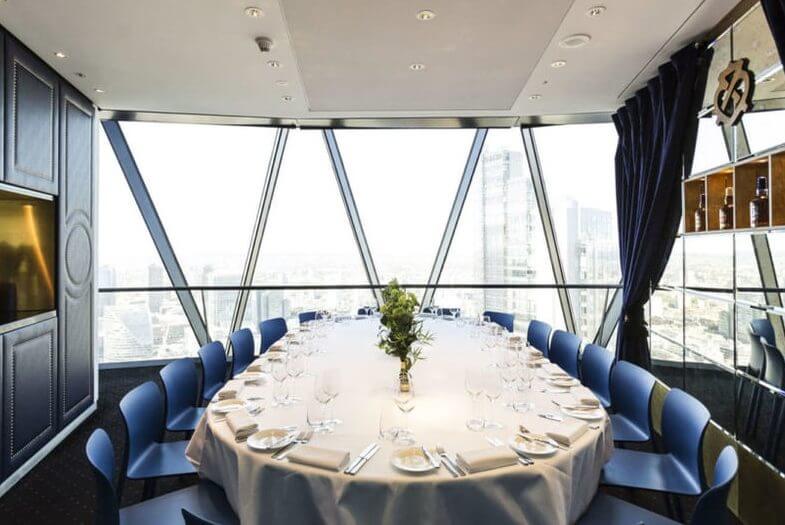 High profile or international clients to impress? You're definitely going to need somewhere to wine and dine them in style. For flawless first impressions, look no further than The Chivas Room at Searcys The Gherkin. Find out more here.
30 St Mary Axe, EC3A 8EP.
This north London institution has plenty to offer when it comes to private hire. For more intimate gatherings we recommend you rent out The Library. This room seats 12 people and includes a private bar offering craft cocktails. Find out more here.
181 Upper St, N1 1RQ.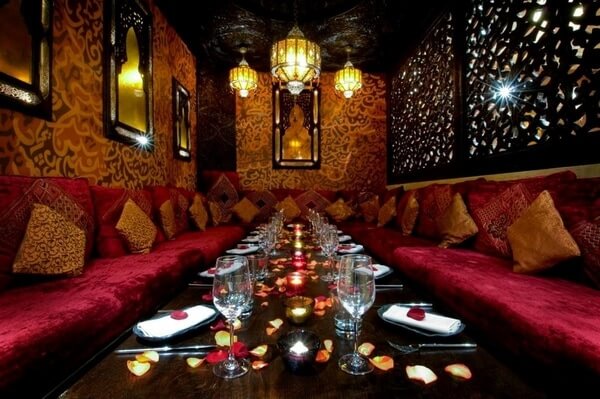 Celebrate your next special event in glamorous Arabian style at The Dar Lazrak in Kenza Restaurant Lounge. Share stories whilst you sample delicious spiced meat dishes, traditional mezze platters and fresh mint tea. Find out more here.
10 Devonshire Square, EC2M 4YP.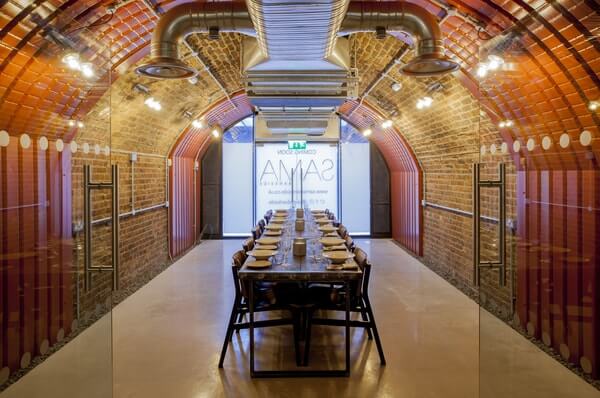 Enjoy a meal under a Victorian railway arch in SAMA Bankside's private room. This independent bar and restaurant in Southwark serves up an eclectic mix of world food in their 22 person private dining space. Find out more here.
3 Robinson Road, SE1 8BU.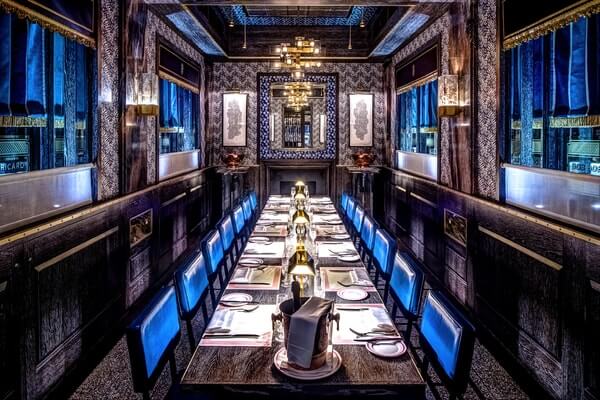 The infamous 'Press for champagne' button restaurant, Bob Bob Ricard, also boasts a swanky private dining room. Up to 16 of your nearest and dearest can enjoy an intimate and glamorous meal, featuring English and Russian cuisine. Find out more here.
1 Upper James St, W1F 9DF.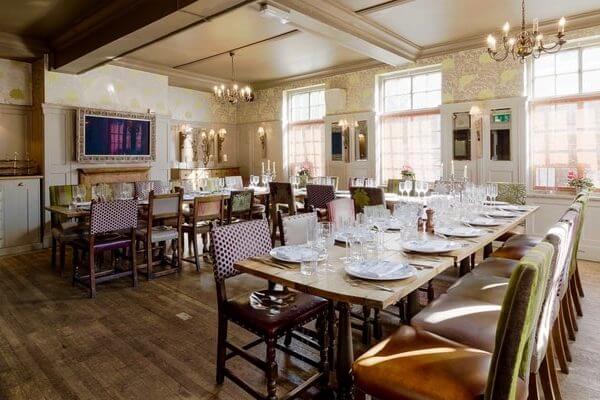 Organic, modern British restaurant, Bumpkin South Kensington, exudes vintage flair. With a capacity for up to 40 guests seated this room suits larger private dining parties to a T. Find out more here.
102 Old Brompton Rd, SW7 3RD.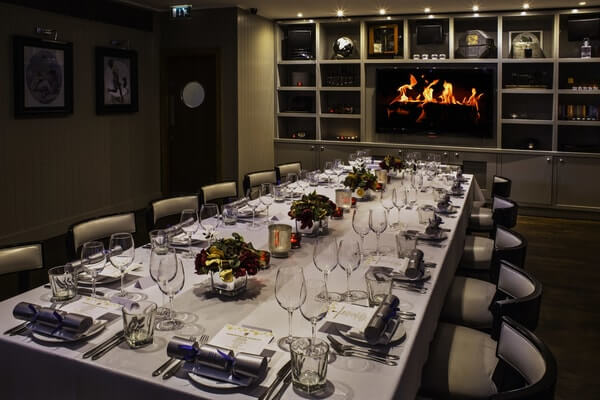 The charming Club Room at Beaufort House Chelsea seats up to 26 people. Set within a Chelsea private members club this dining room couldn't get any more exclusive. Find out more here.
354-358 Kings Road, SW3 5UZ.
We can't get enough of the high-ceilings and elegant design of The Tasting Room at St Pancras by Searcys. Designed by Martin Brudnizki, their newly refurbished private dining room is the perfect space for intimate meetings and celebrations. Find out more here.
St Pancras Station, N1C 4QL.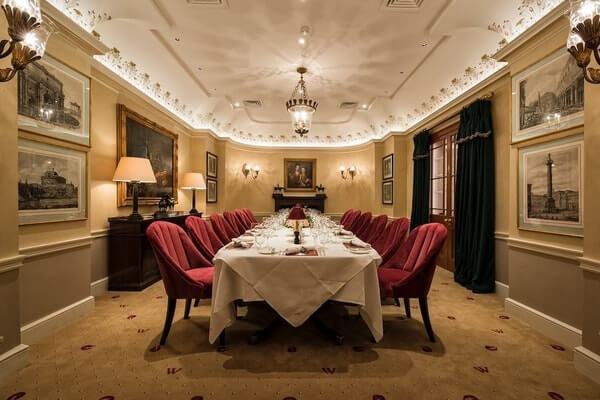 If you're looking for a more traditional private dining room in London, look no further. Wiltons is known for their seasonal fresh fish dishes. Their well-appointed private dining room comfortably seats up to 29 guests. Find out more here.
55 Jermyn Street, SW1Y 6LX.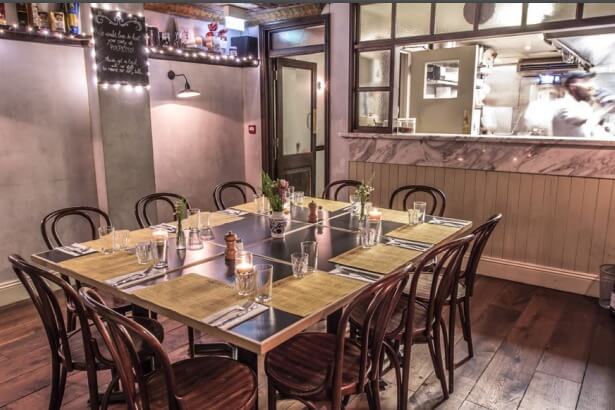 Grab a slice of the Italian action at Polpetto's Chef's Table room. This whimsical Soho space serves up small Venetian sharing plates in a minimalist setting. Find out more here.
11 Berwick Street, W1F 0PL.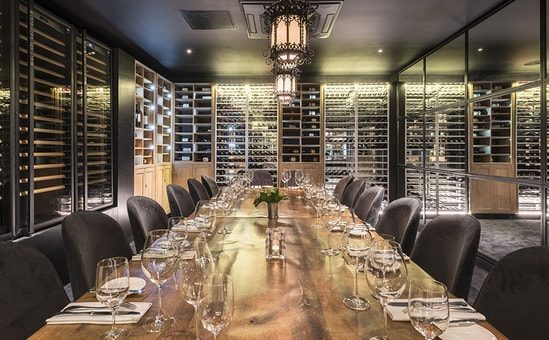 This shiny-surfaced space allows you to feast on a meal of steak inside a room of wine. Which sounds to us like the perfect evening of extravagance! Enjoy Argentine style at its finest in their opulent surroundings. Find out more here.
25 Swallow Street, W1B 4QR.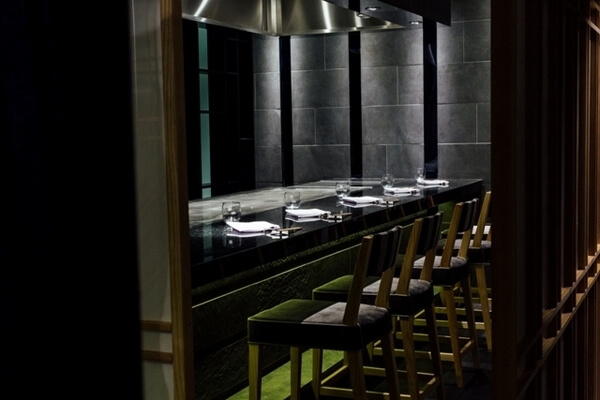 Add a little excitement to your event at this private Teppanyaki Table at Ginza Onodera. Marvel at the culinary entertainment as your private chef cooks up a storm at your table. Find out more here.
15 Bury St, SW1Y 6AL.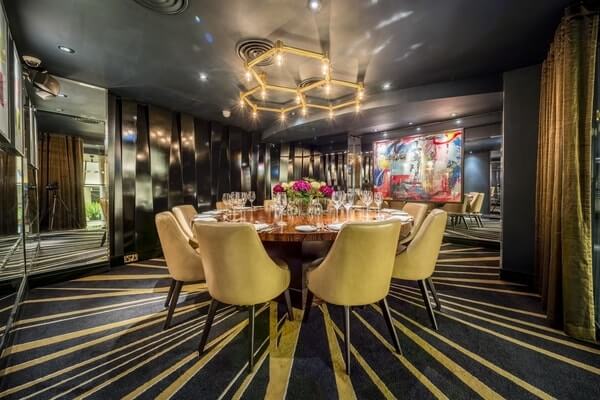 The quirky Giovanni Room at art deco-inspired Quaglino's is the perfect space for an intimate dinner. The striking interiors and dedicated events team will make your event here one to remember. Find out more here.
16 Bury Street, SW1Y 6AJ.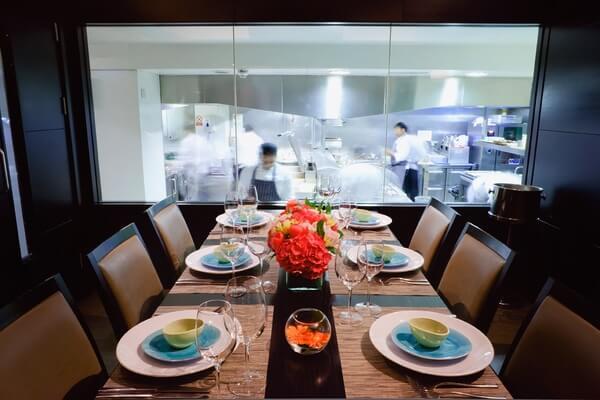 Another up-close-and-personal look into the lives of the restaurant's chefs – and one that's certainly worth a mention. Michelin starred Bernares specialises in modern Indian cuisine with a British twist. Find out more here.
Berkeley Square House, W1J 6BS.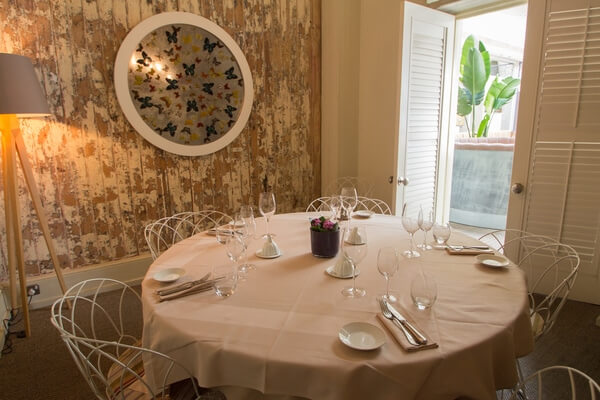 Picture-perfect Cigalon is the obvious choice for Instagram addicts. Serving up Provençal French cuisine, with a mere £300 minimum spend, this room seats eight people in secluded style. Find out more here.
115 Chancery Lane, WC2A 1PP.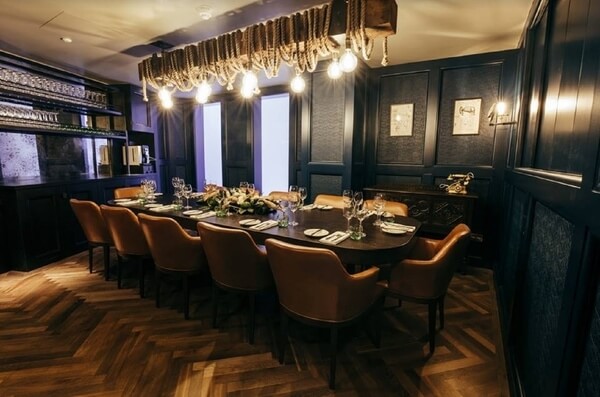 Last but not least, the private dining room at The Kitty Hawk offers room for up to 14 people for just £250 minimum spend. Step into an oasis of calm in the heart of the city to host an easy-going weekday-only event. Find out more here.
11, 13 and 14 South Place, EC2M 7EB.
Still haven't found what you're looking for? We've got loads more private dining rooms in London available to hire. Just follow the links for more iconic, traditional, unusual, premium, and affordable private dining rooms in London.