Can you picture yourself there? Just you and a few of your mates. Cold drink in your hand, the breeze in your hair, incredible views of this incredible city…
COVID has disrupted almost every aspect of our lives, but London's highly sought after rooftop venues are still there. Still standing strong. And now they're ready to welcome you back.
A brilliant choice whether you're looking to plan a (socially distanced) summer party, team away day or just to catch-up with some pals you've not seen in ages, here are 14 of the best rooftop venues London has to offer.
Netil360
"Big Skies, Fresh Air, Positive Vibes" is the mantra at Netil360, the popular London rooftop bar in Hackney. With clear views out across the city, it's opening (at limited capacity) to serve locally sourced drinks, guest beers and delivered pizza this summer. You'll need to pre-book a ticket though.
Aviary
Got a bucket list of venues? Aviary has to be on it. With views like this one (and cocktails with bags of flair and style) it's one of the most in-demand places to grab a drink in the city. This Finsbury Square bar – found on the 10th floor of the Montcalm Hotel – is back in business for the summer, you can book here.
Coq D'Argent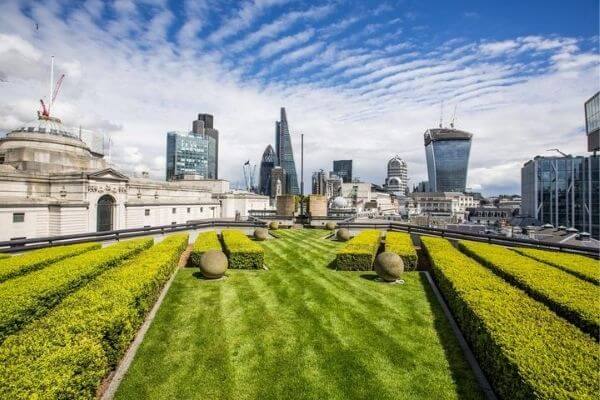 This fine dining restaurant in Bank has a heated terrace that looks out towards the Gherkin, Walkie Talke, Cheesegrater and other ridiculously-nicknamed skyscrapers. It's back open for lunch, dinner and drinks, and there's a Rose on the Roof brunch here every Saturday.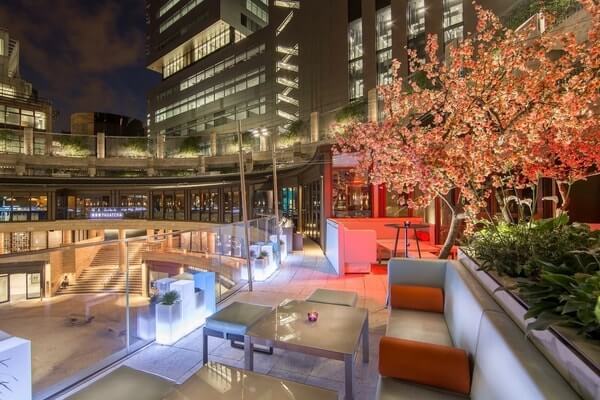 Another favourite among city workers and corporate clients is Yauatcha, with its Rainbow Dumplings and cocktails. Enjoy drinks paired with Japanese treats in this sleek outdoor setting: there are two terraces here and a sister restaurant in Soho.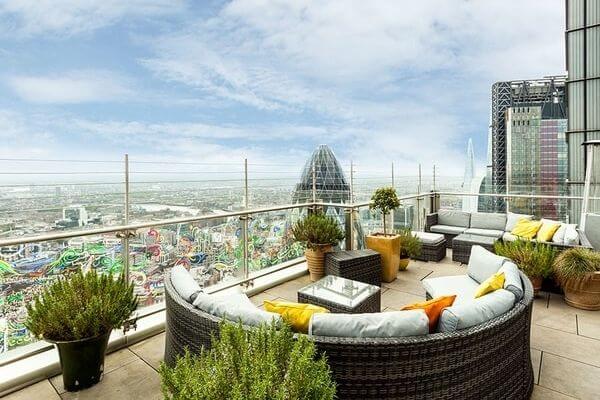 Highest outdoor dining terrace in Europe? Completed it mate. You'll find Sushisamba 38 floors high in the Heron Tower, where quite frankly stunning views are yours for the taking. Step inside a glass elevator and rise high above the city at a venue that hosts corporate events, team building, sake tasting, sushi classes and more.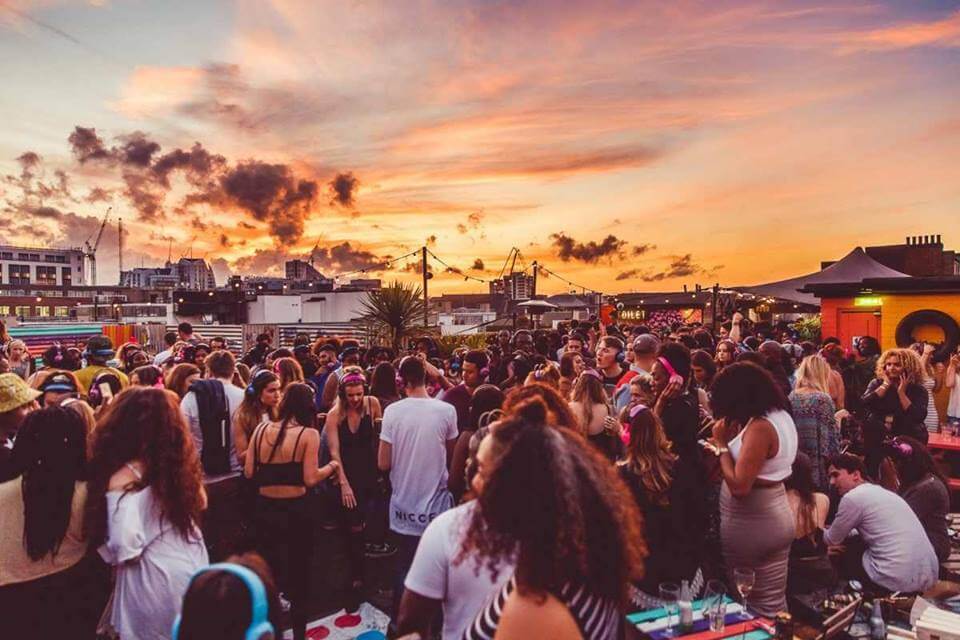 One of the finest rooftop party venues London has to offer, of that there can be no doubt. In a pre-COVID world, Queen of Hoxton underwent two transformations every year, where it became a themed bar with events, rotating menus and interesting drinks that made it something of an immersive experience. The roof is back open for drinks and mingling in a COVID-secure way this summer.
Bar Elba
Ok, so going abroad for a holiday this year has been made quite difficult. If it's any consolation (and it is!) you can visit Elba opposite Waterloo station, the rooftop party bar inspired by the Tuscan island of the same name. Bar Elba is another of the leading rooftop venues London has to offer and its laying on a busy schedule of events, including bottomless brunch, rooftop movie sessions and afternoon tea picnics.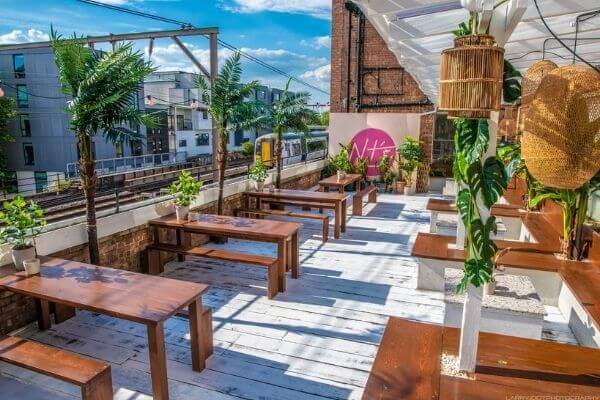 NT's Loft is one of the hottest party venues east London has to offer, there's no doubt about it. Next to the train tracks and just a few moments from London Fields, drinkers sit amidst palm trees and listen to DJs at the weekend – or jazz artists on Wednesdays. Come for the cocktails and relaxed vibes, there's also a small plate menu of plant-based goods courtesy of Palm Greens. More details here.
Skylight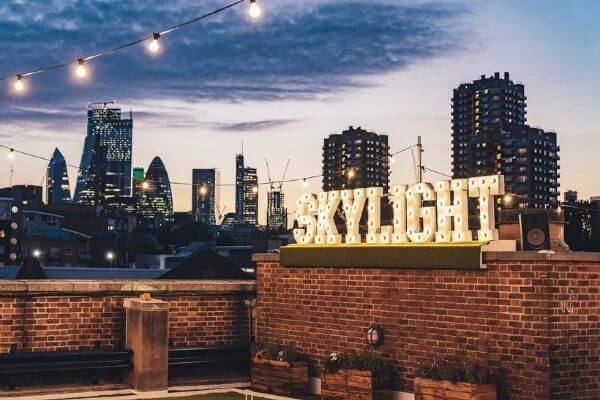 Have you got a friend who doesn't really like London? Take them to Skylight, and challenge them on this incorrect opinion. Up here you'll find lovely cocktails and street food options, yes, but also a games section where you can try your hand at croquet and petanque. The views are breathtaking on a sunny day (and on cloudy ones, tbh) and the venue is back open to host cocktail classes, bottomless brunches and sport screenings for the summer.
What with all the staying at home and only leaving the house to exercise, your Insta game has probably dropped this year. It's about to surge back into form, though, because Madison's rooftop bar is back open and the unrivalled views of St. Paul's come with it. Meet your friends and take the photo, then stay for the cocktails, DJs and new dishes promised alongside the re-opening.
FEST Camden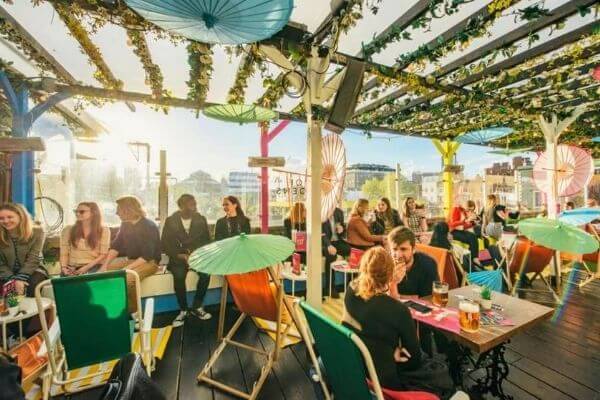 You'll find FEST's rooftop space above the inimitable Camden Market. It's back open just in-time for some summertime lounging; book a space and expect live music, gluten-free pizza, cocktails and beers on the terrace.
Savage Gardens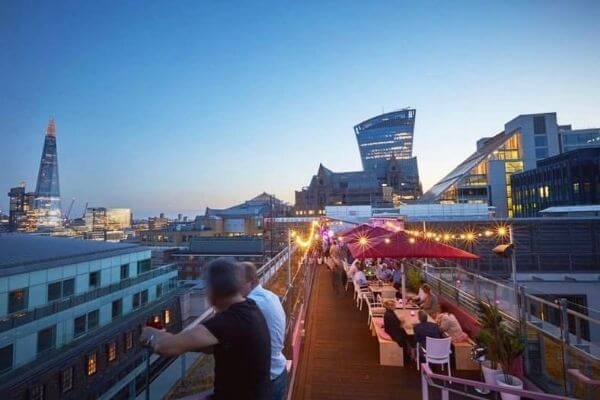 There's a wild streak that runs through the Savage Gardens rooftop bar, you know. The venue serves theatrical drinks in an "unapologetically untamed atmosphere", with stunning views of London's iconic landmarks. Come check out the new Lillet South Terrace and indulge in a drink or two with the Shard, Tower of London and St. Paul's as your backdrop.
You'll find one of the most sought-after rooftop venues in town at 58VE, with its plum location on the Thames. The views really are spectacular and the 6th floor balcony / lounge gives you a seriously cool setting for a drinks reception, corporate event or private party. 58VE will re-open for meetings from September and larger scale events in October.
Craft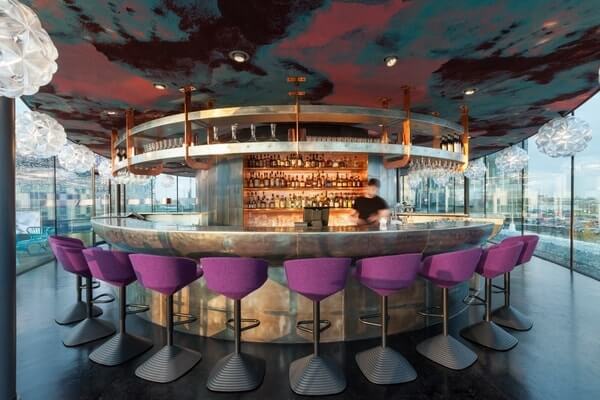 Craft cooks you dinner, hosts weddings, stages private events and throws drinks parties at an enviable spot next to The O2. The venue's roof terrace bar has 360-degree views guaranteed to impress everyone from a potential new client to your mum who's in town for a quick visit.
Enjoyed our roundup of the top rooftop venues in London but still haven't found the perfect one? Take a look at our main website to find plenty more inspiration.