Struggling to find the perfect training space to hire in London? We've put together a guide to the 20 best training rooms in London. 
Training days are vital to keeping your team running like a well-oiled machine. Updating your employees on the company's policies and upskilling individuals to ensure better productivity is crucial to a company's success. These training rooms in London provide the perfect setting to ensure productivity stays at an all-time high. We've even organised our recommended training rooms in London by size, so you won't have any problem finding the perfect location for your next corporate event.
Small Training Rooms In London:
1. De Vere Venues West One – Lyric Room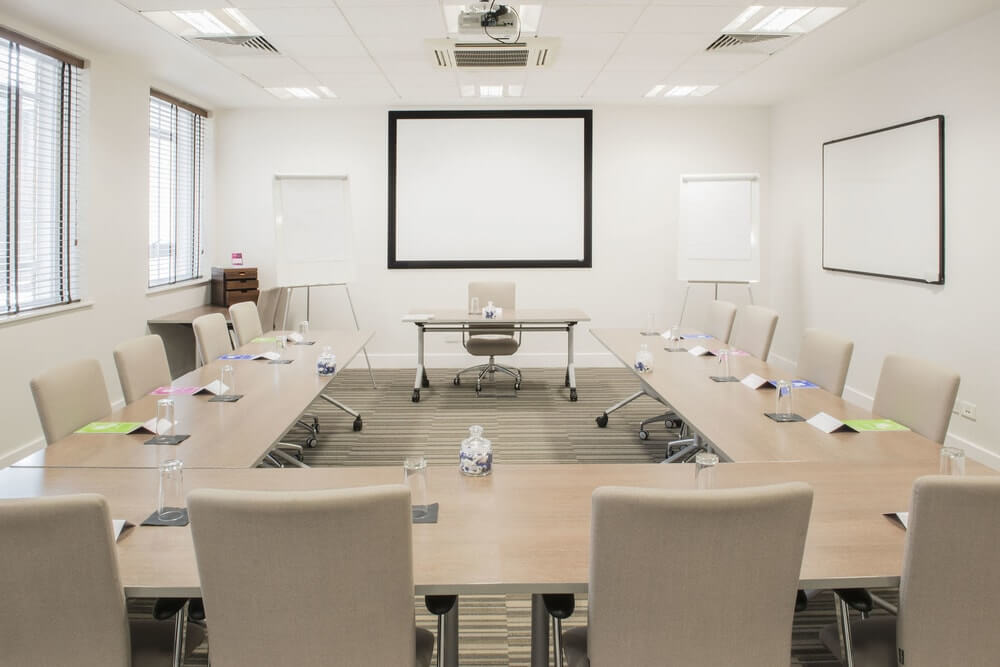 This light and bright meeting room is fully equipped for corporate events of all kinds. Particularly suited to meetings and training sessions, this venue is home to 29 meeting spaces, over five floors. Featuring in-house tech-support, superfast WiFi, and nutritionist-approved food, your training session is sure to be perfectly planned. This particular meeting room seats up to 16 delegates boardroom-style. Find out more about hiring De Vere Venues West One Lyric Room.
2. The Training Room Hire Company – Medium PC Room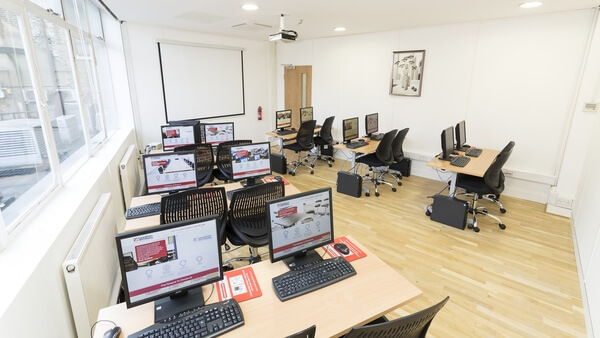 The Training Room Hire Company are true professionals when it comes to… well, training. This room seats 12 individuals behind the desks, and each is equipped with their very own computer. They boast a 100% customer satisfaction rate and you can take a look at their glowing testimonials, here. Find out more about hiring the Medium PC Room at The Training Room Hire Company.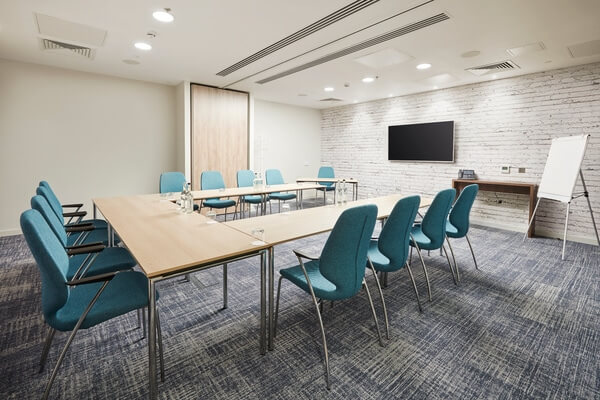 The stylish meeting room facilities at Marlin Waterloo come fully equipped with high-speed WiFi and video conferencing facilities. In addition, their dedicated meetings and events coordinator is on hand to make sure everything runs smoothly. This space seats up to 15 delegates boardroom-style. Find out more about booking a meeting room at Marlin Waterloo.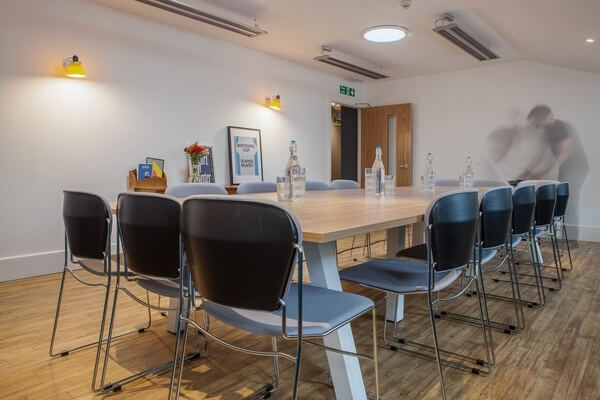 Ideally located in Central London near the British Museum, Faber Creative Spaces is a solid choice for corporate event hire. There are five creative spaces available to hire in total, but this specific training room will seat up to 18 individuals boardroom style. Find out more about booking Lupercal Meeting Room.
5. Mercure London Hyde Park Paddington – The Serpentine Suite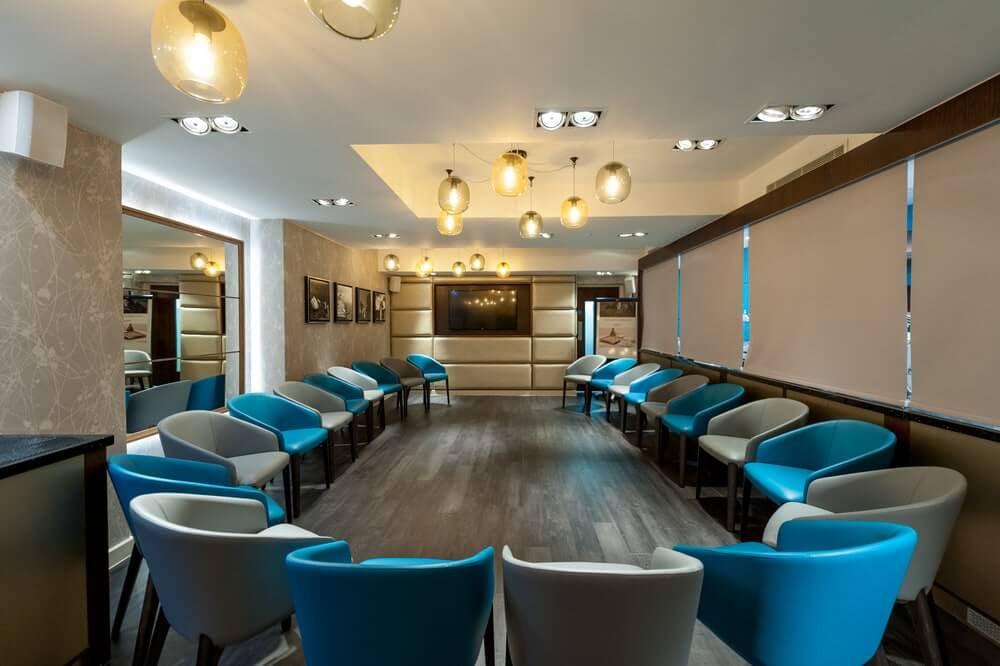 This stylish meetings and seminar space will certainly keep your attendees engaged with its modern design and top-of-the-line facilities. The Serpentine Suite seats 30 theatre style or between 15 to 22 delegates boardroom style. You can even arrange for a working lunch to be served in the room, or move your attendees upstairs to their sophisticated brasserie. Find out more about hiring a space at Mercure London Hyde Park.
Medium Training Rooms In London: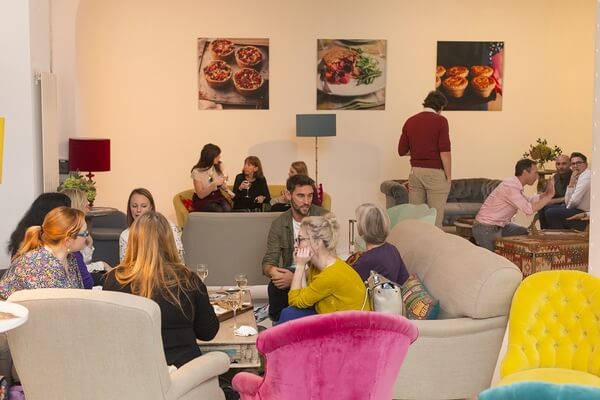 Icetank truly is the ultimate blank canvas venue. Despite looking brightly coloured and bustling in the above image this space is essentially a white box of creativity. The perfect option for companies who want a white and bright space to add their own mark to. This venue gives you enough room for up to 60 delegates seated theatre style. Find out more about hiring Icetank.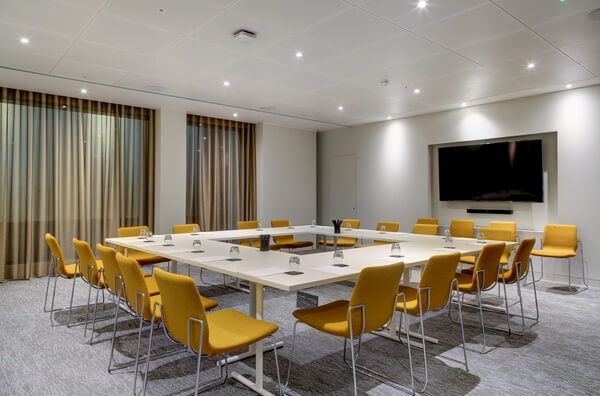 The Clubhouse is one of London's most exclusive co-working and meeting space groups. Founded by investment banker and property manager, Adam Blaskey, The Clubhouse group was a reaction against uninspiring and unproductive meeting spaces in London. This room seats up to 40 delegates boardroom style.  Find out more about hiring a training room space at The Clubhouse St. James'.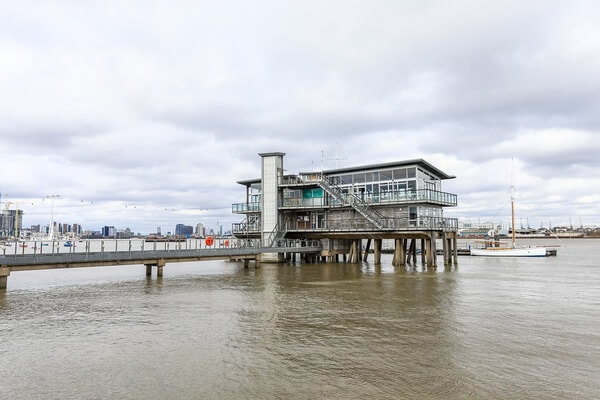 This unique space will certainly add the wow-factor to your next company training seminar. Situated on the water, their Clubhouse space is perfect for corporate events, comfortably accommodating up to 70 delegates theatre style. Find out more about hiring Greenwich Yacht Club.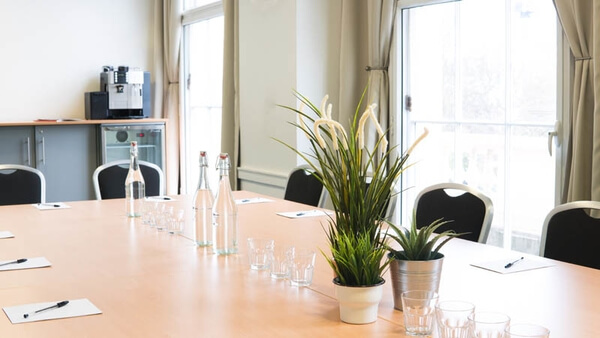 Located in the heart of London, One Park Crescent boasts space for all your business desires. Clean and crisp, traditional yet modern, this spacious conference centre provides business professionals with an all-round option. Their Gulbenkian room seats up to 70 people theatre style. Find out more about hiring One Park Crescent.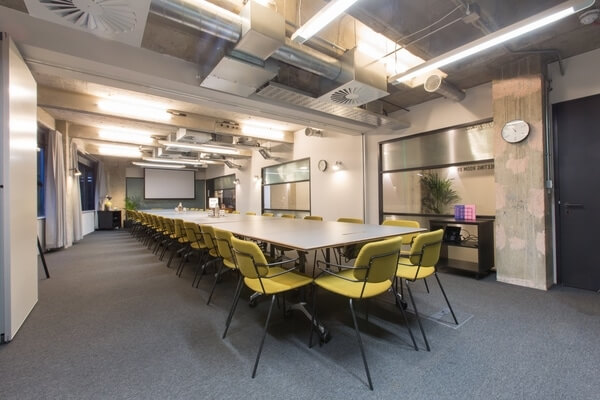 The Office Group are legendary for their cool co-working spaces and this training room is no exception. This simple modern space from The Office Group is large enough for 60 delegates to sit theatre style so there's plenty of scope when it comes to training room layouts. Find out more about booking Meeting Rooms 8 & 9.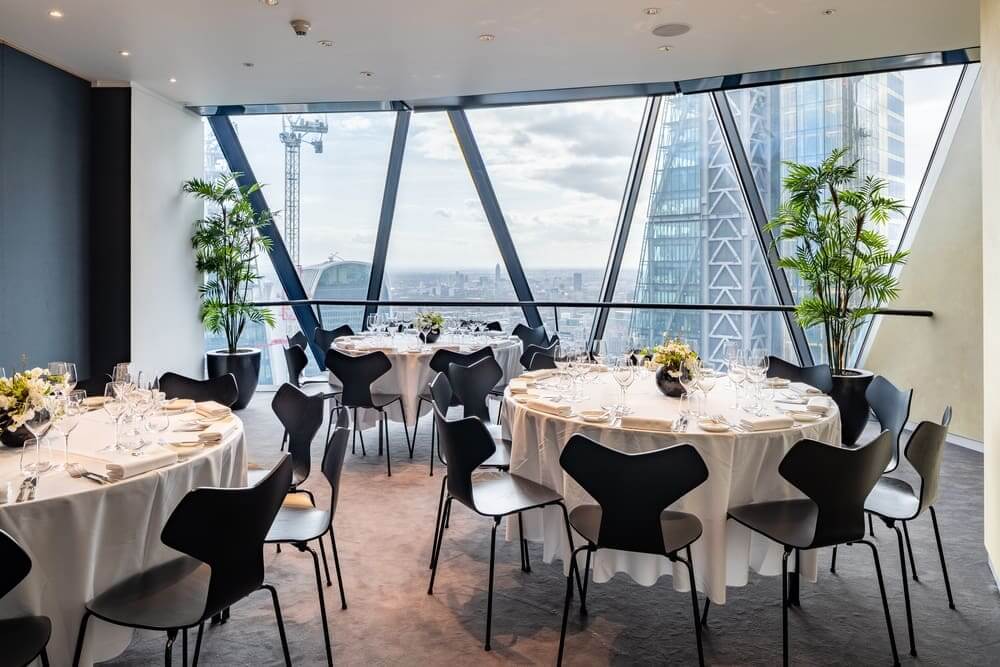 Imagine holding your next company training session with a view of all the City of London's most iconic landmarks… Well at Searcys at the Gherkin you can! Seating up to 35 people theatre style or 21 in cabaret format, Searcys at The Gherkin is a great choice for small-medium training sessions. You can even treat your delegates to a delicious meal, courtesy of their famous fine-dining restaurant. Find out about booking the Stratus or Alto rooms at Searcys at the Gherkin.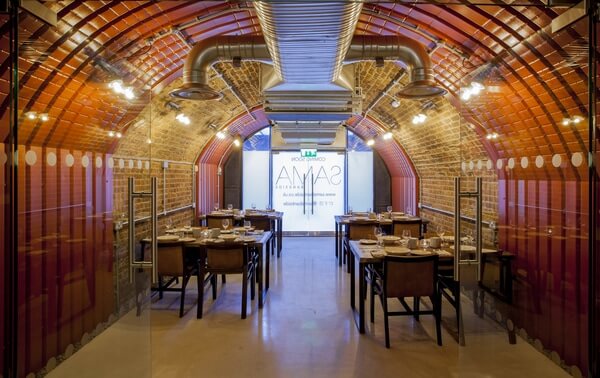 Situated within a Victorian railway arch on the Southbank, this trendy bar and restaurant is the perfect space for your next event. This stylish industrial space seats up to 40 theatre style. Find out more about booking SAMA Bankside for your next training day event.
8. The Office Group Bloomsbury Way – Meeting Room 3 & 4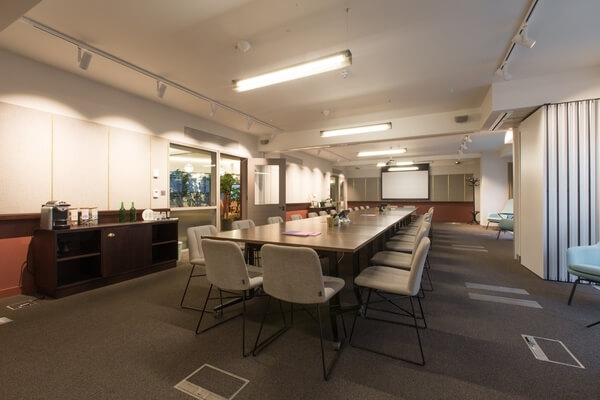 Another excellent training room option from The Office Group, this space is stylish and open. Seating up to 28 people around their long table, your delegates can collaborate in comfort. There are even coffee making facilities for those of you needing an extra boost. Find out more about holding a training day at The Office Group Bloomsbury Way.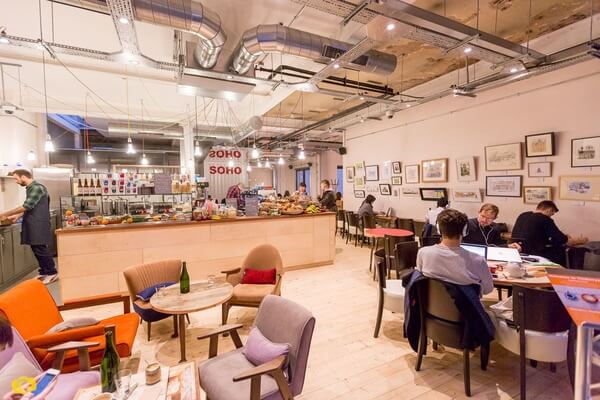 This coffee shop-cum-co-working space is a great option for SMEs. With enough open space for up to 80 delegates, the Timberyard Soho is a great blank canvas for medium-sized training and workshop events. And, needless to say, their catering options are pretty great too. Find out more about hiring space at Timberyard Soho.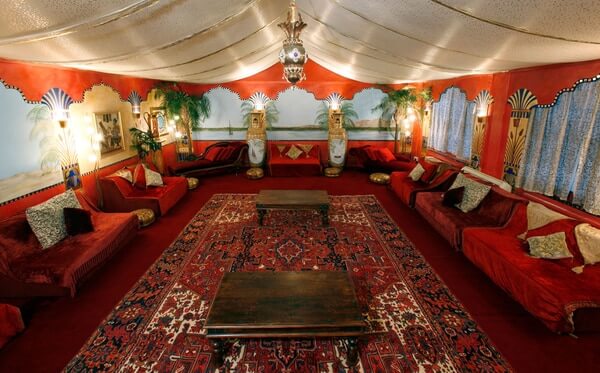 Travel back to the age of the Pharaohs as you embark on your next training day in a very unusual space. The London Art House is known for their eccentric corporate-friendly spaces. This room comfortably seats 30 delegates in the round, so it's a fantastic option for creative collaboration and training workshops that require group participation. Find out more about booking a space at London Art House.
Large Training Rooms In London: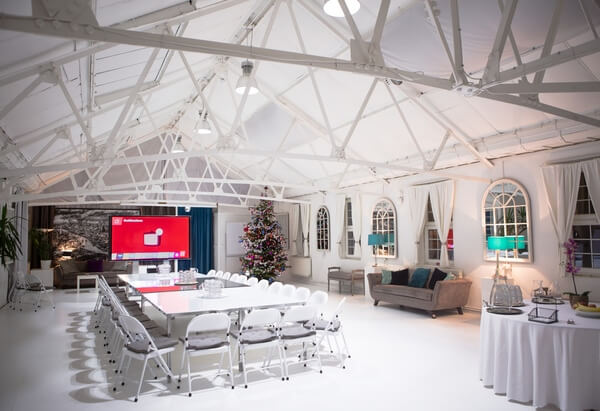 The ultimate blank canvas space, Lumiere London is sure to get those creative juices flowing and instil some calm in your delegates. The White Loft seats up to 80 people classroom style, so it's ideal for large-scale training sessions. Find out more about hiring The White Loft.
2. The Banking Hall – Main Hall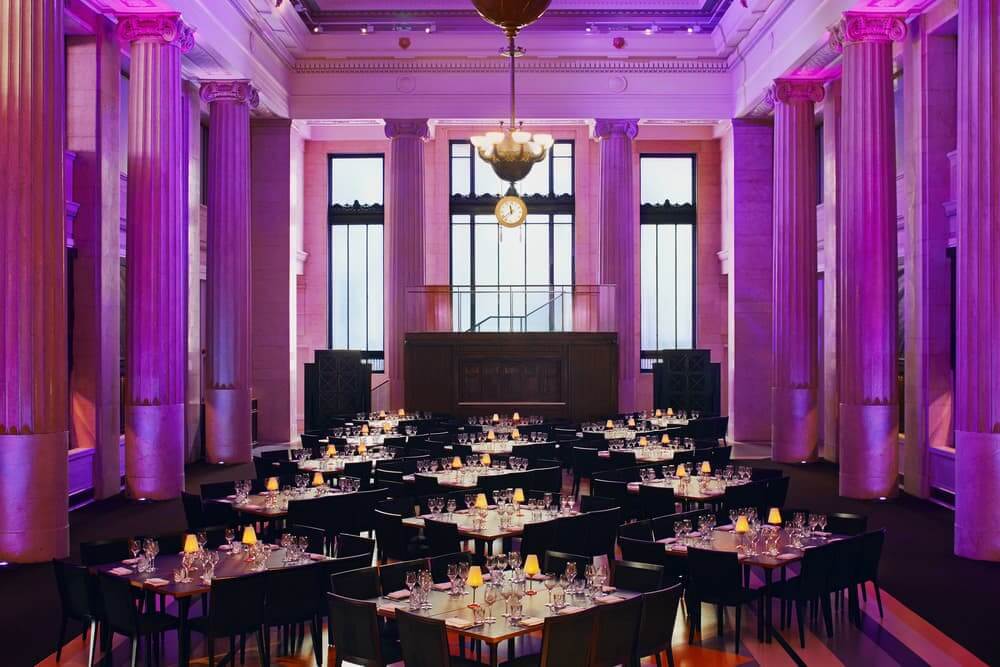 The banking hall is a sight to behold and this impressive backdrop is perfect for large corporate events. Imagine impressing a new round of hires or graduates with a conference in this historic hall. This behemoth of a venue has enough room to seat 280 delegates theatre-style, so it's perfect for large corporate training days. Find out more about booking a space in The Banking Hall.
3. Church House Westminster – Assembly Hall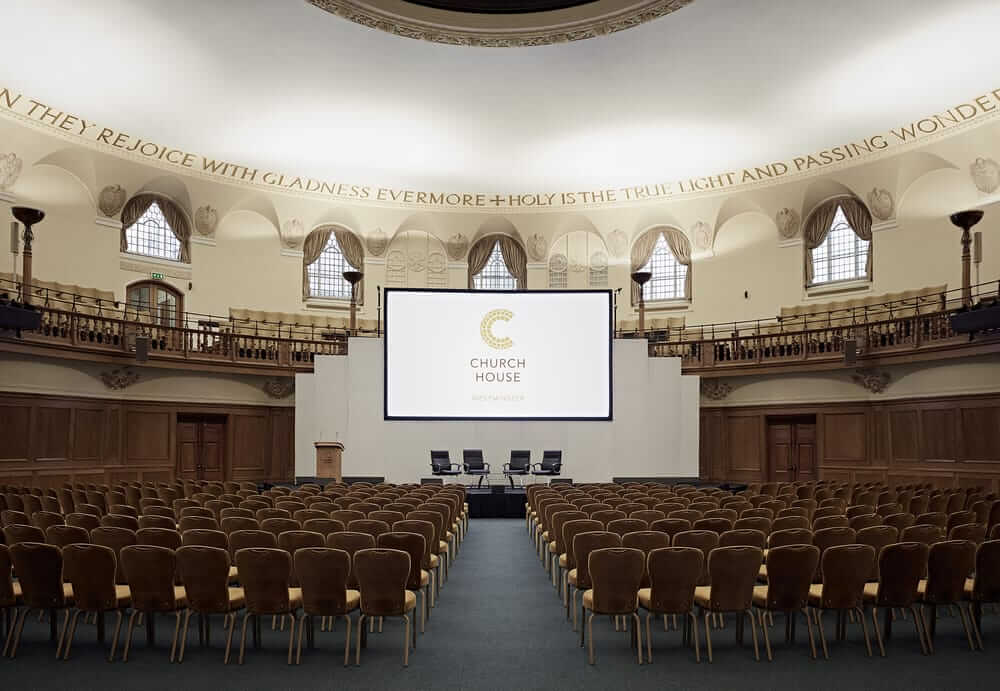 Another highly impressive locale, the domed ceiling of Chruch House Westminster is sure to inspire training or conference participants. Providing open space for up to 550 delegates you won't be short on space here. An excellent option for large corporates. Find out more about hiring The Assembly Hall at Church House Westminster.
4. Regents' Conferences and Events – Herringham Hall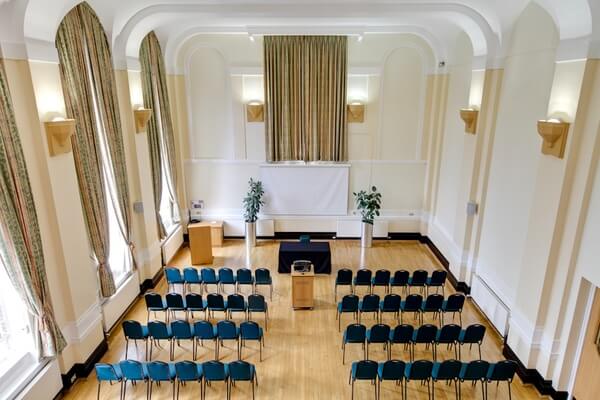 Herringham Hall is slightly smaller than our last two venues, but it remains impressive nonetheless. Flooded with natural light from the large windows on one side of the space, events here feel almost al fresco and, as a result, are energetic and fresh. Herringham Hall seats up to 100 delegates theatre style. Find out more about hiring Herringham Hall as a training day venue.
5. Waterloo Creative Studio – Studio Space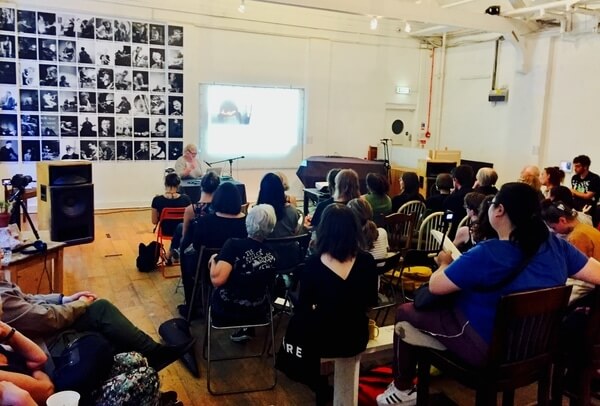 If you're looking for low-key but large, Waterloo Creative Studio could be the perfect training space. This venue is bigger than it looks, with enough room to seat 80 delegates banquet style. They've even got a charming outdoor area for those of you hoping to energise your delegates with a breath of fresh air. Find out more about hiring Waterloo Creative Studio.
Whichever of these training rooms in London you choose, VenueScanner will help you secure a booking. Just check out our website or contact us at hello@venuescanner.com. And, if you're looking for a few fun team away day activities to follow up your training session, just take a look at these.