Struggling to find the perfect team bonding activity? We've put together a guide to the 20 best team away day activities in London.
Show off your crazy competitive side as well as your team spirit with these fantastic team away days in London. And these aren't just winners for corporate teams – we know you and your mates will love these fun-filled London day-out ideas, too.
The Best Team Bonding Activities in London
Here are the very best activities for team bonding and team building in London. From activity bars to laid back sustainable venues – we've got it all!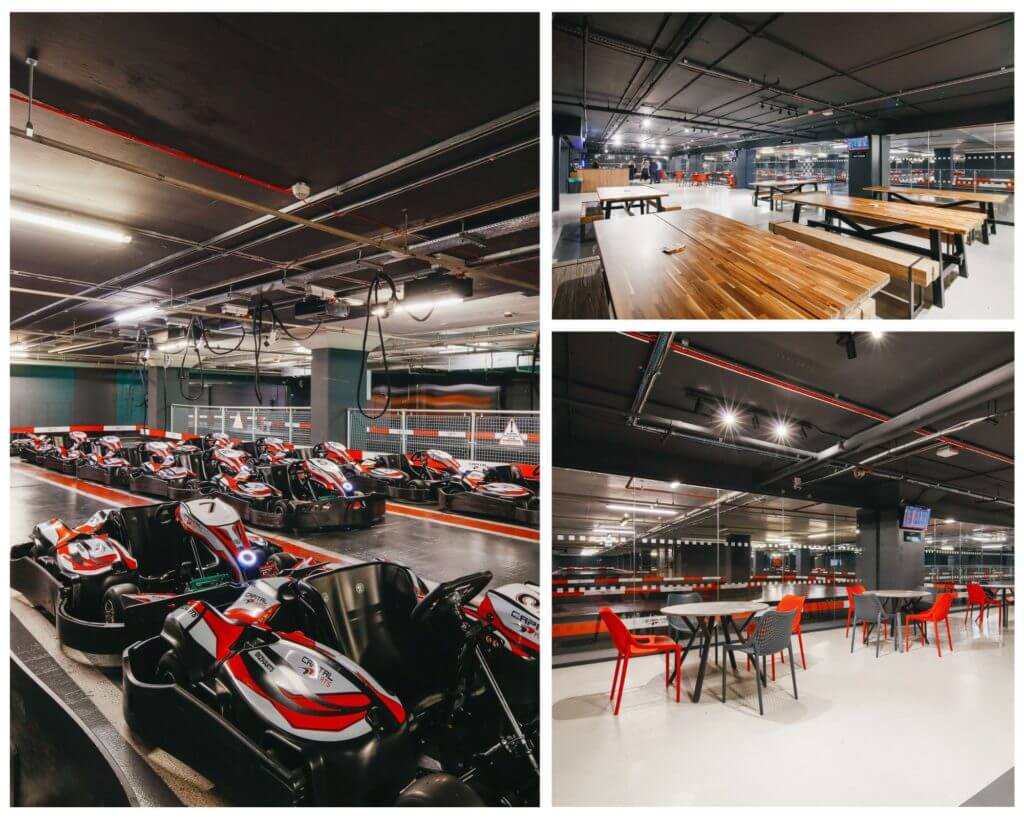 Capital Karts in Canary Wharf is an exhilarating experience for the whole team. The indoor go-kart track is over 800m long and features an exclusive bar and lounge area. It's the perfect choice for a team away day and is easily accessible by both the Jubilee Line and DLR.
Capacity: 200 guests
Price: From £33 per guest
Closest station: Canary Wharf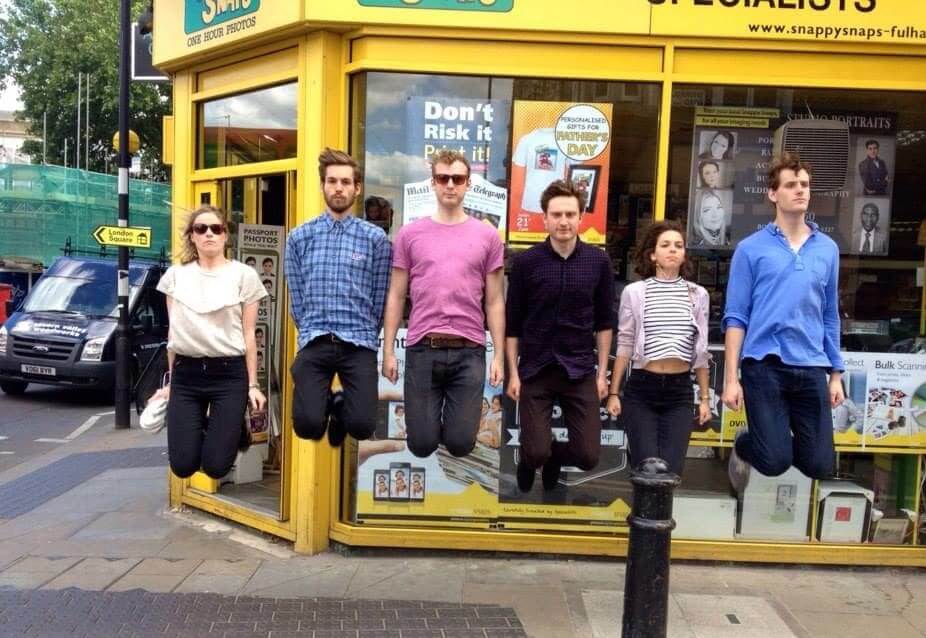 Who doesn't love a scavenger hunt? The Big Smoke Events put on the very best in London. Voted 'Best Team Day' by InStyle Magazine, their hilarious and exciting challenges reflect what they believe events should be: unique, fun, competitive, and of course, collaborative. Experience a race against the clock, lots of laughter, and create great memories.
Capacity: Can be tailored to you team's needs
Price: Depends on activity and group size
Location: Anywhere – they come to you!
Book Big Smoke Events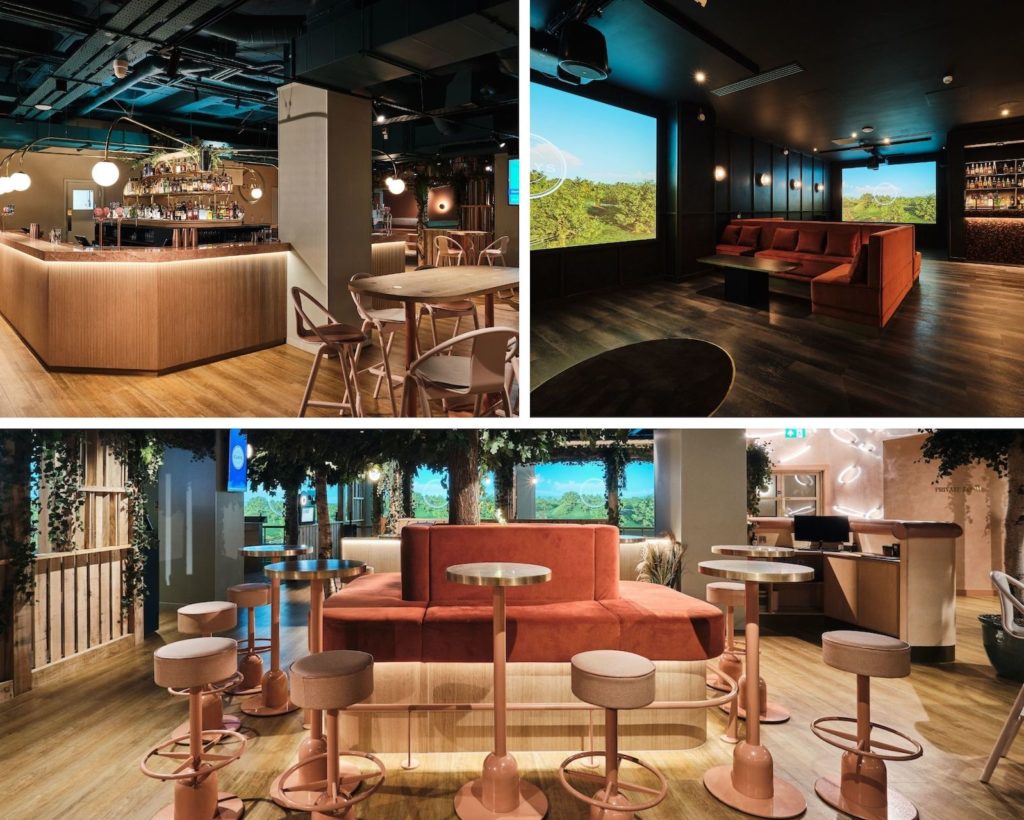 Clays is a unique venue that takes competitive socialising to a new level with digitalised clay bird shooting that'll give you many memorable team-building moments without bringing real weapons into the mix. The booths can be booked for up to 20 people and there are plenty of delicious signature cocktails that you simply have to have a go at with your colleagues.
Capacity: Versatile spaces with capacities for everything between 20 and 360 people
Price: £60 per guest
Closest station: Moorgate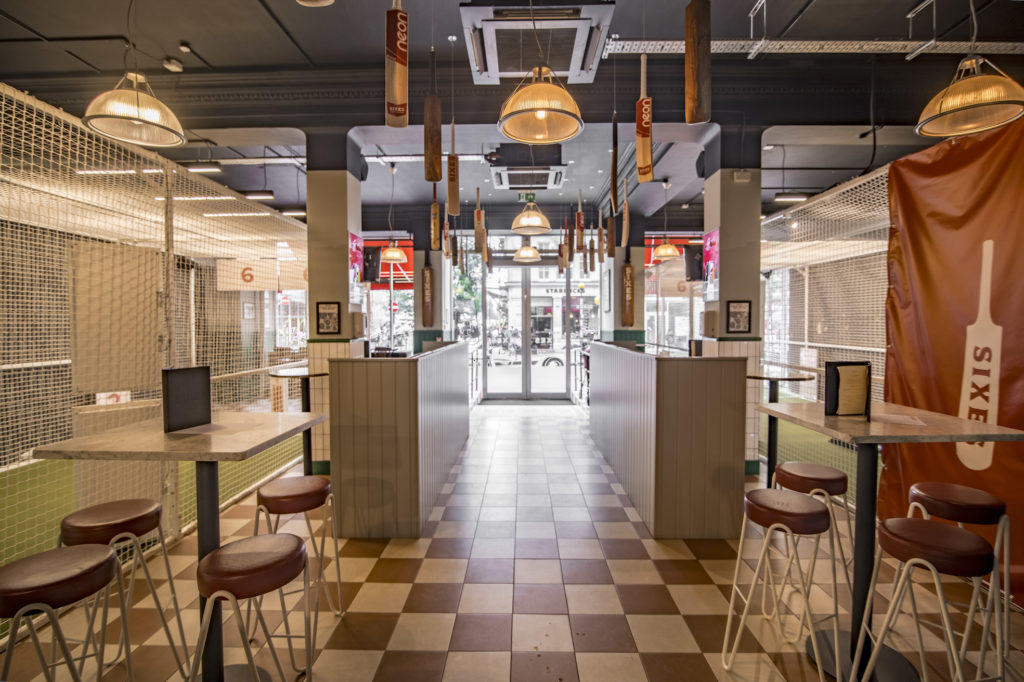 This Fitzrovia hotspot for work get-togethers uses innovative technology to let you compete with some of the world's best bowlers. Combine delicious English gastropub food with a game of cricket and you're all set for success on your next team away day.
Capacity: 20–70 guests
Price: £73 per hour
Closest stations: Great Portland Street and Regent's Park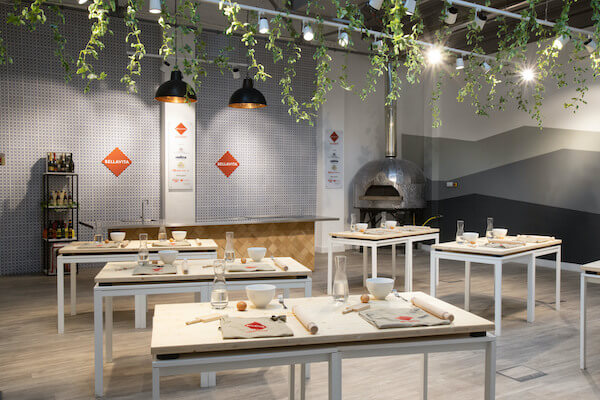 What could be a better team activity than cooking together? At Bellavita Academy you'll have the chance to improve your Italian cooking skills with one of their many great classes led by experienced chefs or just hire the space on its own if you'd like to cook at your own pace for your team away day. You can also opt for a wine tasting or wine pairing class if that's more of your jam.
Capacity: 130 guests standing
Price: £115 per hour
Closest station: Tower Hill (tube) & Tower Gateway (DLR)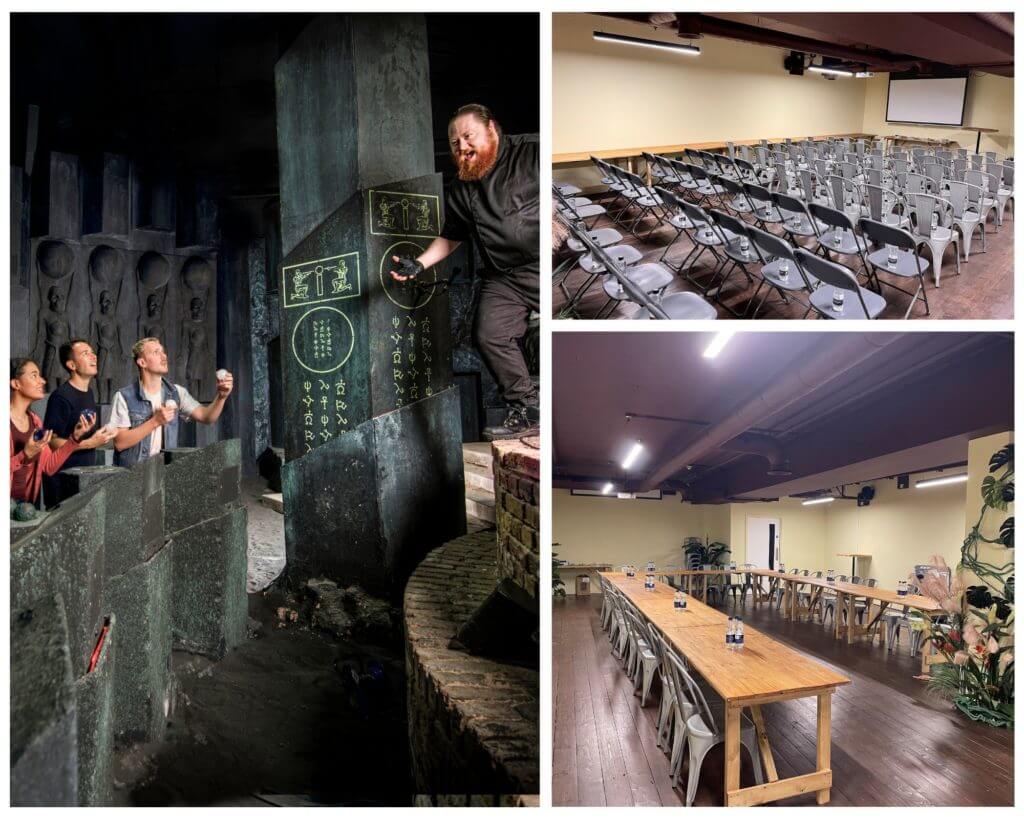 Tome Raider: The LIVE Experience will get your team's hearts racing. Work your way though a host of puzzles and challenges testing both physical and mental ability. Prior to trying your hand at this activity, use the event space for a meeting or brainstorm session.
Capacity: 100-112
Price: Price on Asking
Closest Station: Camden Town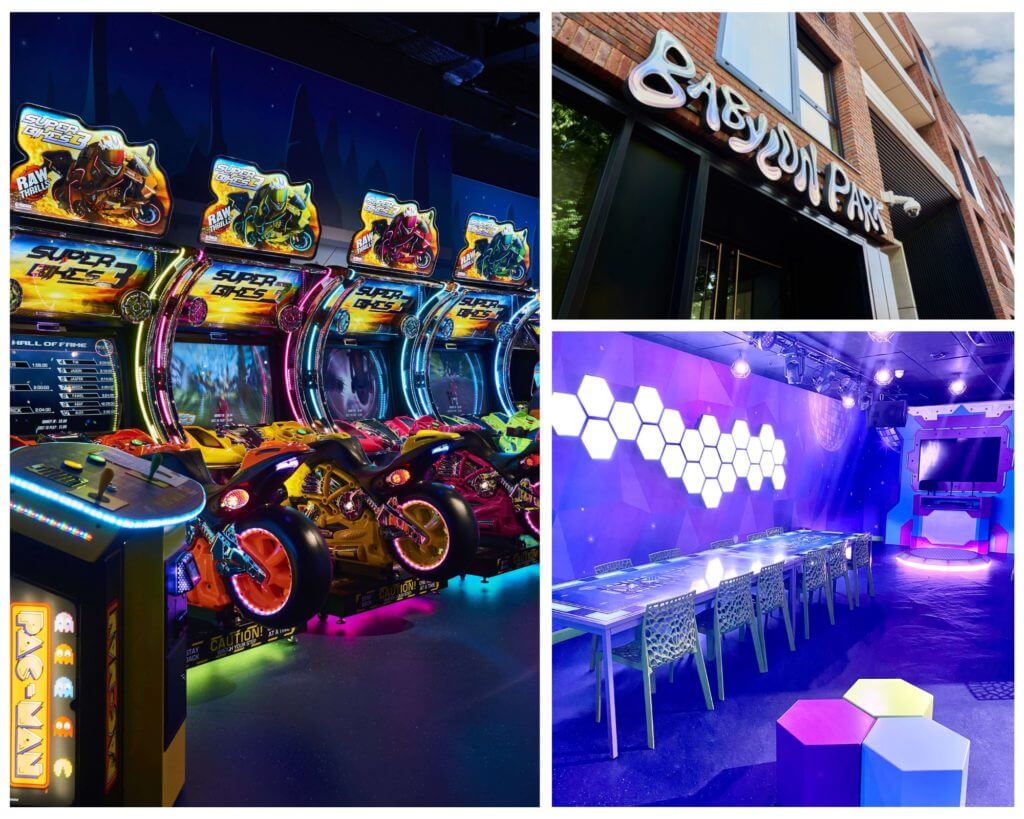 This fun indoor park is a great choice for a team away day. They have two private rooms that are equipped with a sound system, lighting, and more. But, that's not the best part. Their main attraction is their games and rides. The whole team will love riding the mini roller coaster and bumper cars, and playing fair games.
Capacity: 40-80 guests
Price: £125 per hour or £800 per day
Closest station: Camden Town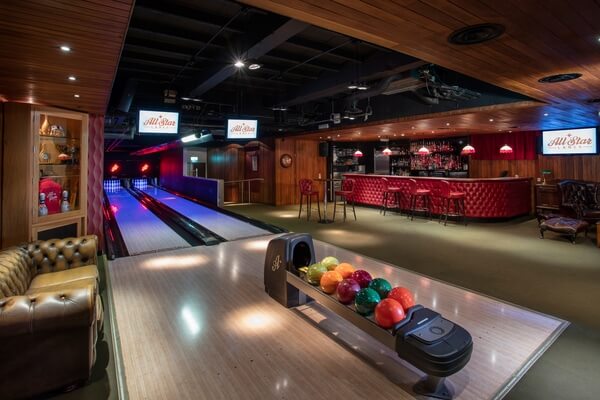 Hire out a couple of private bowling lanes for your company at All Star Lanes in Stratford, Holborn, or Westfield Shepherd's Bush. Your private party gets the all-star treatment with a private bar and food available to order.
Capacity: Up to 80 guests
Price: £750 per day
Closest station: Holborn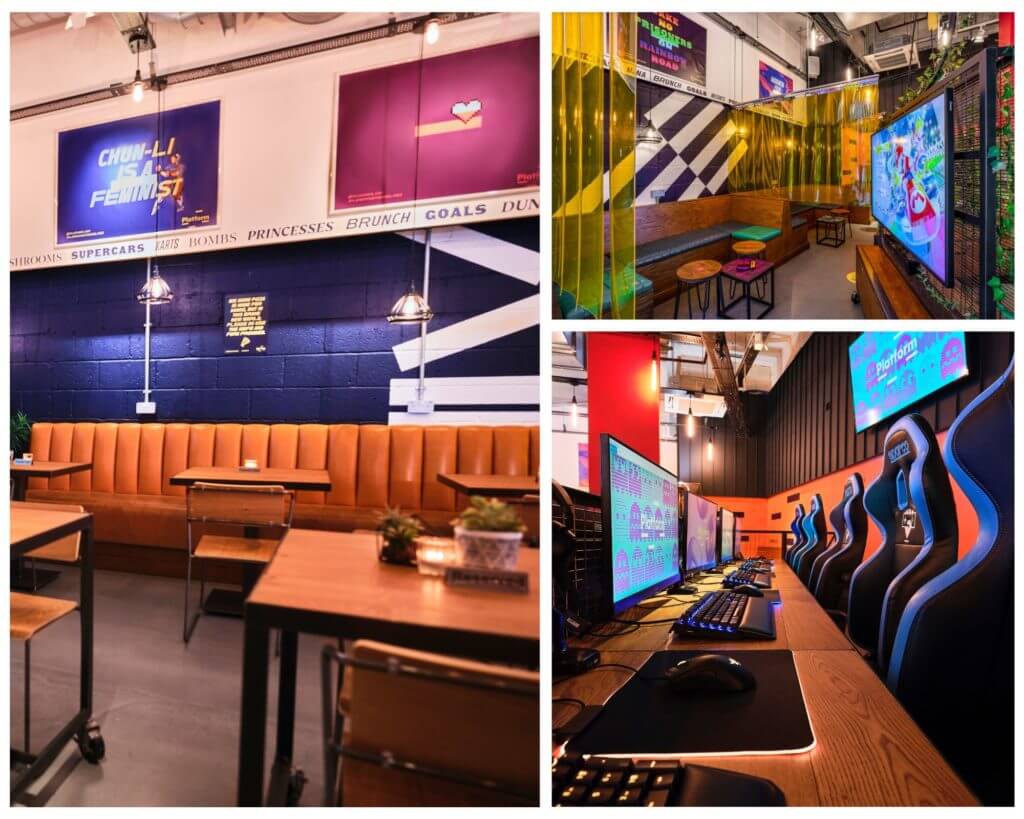 Find out who the gamer of the group is at Platform. Filled with gaming booths, esports stage, and individual game areas, this place is so much fun. Enjoy wood fired pizza and cocktails with your colleagues while you join in on a little friendly competition.
Capacity: 135 guests
Price: £3400 min spend
Closest station: Old Street or Moorgate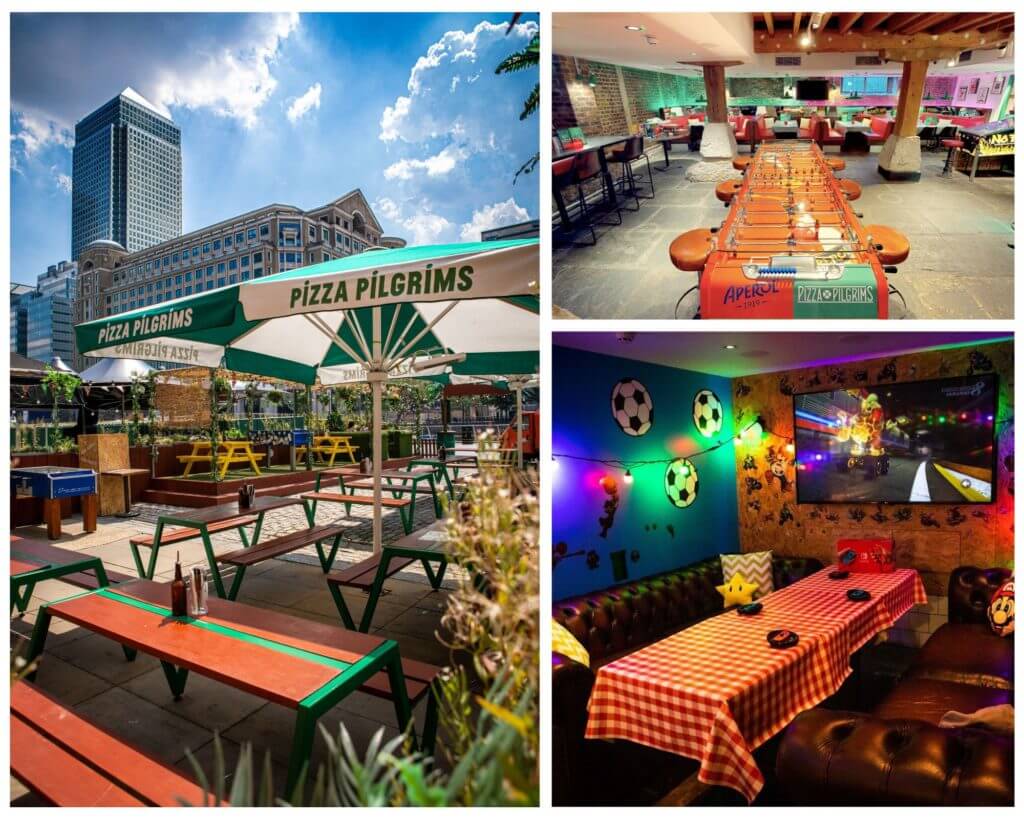 Pizza Pilgrims West India Quay has a super fun pizza playground downstairs filled with foosball, video games, and more for the whole team to enjoy. Top that off with some of the tastiest pizza ever and you're in for a good time!
Capacity: Up to 100 guests
Price: £47 per guest
Closest stations: West India Quay and Canary Wharf
With interiors inspired by an Italian kitchen, this space has an uncompromised homely feel to it. The venue offers genuine Italian cooking classes and is a family business, now run by sisters Charlotte and Claire but originally founded by their mother Enrica Rocca. This is a perfect activity for smaller teams looking to truly bond with one another.
Capacity: 30 seated
Price: £500 per day
Closest station: Ladbroke Grove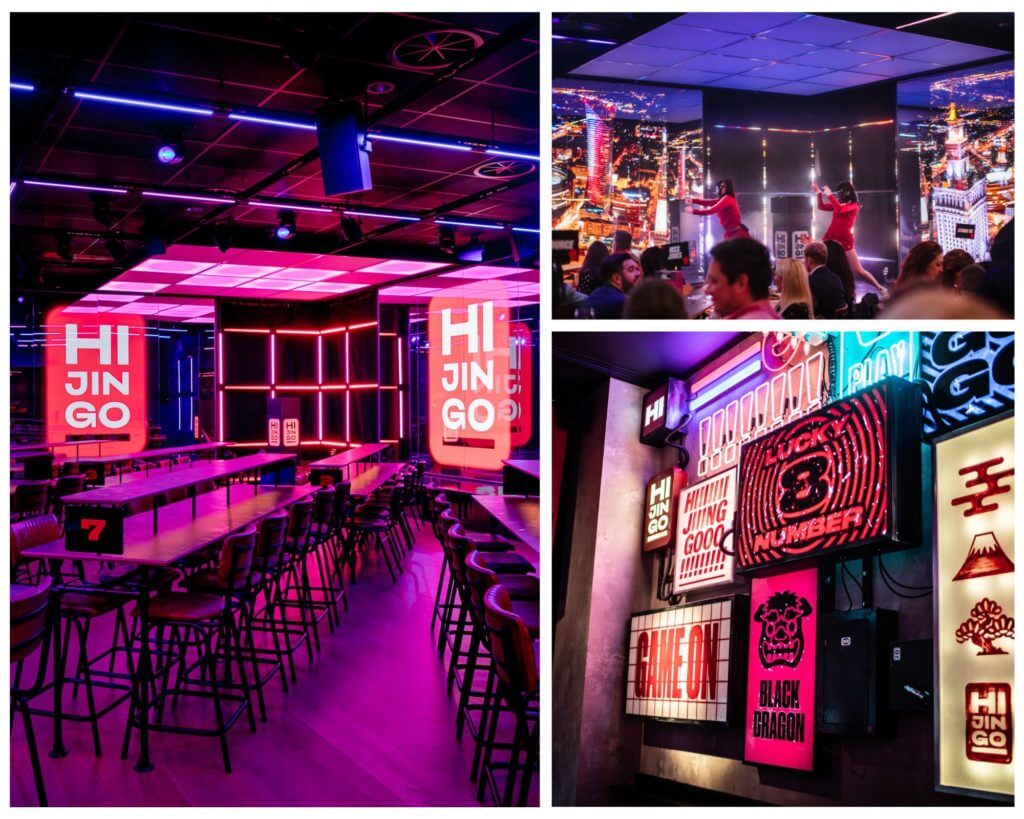 What better way to spend an evening then with a game of multi-sensory bingo? Hijingo is where it's at for a fun time with your team. Enjoy an exclusive Bingo Game Session Hire before sipping on some cocktails at The Lucky Cat.
Capacity: Up to 250 guests
Price: Price on Asking
Closest stations: Liverpool St
Ping Pong is a legendary activity, we all know that! At The Bat and Ball they've perfected this wonderful game and combined it with Neapolitan-style pizza. They've got a lot of experience hosting team away days so if you're looking to combine a few rounds with presentations and meetings this is a versatile venue perfect for you. There's also the option of pool and karaoke if that's more your jam. Don't miss out on the extensive cocktail menu!
Capacity: Up to 300 guests
Price: £2000 minimum spend
Closest station: Stratford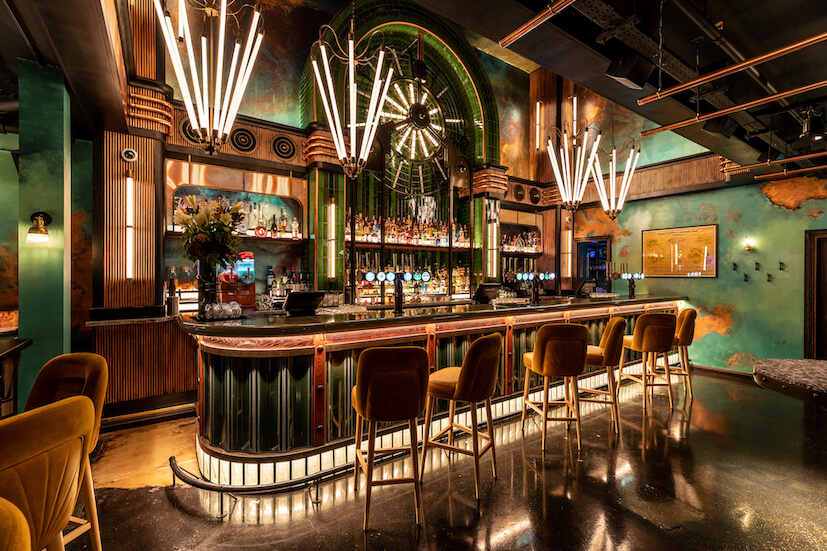 Who doesn't love a game of shuffleboard? If the answer is you, this place is going to make you seriously rethink. At Electric Shuffle they've taken the game to a new level by combining this glorious game with delicious food and drinks and contemporary interiors. It ticks all the boxes for a fun day with the team – time to get competitive!
Capacity: Up to 350 people with exclusive hire
Price: Minimum spend from £2135
Closest station: Canary Wharf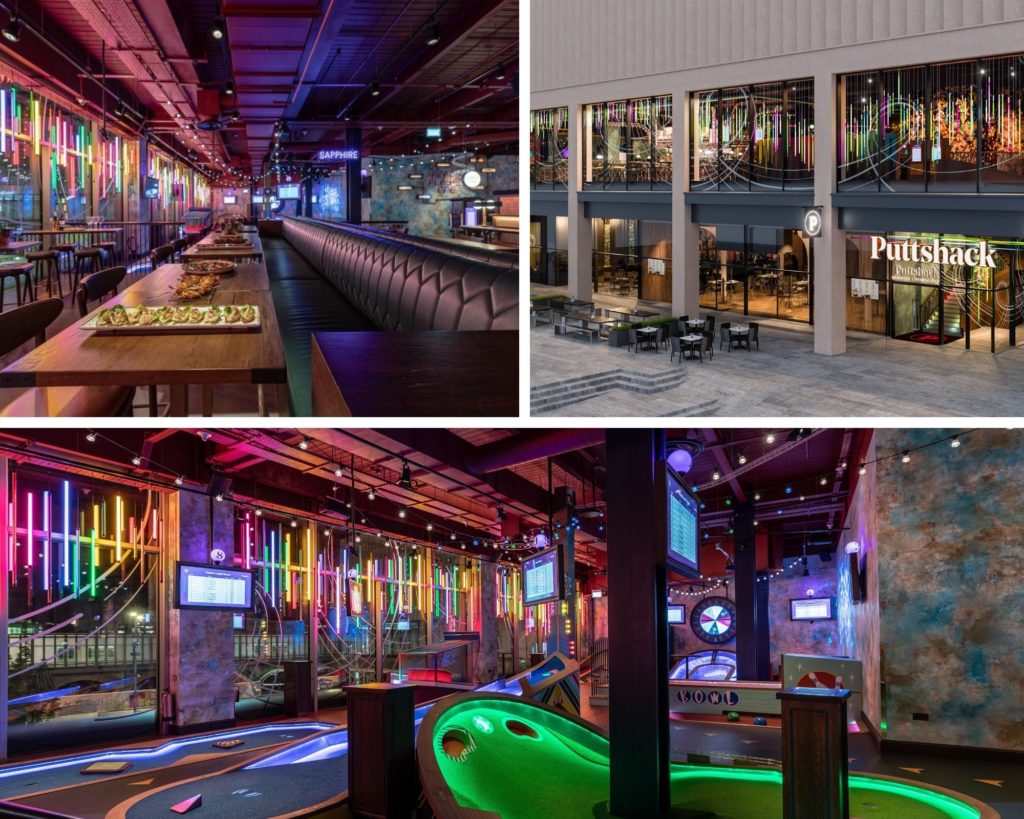 Ok, this is the last mini-golf activity we promise… But this one's definitely worth a mention! Self-proclaimed 'most incredible mini-golf concept in the world', Puttshack offers automatic scoring tracked by clever cameras and the food served up is a 10 out of 10 experience.
Capacity: Up to 750 people for exclusive hire
Price: From £875 minimum spend
Closest station: Wood Lane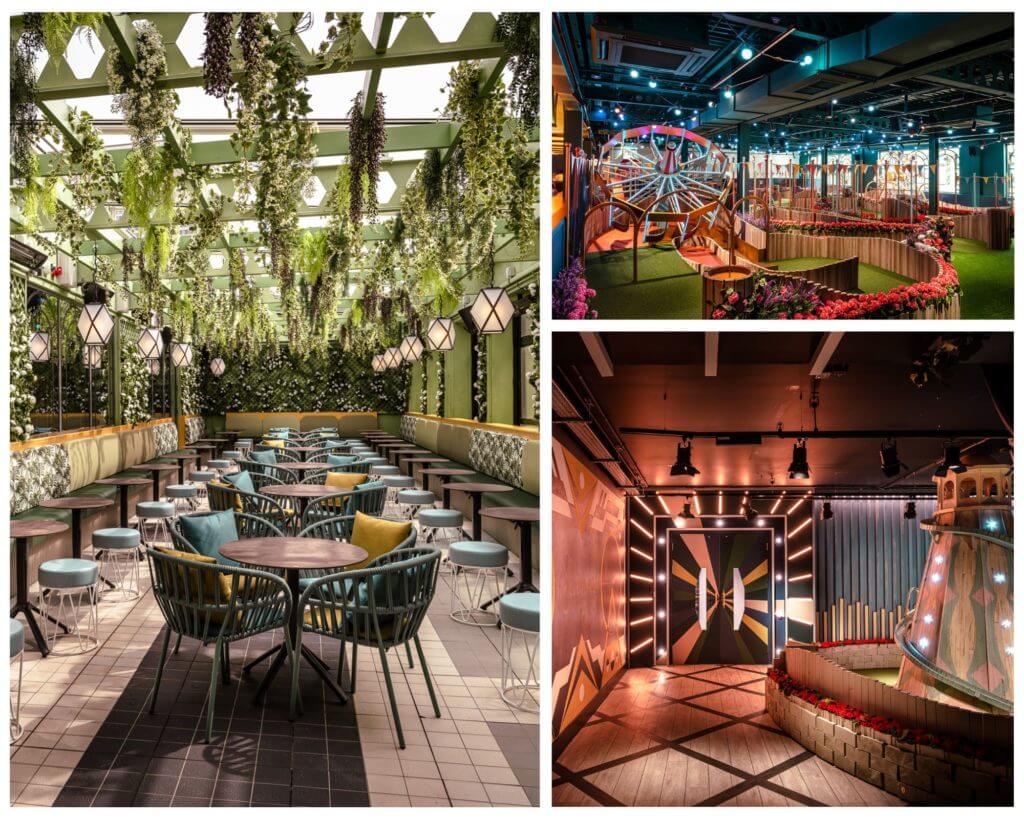 Crazy golf is a great game to play with your team. Head to Swingers West End to enjoy one of their three courses, tasty food, a stunning terrace, and more!
Capacity: Up to 250 guests
Price: Price varies depending on space hired
Closest station: Oxford Circus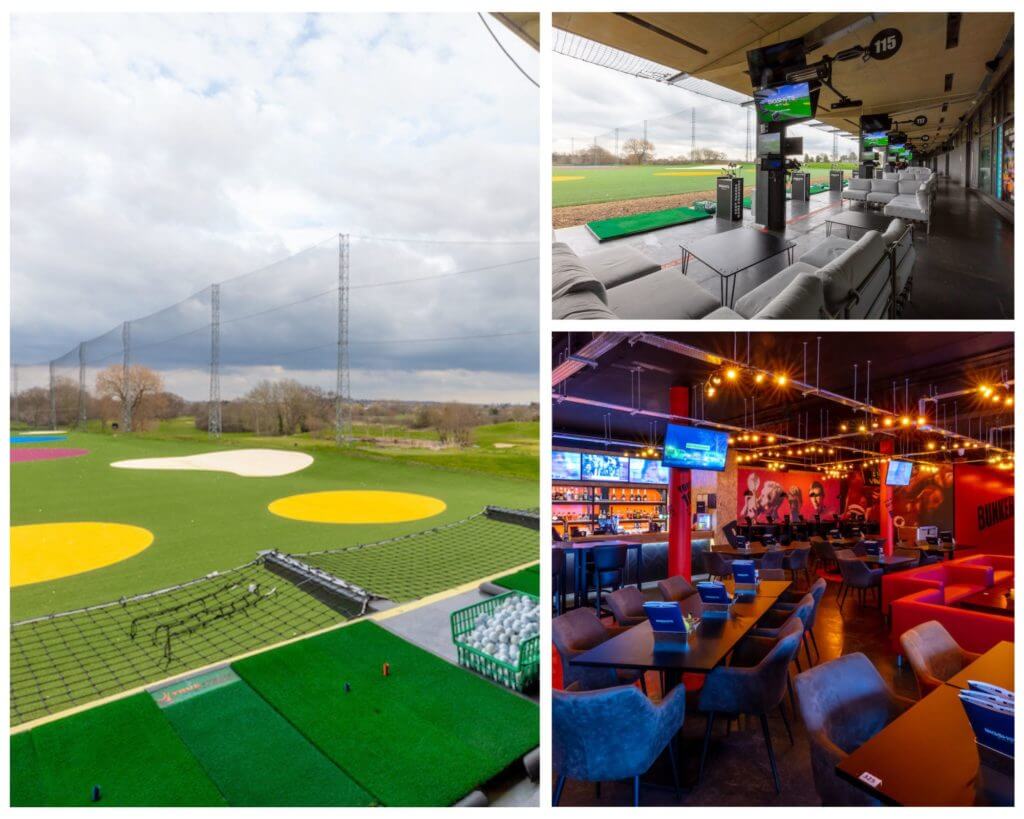 Hit the links with your team. Head to BigShots Golf in Northwick Park to enjoy a day at the driving range. Grab the whole team (this venue is huge!) and see who can hit the ball the farthest.
Capacity: Up to 1500
Price: Price on Asking
Closest stations: Northwick Park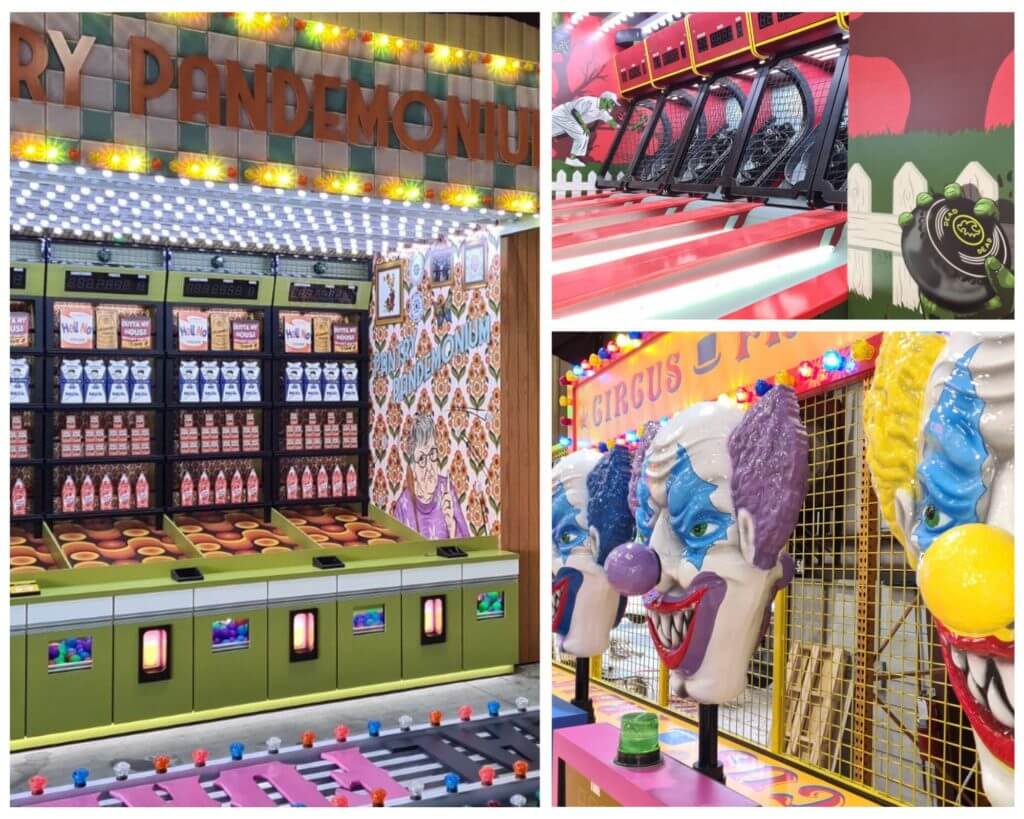 Fairgame is filled with the most fun fairground games you could think of. From whack-a-mole to skee-ball and everything in between, you'll have a blast. Finish your team away day off with some epic street food and delicious cocktails.
Capacity: Up to 600 guests
Price: Price on Asking
Closest stations: Canary Wharf
Looking for a training room to focus your team and up-skill? Search training rooms here.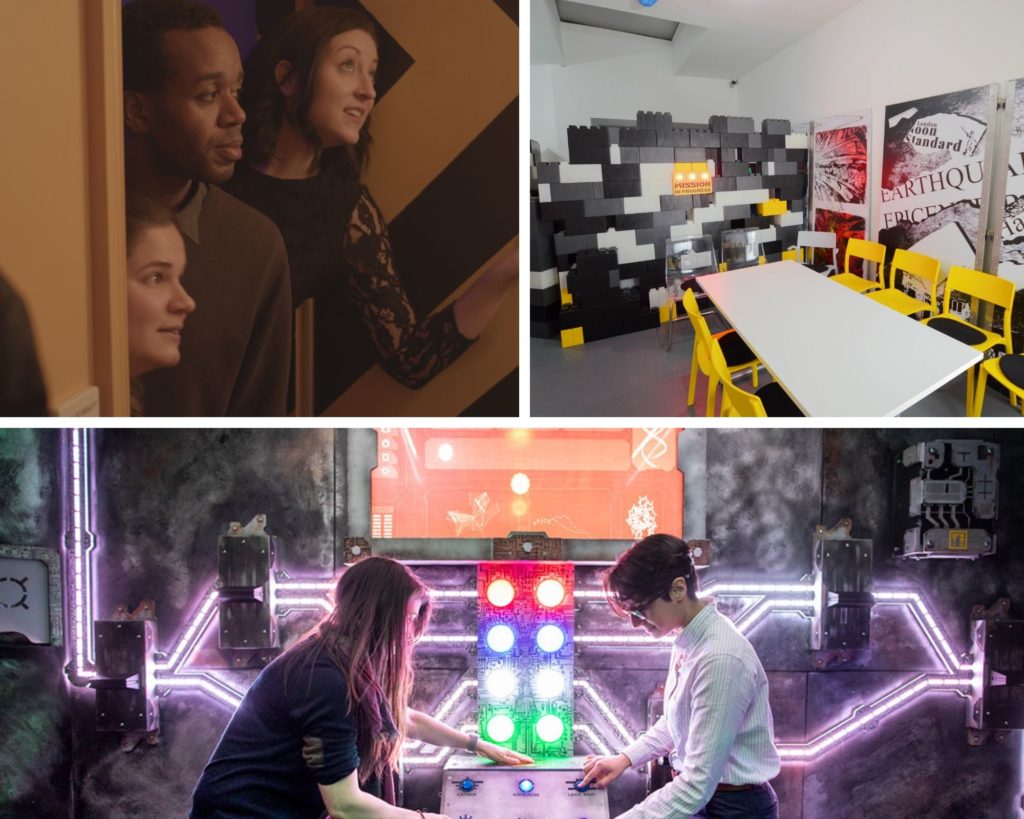 You'll certainly get an intense team bonding session in these high-pressure escape rooms! Work together to solve the clues and escape the room before the time runs out. Expect laughter, tears, and tantrums.
Capacity: 120 guests with ful venue hire
Price: From £25 per guest
Closest station: King's Cross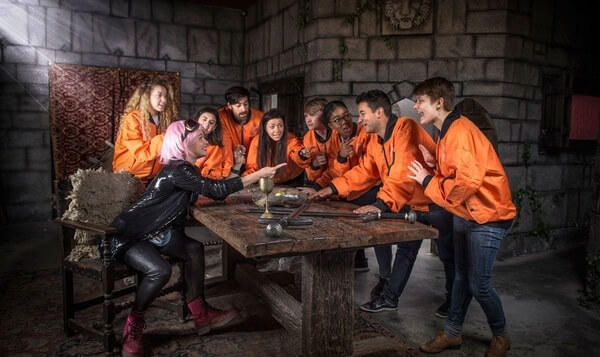 Live out your 90s dreams with a team away day held at The Crystal Maze LIVE experience. It's literally just like being in the game show, except with marginally less pressure without the camera crew following you around.
Capacity: From 32 guests
Price: Varies
Closest station: Picadilly Circus
Whatever team activity you choose, make it one to remember and VenueScanner can help you find the perfect venue for your team away day. If you'd rather have a full company retreat with the team we have great options and if you need a meeting room for your team before the fun begins we've also got your back. If you want help from our event and venue experts with all the details of your next company get-together you should check out CompanyConnects.