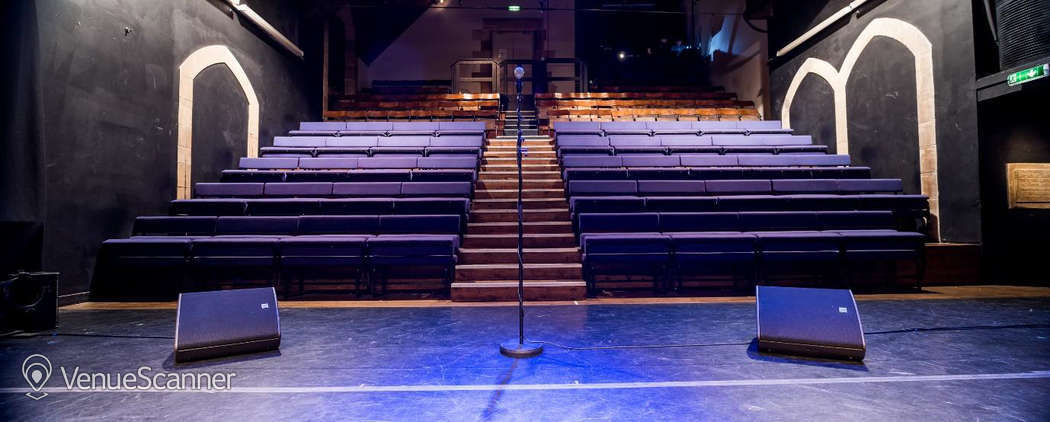 Typically responds within 2 hrs
E
Capacity and Layout
Amenities
Disabled access
Air conditioning
Lectern
Stage
Cloakroom
Print/Scan/Copy
Ratings & Reviews
Unfortunately a very unpleasant experience. Went to see a festival show here and the comedian was great but the rest of the experience was horrible. You have to keep your mask on the entire time, even seated. We were packed into seats that are so narrow you can't actually sit back, and you're crammed up against the person next to you, my back is in agony today. We were shouted at when we tried to join the queue to get a drink, and were not allowed to get one because the bar closes well before the show start time but this isn't specified anywhere. Someone was shouted at for checking the time on their phone before the show had even started, I was snapped at when I went to the toilet and walked in the wrong direction. The staff were acting like police! It was not a fun festival experience at all, and other venues are not like this.
GOOGLE REVIEW
Operating an absolutely ridiculous mask policy, I know it's a comedy show but this was farcical. If you have a drink, their policy is when you want a sip you pull down your mask, then pull it back up again, wth. Can you imagine, being in a restaurant and operating that policy? What they think this is achieving is beyond me, you are sat like shoulder to shoulder people in the venue and we all queued close together. Don't get me wrong, I have no problem following the mask rules, and wear then happily when moving around the building, or when I don't have a drink but these guys are applying rules for to the point of stupidity. Advice to venue - Make this rule clear on your site (I wondered why there were tickets available) - If you want people to wear masks then don't sell people drinks (you can't have it both ways) - Follow the same rules as every other venue in Edinburgh (it works fine). It makes no difference if you are applying this rule in your venue, while 5 minutes earlier I am in a packed pub. - Apply a sensibly policy and don't blindly follow rules. I don't buy this is for peoples safety, as if it was, they wouldn't be the only venue in Edinburgh doing it. Added a star as it was actually a nice venue.
GOOGLE REVIEW
Ideal venue for a jazz/blues show. Dark and atmospheric, with good lighting on stage. Seats weren't terribly comfortable, but were ok for an hour!
GOOGLE REVIEW
Sadly down to Jazz and Blues Festival rules, no drinks served during performance. Plenty of staff sat around wondering what to do! Venue good staff courteous, covid spacing rules a drag but we'll administered.
GOOGLE REVIEW
Lovely venue, amazing to be back seeing real live music. Staff were friendly and nice.
GOOGLE REVIEW
Other Spaces in this Venue
Cancel within 48 hours: VenueScanner guarantees 100% refund of first deposit on payments made through us. Up to £500 maximum.