It's a familiar problem for plenty of personal assistants. Last year's summer party was an absolute belter – so how on earth do you go about topping it this time?
Right on cue, here's our guide to the best London summer party venues with a view. Sorting a space with frozen cocktails, tasty food and maybe some activities is one thing, but doing all that while looking out across this beautiful city as well? That's the sort of thing that elevates your office party to the next level.
From chilling on riverside balconies to eating at the summit of a famous skyscraper, here's our pick of venues with a view in London so that you're next summer bash is a sizzling success.
Based on a 114-year-old Dutch boat, there's stunning views to be had from the top deck at Barge East. The front row view of the Olympic stadium is quite something, but there's also a great vantage point of the rest of London's skyline taking in the Gherkin and the Shard. You'll find a small plate dining concept and drinks that showcase the best of the capital here, as Barge East offer bespoke summer party packages for anywhere between two and 300 at their chilled and easy River Lee location. More details here.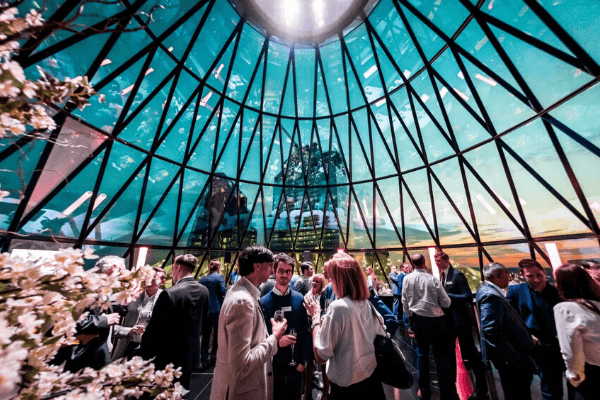 One of the very best bars with a view London can offer is Searcys at the Gherkin, found on the top two floors of this iconic skyscraper. The 360-degree views out across the city speak for themselves, but every year Searcys also put on a themed summer pop-up which is a complimentary addition to your office party. The venue has seasonal food menus, bespoke cocktails and a late licence is available. More details here.
58VE's sixth floor lounge and balcony has an enviable location in the heart of the city. Step outside and peer across central London in all its beauty, tracking the boats as they cruise down the river from the Shard to the London Eye and beyond. Share a couple of drinks with your team on the balcony then head inside for food and more celebrations, this is a really stylish and welcoming place for a summer do. More details here.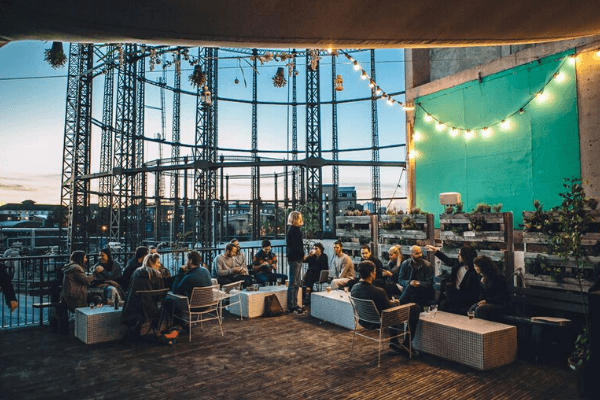 Nestled in the shadow of the famous Bethnal Green gasholders, Oval Space has become one of the prize venues for a summer party in London down the years. It's a truly multi-purpose canvas with over 5,000 square ft of space and loads of experience hosting corporate events – from summer parties to fashion shows and drinks festivals. Oval Space have a dedicated events team to support you with all your production and catering needs this summer. More details here.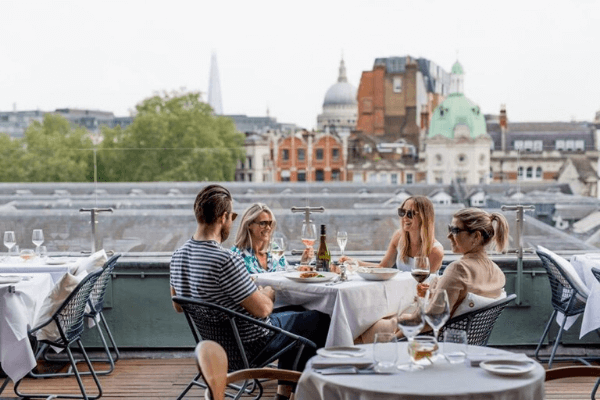 Maybe it's been a record-breaking year at your company, and you really want to spoil the members of your team that made it happen. SMITHS of Smithfield could be the ideal spot for that, with two AA rosettes for culinary excellence to go alongside the views of central London from their No.3 Restaurant and Terrace. With a focus on top-tier food "that exudes elegance" you can also hire out SMITHS in its four-floor entirety for up to 500 people. More details here.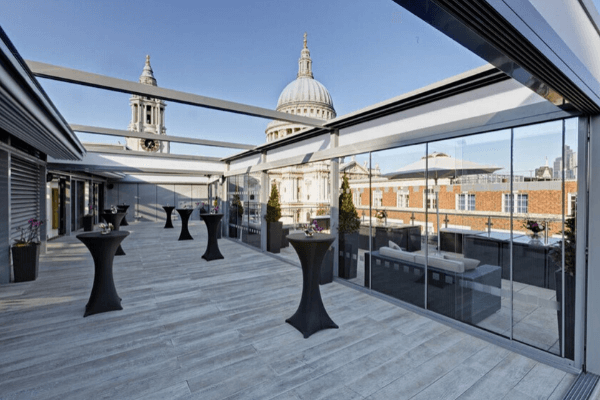 Anybody in your office that you'd class as an Instagram-fanatic? They're going to love you if you book the Sky Bar. The venue itself is beautifully presented – with a conservatory housing lots of luxurious sofas – but it's the stunning views of St. Paul's next door that's going to have them posting on their stories all day, and it's hard to blame them to be honest. If you're after exclusive London venue hire with a view, Sky Bar can accommodate anywhere up to 200 guests. More details here.
Narrowboat is the only pub located directly on Regent's Canal in Islington, and it's a total gem of a place. Hire out The Captain's Bar – which takes up the entire floor of the basement – for access to the canalside and your own bar serving beer and fine wines. There are seasonal and fresh food options available and the space has facilities for a smart phone or laptop; so you can set your own soundtrack while enjoying the peaceful views over the water. Bliss! More details here.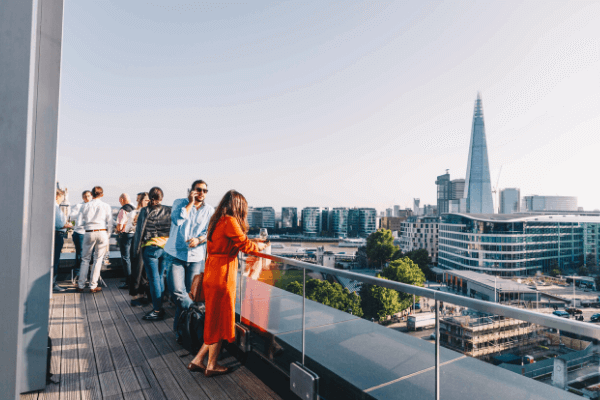 "Experiences are better shared in the sky," say cloudM, the elegant venue ideal for a rooftop summer party in London. With glorious views of the Tower of London and The Shard, cloudM features indoor seating and an outdoor deck, with cocktails, craft beers, wines and snack foods on the agenda for a summer party. CloudM's 8th floor space can be booked for between 24 and 120 guests right here.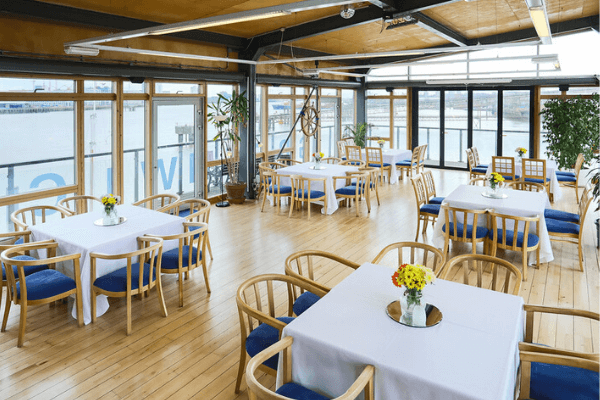 Thinking of taking your office out of the city this summer, but don't want to go too far? Step forward: the Greenwich Yacht Club, which takes you away from the frantic bustle, while remaining just three stops from London Bridge station. GYC has two event spaces – and can cater for between 20 and 200 guests – with riverside views to marvel at, an in-house catering team and a fully licensed bar. There's a late license until 1am on Fridays and Saturdays, so for goodness' sake don't hold back on the dancefloor. More details here.
Want some more summer party inspiration? Well that's lucky. Check out our office party hub page or have a run through ten more summer party ideas in London here. We'll have more London summer party planning tips for you on our blog as the sunny season draws closer.