Need some virtual event ideas? Here's a shortlist full of inspiration.
Virtual events just aren't the same as in-person ones. But that doesn't have to be a bad thing.
Here at VenueScanner, we've assembled a dream-team of partners who are making virtual events loads of fun in their own right. You can join your team for a digital escape room, for example. There are Bake-Off style cookery classes and musical bingo nights. Murder mysteries and panel discussions. All you need is your laptop and some steady WiFi.
We've built a virtual event concierge service so you can plan team activities in this Covid-age (read about it here). For now, here's 10 of our favourite virtual team-building activities.
The seconds are slipping away. Your colleagues are losing their heads. But then there's you: calmly following your strategy, cracking codes and solving riddles to break free from the virtual room you're locked inside of. Managed via Wildgoose's interactive app, you'll work in teams of 4 to 6, scanning objects as you solve cryptic tasks. This is a brilliant way to improve teamwork and communication, but most importantly it's really fun. Wildgoose do murder mysteries and virtual away day challenges, too.
GOTO Event's Cocktail Making Workshops
Reckon you've got mad skills behind the bar? Here's your chance to prove it. Goto's virtual cocktail making events teach you how to mix Mojitos and Pornstar Martinis with one-part vodka and one-part flair. Bookable for up to 500 people, this fully virtual experience includes a demo, a practical and, finally, the chance to collaborate with your colleagues to create your own new cocktail. Non-alcoholic mocktail classes can be arranged as well.
GOTO Event's Musical Bingo
Well, it's a welcome change from your standard lockdown evening, isn't it? Take a break from binge-watching First Dates, pour yourself a drink and fire up some musical bingo instead. These events are hosted by a professional compere and you'll simply need to strike songs off your card when you hear them. A strong choice if you want virtual event ideas for a team-building day or to liven up a conference or meeting. GOTO Events also have a 'Master of the Tasks' activity which might be loosely inspired by a TV show currently on Channel 4.
Yolk from Home
Steamed Egg Events want to change your perception of a company team call. There's no talk of spreadsheets or blue-sky thinking and core values here, just a 1970s style quiz show with bags of silliness. Yolk from Home is an interactive hour of nonsense and games. Expect to draw bizarre photos, answer quiz questions on your specialist subject – yourself, of course – and treasure hunt your way through Wikipedia. 2.5% of proceeds from every event go to mental-health charity Mind.
Stuck at Home Scavenger Hunt
Known for their scavenger hunts across London, Big Smoke Events have created a number of team-building activities that you can enjoy from home. Take their Stuck at Home Scavenger Hunt, for example, which sees participants download their own task list, follow clues and make creative videos using their smartphone. It's free to take part and the best entries from the Big Smoke Events community are shared on their Instagram every Sunday. Got an international office? They've also built Italian, German, French and Spanish versions of the game.
Jimmy Garcia's Catering
A key thing to factor into your virtual event planning: Food. Since the March lockdown, Jimmy Garcia Catering have delivered over 5,000 boxes of beautiful food to front doors around the UK. Jimmy and his team can cover the lot: rearranged weddings, birthdays, team get-togethers and more, with the option of adding an interactive element – like a cook-along or masterclass – to your event. It's an easy way to share a delicious feast even if your colleagues are miles apart.
Abbey Road Studios
Worried about losing the wow-factor that a live event gives you? We might just have the solution. The world-famous Abbey Road Studios are hosting virtual and hybrid events, where you can livestream music or panel discussions for your next product launch, conference or company meeting. Come to your staff 'Live from Abbey Road' to create a truly exclusive vibe. Send us a message – kate@venuescanner.com – to start creating your bespoke event.
Get your team together for a cooking lesson courtesy of the pros at School of Wok. Their Virtual Christmas Cooking package sees your colleagues bonding over Thai turkey curry and teriyaki tuna bites, whipped up with friendly guidance from their expert chef tutors. School of Wok send you the recipe pack beforehand and the event is suitable for anywhere between five and 500.
One Minute Briefs
Every morning, Nick Entwistle posts a One Minute Brief of the Day on Twitter, where copywriters and graphic designers have just 60 seconds to advertise a certain product or theme (although you can take a little longer if you'd like). Participants can whip something up via Photoshop or just scribble out their ideas on a notepad, and encouraging your team to take part gives them an opportunity to compare ideas and ignite their creative spark. This is a must-try challenge for your team's marketing department, but anyone can have a go!
Always a risk when you go to a comedy gig, isn't there? You can book tickets as far away from the front row as you like, but there's no guarantee the comedians won't pick you out for a few laughs at your expense. There's no danger of that at Laugh Train Home, the virtual comedy night broadcasting hilarious line-ups direct to your living room. You can't go in person, but you can get some snacks and wine in and have a good old chuckle virtually while your workmates do the same.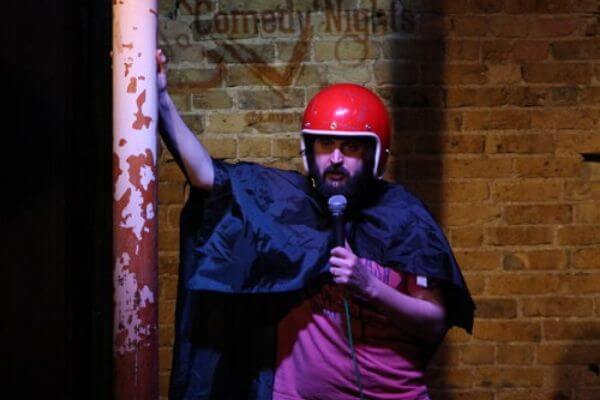 Need some help arranging a virtual Christmas party this year? Click below to start building your ideal event.