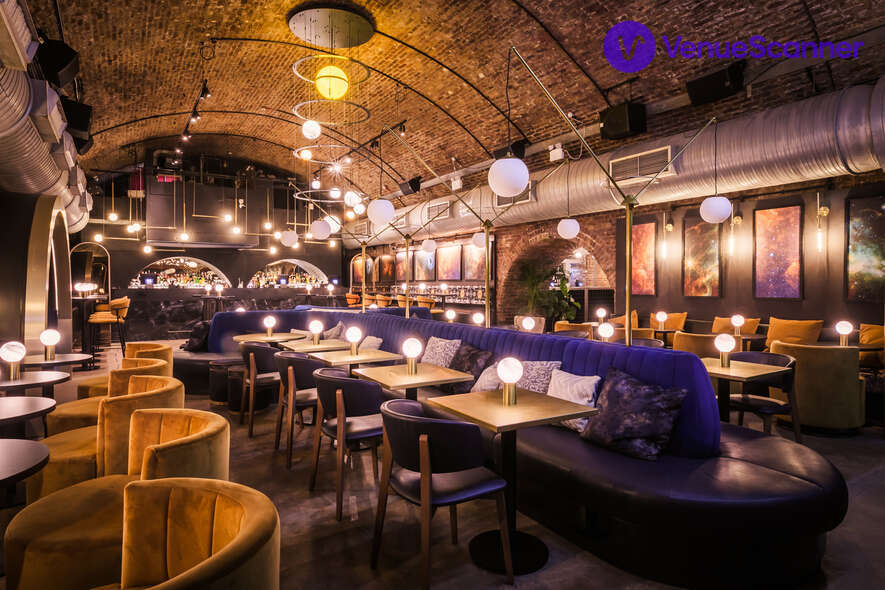 Viaduct
Rivington St, London

Hire
Viaduct
Rivington St, London
Hosting since Jun 2022
Typically responds within 6 hrs
SH
Capacity and Layout
Amenities
Disabled access
Air conditioning
Lectern
Stage
Cloakroom
Print/Scan/Copy
Ratings & Reviews
Edited because just passed by on a Sunday afternoon and we were asked if we wanted to come in for happy hour. We'd been walking by and came back so all the team there would have seen us but as soon as we stepped in the metal gate a bouncer who had been just standing around was exceptionally rude for no reason, no one even in the queue - then he pulled us out the line to ask if it was ok we were allowed in? Called to his boss to have him eyeball us - Didn't say why. about a minute later the nicer bouncer on the door said he could could put my food on the side but the one with the bad attitude said without looking at us that 'if she wants in she can bin it, either she's binning it or we're binning it but it's getting binned if she wants in'. Left and now can't say I'm keen to go back despite my original review below. Like it's a casual cocktail at your venue which had no one in except an event on a Sunday? It shouldn't be that deep! Original review at 4* before staff change; Was here last night! Music was litty, drinks were expensive but strong 💪 a lot of good looking people in this club too, it attracts a good crowd. I lost half of my coat ticket and they still helped me get it from the back. They take card for cloak room which is blessed, I don't carry cash! Downsides: toilet up the stairs and the line can wind right down it (but the lady in there was quick to be checking on everything), expensive entry (£20 even though it's £10 online and said I'd have to leave and queue again if I bought the online ticket 😅). I'd go again for sure but it's a payday only vibe for me personally.
GOOGLE REVIEW
I regularly attend music events as part of my job, and this was hands down the worst venue I've been to. The security staff were incredibly rude and stand-offish towards me (I consider myself to be friendly and polite - so I'm not sure why they felt they needed to challenge me - perhaps because I'm queer presenting). When I went to the bar, lime and soda was (unbelievably) £3.50 (!!!), and when I saw the payment didn't go through, the bar staff asked me to check my own bank account to see if the transaction had been made. When I very honestly told them it hadn't, without making any eye contact they pushed the card machine towards me and walked away (it wasn't busy at the bar, so there was no need to be non-talkative with me - having previously worked in hospitality I would have been disciplined for how cold this member of staff was with me). After seeing the act I'd come to see I left pretty quickly as the atmosphere was totally dead and unwelcoming. Regardless of who is playing there next time, I won't be attending.
GOOGLE REVIEW
Generally rude and unhelpful staff. Asked to use the toilet and was informed they were for guests even though I have been a patron here many times before. Not sure why establishments like these continue to operate when they give nothing back to their local community.
GOOGLE REVIEW
Avoid this place if you value a good night out, I would have rated it 0 if possible. The prices of drinks start at £7 for a single shot and the staff are nothing but rude and miserable, security picks fights with anyone coming through the door and the whole place smells like B.O and damp. Defo not a good place to spend your money guys, treat yourselves better and go to literally anywhere else.
GOOGLE REVIEW
Don't go there!!! The staff is really rude, super expensive, they charge different fees depending of who us getting in, it is very arbitrary. They chsrge me and my friends 30 pounds and the guys behind us 40.
GOOGLE REVIEW
Cancel within 48 hours: VenueScanner guarantees 100% refund of first deposit on payments made through us. Up to £500 maximum.