Situated in the heart of the West End, The Wildcat Bar is a newly opened addition to London's Crystal Maze LIVE Experience and it's a venue you won't want to miss. Opt for The Wildcat Bar venue hire and unlock its potential to impress both diehard Crystal Maze fans and absolute novices alike.
It's not often you encounter a bar featuring cocktails inspired by The Crystal Maze, but now you know it exists we reckon you won't want to host your next event anywhere else. The Wildcat Bar venue hire provides the perfect place to unwind after a heart-thumping hour solving puzzles and conquering obstacles with your team. We can't think of anywhere we'd rather be on our next corporate team away day.
The perfect way to finish off your next big teambuilding day, this bar is centrally located and fully stocked with premium Wildcat Gin. Featuring floor to ceiling windows, an eclectic mix of furniture, and a space filled with natural light, this bar is certainly not just a novelty. Its carefully thought out interiors and attractive period features provide an ideal backdrop for stylish private events.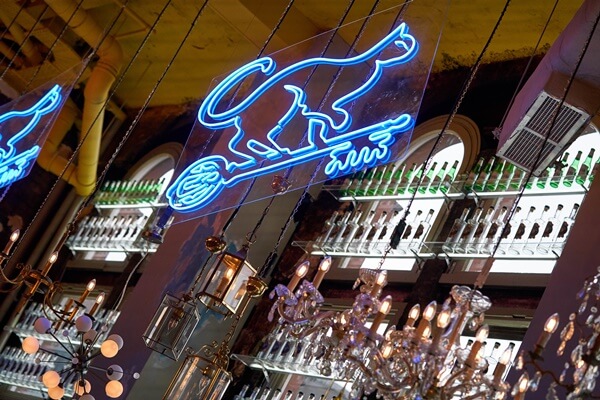 The Wildcat Bar venue hire
Situated within the historic London Trocadero, originally built in 1896, The Wildcat Bar makes full use of the original features afforded by the space. Soft furnishings, warm wood furniture, and feature lighting pieces all provide a pleasing contrast to the distressed walls and exposed ceiling. The bar is flooded with plenty of natural light during the day and by night is lit up by the many chandeliers and neon signs adorning the bar area.
With enough room to house up to 200 people on a standing room basis, The Wildcat Bar can adapt to a huge range of events. A bespoke selection of food and drink packages are available on request and catering for up to 200 guests during a drinks reception is pulled off with absolute ease. Dedicated to creating an event everyone will remember (for all the right reasons), nothing is too much to ask of The Wildcat Bar's team of experienced event staff.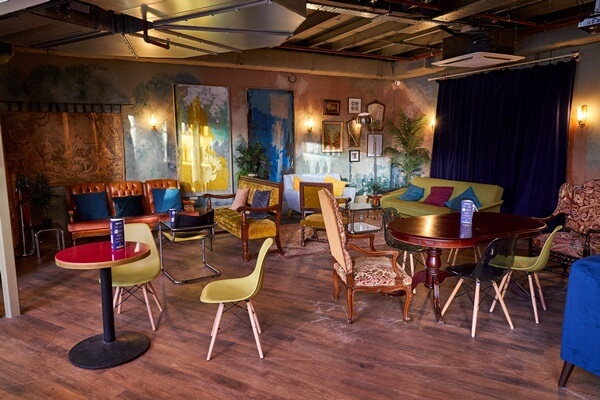 A menu to remember
We know your guests will love the 90s nostalgia a Crystal Maze themed cocktail menu provides. To give you a taste of what's in store for you during your next private hire event at The Wildcat Bar, take a look at their menu here. Their distinctive Crystal Maze cocktails are inspired by each of the four zones within the maze; Futuristic, Aztec, Industrial, and Medieval.
Our personal favourites include the Dead Man's Chest – inspired by the Aztec zone – made up of Flor de Caña rum, lemon, honey, Staropramen and honeycomb, and the Teabreak – inspired by the industrial zone – featuring The Woodsman whisky, Punt E Mes vermouth, earl grey tea and lemon bitters. Everyone will enjoy reliving the magic of the maze through this menu, whether you just took on the LIVE Experience or if you loyally watched the show during its 90s heyday or modern revival.
And cocktails aren't all that's on offer, of course. The Wildcat Bar's impressive selection of champagnes, wines, whiskies, beers and soft drinks (both hot and cold) all pair perfectly with their food selection. They feature a menu of burgers and bites from London street food legends, Nanny Bill's, so there's no chance you'll be leaving here hungry.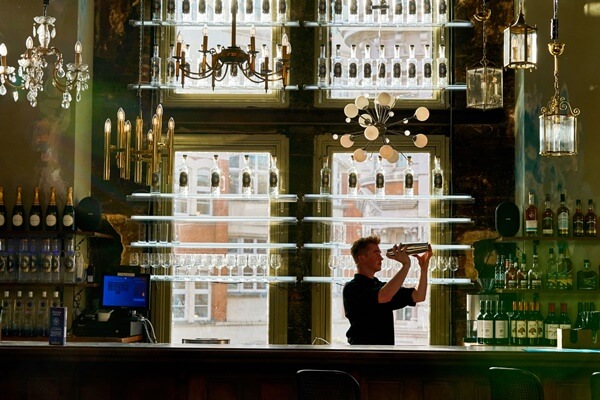 A wealth of experience
The team at The Wildcat Bar really are the best in the business. They know what it means to host a good event, especially given that the LIVE Experiences relies so heavily on the atmosphere created by the group guide. You can expect similar gusto in The Wildcat Bar when it comes to customer experience and service.
We'd recommend this venue for evening receptions of any kind, whether that's a corporate mixer, a birthday party, an engagement drinks do, or an anniversary. The capacity and central location of The Wildcat Bar, paired with its impressive menu and inviting interiors, make this a venue you'll want to return to.
What makes The Wildcat Bar venue hire so special?
● Dedicated events team and bar staff
● Central London location in the heart of the West End
● Fun throwback cocktail menu
● Street food from Nanny Bill's
● Stunning interiors and a welcoming atmosphere
You'll find Wildcat Bar inside The Crystal Maze, LIVE Experience, 22-32 Shaftesbury Avenue, London, W1D 7EU. For more information on The Wildcat Bar venue hire, check out our website listing.